Mother's Day is almost upon us.  We don't have much time left to get something for mom.  And, if you don't live near your mom (or you simply don't want to see her), you're probably thinking that it's time to visit one of those websites like 1800Flowers.com…
You may have seen my posts showing how to buy miles cheaply using 1800Flowers promo codes.  The trick is to buy gift cards cheaply and to use a great promo code.  If you sign up for the free shipping plan, and if you find a way to buy gift cards for half off (but don't buy from a reseller, Living Social, or Groupon since many such gift cards have restrictions against being used with promo codes), and if you are able to use a promo code offering 1750 miles per dollar on a $30 order, then you can effectively buy miles for less than a penny each (and, incidentally, get flowers too).  For full details, and current promo codes, please see: 1800Flowers Extreme Stacking promo codes, portals, gift cards, and more.
That's all great if your goal is to buy miles.  But, what if you actually want to send someone a gift?  And, what if you actually want them to get something nice?  You do love your mom, right?
Most 1800Flowers promo codes have a couple of huge restrictions:
Promo codes can only be applied to specific items (and probably not the items you really want)
You cannot use promo codes in conjunction with gift cards purchased from deal sites such as Living Social, Groupon, or gift card resellers (since many of the gift cards sold by resellers are originally from Living Social or Groupon).
The first restriction is huge if your goal is to send something nice.  The second restriction is huge if you want to save money.  A solution to both problems is to use a portal instead of a promo code (you can't do both unless the promo code is listed within the portal).
Portal Solution for big savings
Rather than using a promo code, use the portal offering the best rates for 1800Flowers or 1800Baskets.  You can find the best options here and here.  At the time of this writing, the best option is EBates 22% cash back:
By going through a portal, you can stack savings and choose whatever you want to buy, without restriction.  Remember that it is also important to sign up for the Celebrations Rewards Passport program to get free shipping for a year.
Here's one way to stack savings:
Check your Amex credit card account for the Spend $50, Get $15 1800Flowers Offer (shown above) and load it to your account (if you have multiple Amex cards, use the multi-tab trick to load it to all accounts).
Browse to EBates and click through to 1800Flowers for 22% Cash Back. If this is your first time using EBates, you'll get $5 back for signing up (and I'll earn a referral bonus if you use my link).
If you haven't done so before, sign up for 1800Flowers' Celebration Rewards program to earn rewards while shopping.
If you haven't done so before, sign up for 1800Flowers' My Celebrations Passport program.  For $29.99 you'll get a year of free shipping from 1800Flowers and it's affiliated brands.
Shop at any of the 1800Flowers brands: 1800Baskets, Fruit Bouquets, Cheryl's, Fannie May, The Popcorn Factory, Stockyards, Wolferman's, or Harry & David.
Do not use a coupon code unless you found it on the EBates site (or it will invalidate the cash back).
Pay with your Amex card enrolled in the above promotion.
If you have signed up for EBates and Celebrations Passport in the past, and you spend $50 on gifts, you should get back $11 from EBates and $15 from Amex for a total rebate of $26.  Your final cost for $50 worth of gifts should be about $24.
If you're new to both EBates and Celebrations Passport, and you spend $50 on gifts and $30 on Celebrations Passport, you should get $22.60 back from Ebates and $15 from Amex for a total rebate of $37.60.  Your final cost for $50 worth of gifts plus $30 worth of free shipping for a year, should be about $42.40.  Thanks to the Celebrations Passport program, your savings will be greater with future purchases.
The above steps do not require 1800Flowers gift cards.  If you'd like ideas for how to get greater savings through the use of gift cards, please see: 1800Flowers Extreme Stacking promo codes, portals, gift cards, and more.
| Name / Link | Offer | Frequent Miler Notes: |
| --- | --- | --- |
| Rakuten | You'll earn $10 after making a qualified purchase through the portal. We'll earn a bonus too (details vary depending upon promotions). | This is one of our two favorite portals (the other being TopCashBack). We love the Rakuten portal because it gives you the option of earning valuable Amex Membership Rewards points instead of cash back! |
| TopCashBack | Bonus rates vary. | TopCashBack is one of our two favorite portals because it almost always offers the best cash back rates. Our other favorite is Rakuten. |
Stuff that doesn't suck
When I write about 1800Flowers, readers often respond with stories about how awful the service was or how bad the flowers or other items were.  While I can't help with the service, I've been poking around 1800Flowers for a while now and have some strategies that may help you find non-sucky items.
If you want to send flowers…
Look for flowers that are marked as "Same-Day Local Florist Delivery".  Despite their name, you can still schedule these for later delivery.  The good thing is that a local florist will prepare them.  In my experience the result is usually much better than flowers shipped in a box.  In the image below, the flowers on the left are marked for local florist delivery whereas the flowers on the right are shipped in a box (and probably won't look very nice when they arrive).
Caution: A reader named Robert says that he is a florist and has something to say about this.  Here's an excerpt (full comment can be found here):
When you place an order with 1-800-Whatever –  if you are lucky enough not to have the flowers sent in a box –  it will be called out to a local florist in most cases. After sticking you with a bunch of B.S.handling charges, they take 30 – 50% off the top for themselves and have the florist fill for that amount. So you now have a florist with a decision to make – do I fill this order to look like the photo-shopped picture on the website – and lose money – or do I fill the order to the amount that was sent to me, that will look nothing like the customer ordered? Either way – nobody wins this game except the call center that took the order.
If you want to send chocolates or other types of food….
1800Flowers has many sub-brands.  After you click through from a portal, you can select any of the tabs for the other brands to shop within their selection:
When you click to another brand, the URL remains with 1800Flowers.com (which preserves the portal click-through tracking) or 1800Baskets.com if you started there.  For example, if you click over to Wolferman's, the URL changes to: 1800flowers.com/wolfermans-home.  Also, when you check out, the purchase shows up on your credit card as 1800Flowers (or 1800Baskets).  This is important for discounts driven by credit card charges such as with Amex Offers.
Given that you can buy from any of these sub-brands, here are some suggestions:
Chocolates: Try Fannie May
Cookies: Cheryl's
Cakes, Breads, Pastries: Wolferman's
Meats, cheese, seafood: Stock Yards or Harry & David (we especially liked the Maine Shore Seafood Bake)
Other gifts: 1800Flowers has a large selection of "Keepsake Gifts".  I've only bought one (The Personalized Bon Appetit Cutting Board), but it was pretty nice.
Reader suggestions
Have you tried out products from 1800Flowers and its many sub-brands?  Which were good and which were bad?  Please comment below.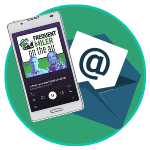 Want to learn more about miles and points?
Subscribe to email updates
 or check out 
our podcast
 on your favorite podcast platform.