Don't forget that through June Amex is offering $30 per month back on purchases made through PayPal and paid with your consumer Amex Platinum card.  This includes the Morgan Stanley Platinum card, the Schwab Platinum card, and the generic Amex Platinum card.
You do have a consumer Platinum card, right?  If not, please read this post: Sign up now for the Platinum 100K + 10X offer (here's why).  The Platinum 100K + 10X offer is one of the best deals around.  We don't know how long the offer will last.
When this $30 PayPal deal first came out, I figured that it would be so easy to use through regular day to day spend that I wouldn't even have to think about how to use up the credit before the end of each month.  I would simply select PayPal when checking out for online purchases that I make anyway, and I'd be done.  Now, as the end of the month fast approaches, I realized that reality has been different.  I have two consumer Platinum cards: one generic Platinum and one Schwab Platinum.  On the Schwab Platinum, I had managed to spend only $8.58 through PayPal!  And on the generic Platinum card, I had made a purchase for over $30 through PayPal, but the company I ordered from doesn't have the product ready yet and so they haven't yet charged my card!  So, I'm playing a little game of chicken to see if they process the payment before the end of the month.  If that doesn't happen, I'll switch to plan B: give to charity (detailed below).
In this post, I'll detail how to spend down your PayPal credit easily and quickly each month…
Prepare (Add Platinum card to PayPal account)
If you don't already have a PayPal account, it's time to create one.  If you've had one in the past that is for some reason no longer accessible, you should be able to create a new one with a different email address.
Next, make sure your Platinum card is in your PayPal wallet.  Log into PayPal, find your PayPal wallet, and click "Link a card".  On the next screen you'll have the option to link manually or by logging into Amex.  I've had better luck with manually linking.
Day to day shopping (Keep Track and Check Out with PayPal)
The best way to use your monthly $30 credit, arguably, is to pay for things you would have paid for anyway.  When checking out from a website, you'll often see a button labelled "PayPal Checkout".  When you press that button, you'll be asked to log into PayPal and then you can select a card from your PayPal wallet for that payment.
I recommend keeping track of this each month with a spreadsheet or even just an email to yourself.  Otherwise, it can be easy to forget how much you've spent so far through PayPal and how much credit you have remaining.
Give to your favorite charity
PayPal's Giving Fund makes it possible to donate to the charity of your choice, pay with PayPal, and 100% of your donation goes to charity, with no deductions, and no fees (PayPal eats the credit card fees!).  The only downside I see is that there doesn't seem to be a way to setup a monthly recurring donation.  I'd love to set up an automatic monthly payment and be done.  Instead, I'll visit this site once per month.
Here are the details from PayPal's website:
100% of donations made here go to charity, no deductions, no fees.
You are donating to PayPal Giving Fund, an IRS-registered 501(c)(3) public charity (Federal Tax ID: 45-0931286). PayPal Giving Fund will provide you with a receipt for your donation.
When you donate to PayPal Giving Fund, you also recommend a charity you want us to give that money to.
We collect donations and deposit them in the PayPal accounts of the charities recommended by donors, typically within 15-45 days of the original donation.
If the charity you recommend is not enrolled with us, they will receive funds via check, typically within 90 days.
This doesn't happen often, but if PayPal Giving Fund cannot fund the charity you recommend, it will reassign the funds to a similar charity and whenever possible will consult with you on the reassignment.
Pending delivery to charities, donations are held in a non-interest bearing account.
Gift cards via Fluz
If you get to the end of the month and haven't yet used your $30 and you don't want to donate to charity, then consider buying a gift card through the Fluz App and using PayPal to check out.  In most cases, Fluz lets you select the exact dollar amount you want, so for example if you have $21.42 of PayPal rebate credit remaining, you could buy a gift card for that exact amount.  Fluz also offers automatic cash back with most gift card purchases, so you'll get a bit more than just $30 back.  For example, I bought an Amazon gift card for $21.42 and earned 0.5% back from Fluz.  That's not much, but it's better than nothing.  And, of course, Amex will (probably) refund the full $21.42.
Caution: Gift cards not eligible
The terms for the monthly $30 PayPal rebate offer state the following: "Eligible purchases do not include fees or interest charges, purchases or reloading of prepaid cards, purchases of gift cards, person-to-person payments including those for goods and services, or purchases of other cash equivalents."  Despite these terms I'm confident that buying gift cards through Fluz will work, but there's obviously some risk that it won't.
Step 1) Sign up for Fluz
If you're new to Fluz, below are our referral links. You'll received 3 vouchers when joining, while we'll earn 1 voucher after you make your first purchase.  Each voucher offers 35% back (up to $3.50) on select gift cards.
Step 2) Find a gift card to purchase
I like to buy gift cards that I either have immediate use for or where I can load the value into my merchant account so that I don't have to remember to go back to Fluz to find my gift card.  For example, when I buy an Amazon gift card I then immediately load the gift card's value to my Amazon account.  Here's a link to Amazon's Redeem a Gift card page.
The easiest way to find a merchant gift card is through Fluz's search feature.  Here are the results, for example, when I searched for "Amazon":
Important Notes:
Not all gift cards allow payment via PayPal (no, I don't know why).
Different gift cards have different minimum value amounts.  Most have $10 or $15 minimums, but some have smaller minimums and some larger minimums.  For example, Adidas has a $5 minimum whereas Airbnb requires $25 or more.
Some gift cards require that you pick specific dollar amounts rather than letting you pick your own amount.
Step 2) Enter the dollar amount that you want to spend
Step 3) Select PayPal as your payment method
If you've never added PayPal as a payment method to Fluz, select "PayPal" under "Add payment method".  This will then walk you through signing into PayPal and selecting a credit card for payment.  You'll want to select your Platinum card, of course.
Important note: If you've paid through PayPal before using a different card than the one you want to use now, make sure to pick PayPal under "Add payment method" rather than under "Select pay method."  If you simply use "Select pay method… PayPal", Fluz will default to charging the same card you've previously used through PayPal.
Conclusion
The easiest option I've identified for using the full $30 per month is to donate to charity through PayPal's Giving Fund.  While I didn't use up my January credits in this way, I expect that I will do so going forward.  If you're in a less generous mood, consider using the credit for regular spend and then if you haven't used it up by the end of the month, buy a gift card through a service like Fluz (note: I'll update this post if/when I get credit from my Fluz purchase to prove that this does work).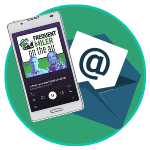 Want to learn more about miles and points?
Subscribe to email updates
 or check out 
our podcast
 on your favorite podcast platform.