Credit card sign-up bonuses these days are amazing: 40,000 miles! 50,000 points! 75,000 miles! And so on. A person can rack up close to a million points a year by signing up for these deals and meeting sign-up requirements. If you're like me and you apply for and are approved for a bunch of credit cards all at once, your first reaction may be something like "Whoo hoo!" But, a few minutes later, reality will set in and the reaction turns into "Uh, oh…" as you realize that you have to meet some pretty steep spend requirements in order to earn all of those bonus points. Fortunately, if you have an iPhone, iPad, iPod touch, or an Android device, there is a simple solution that will let you safely meet all of those minimum spend requirements AND get your bonus points and miles faster. Here's how:
What you need:

An iPhone, iPad, iPod touch, or Android device
An account and card reader from Square. Signing up is free and they'll send you a free card reader as well
Download the free Square app to your device (iPhone, iPad, iPod touch, or Android)
An account with the Big Crumbs shopping portal. Big Crumbs gives you cash rebates for online shopping via their site. If you sign up with this link, you will earn the same rate as you would anyway, but you will also do me a favor by helping me earn referral money. Note: you may be tempted to create two accounts so that you may refer yourself or your spouse (in order to get referral money), but Big Crumbs does not allow more than one account per household so I do not recommend attempting this!
What to do (step by step):

STEP 1: Big Crumbs

Go to BigCrumbs.com and sign in. Search for "American Express" and click "Shop Now" in the American Express Gift Cards – Personal store. By going through Big Crumbs, you will receive a rebate of 1.6% for your gift card purchases:

STEP 2: Buy Gift Cards

Add to your cart up to $5000 worth of gift cards. The goal is to buy enough to meet your credit card's spend requirements with as few gift cards as possible. In this example, I am purchasing $5000 worth of cards:

Next, go to check-out, select Express 2nd Day 8.95 shipping and enter promo code GEN374 in order to reduce your delivery charge to $3.00 even:

Now, buy the gift card(s) with the credit card for which you need to meet a minimum spend. You will be charged $3.95 per card and $3 for shipping. In this example, I paid a total of $5010.90 for $5000 worth of gift cards. But remember that I went through Big Crumbs, so I earned 1.6% back ($80)! It usually takes about a week to receive an email from Big Crumbs showing that you have earned this rebate.

Warning:
I have read from others that the techniques shown here will not work with Citibank cards because they treat gift card purchases as cash advances.

I believe that it will work with most other bank cards, but I have only tried this with American Express cards. If you are unsure about your card, try this technique with a small gift card purchase first.

Also note: some people have had their accounts frozen by American Express for "account review". It is unclear whether this is due to purchasing very large amounts of gift cards, but it is likely that it is a contributing factor. So, if you do this technique with American Express, be sure to do just the minimum you need.  Please read the comments section at the bottom of this post to help you decide for yourself whether to try this with American Express cards.

STEP 3: Cash in your gift cards

Warning: since writing this post I have learned that using Square in the manner described here may violate the Square User Agreement. See more in this post.

By buying gift cards, you have met your minimum spend AND you've made a profit! Also, with many cards, you will receive your bonus points or miles faster for having met the spend requirements quickly. However, you still need to pay your credit card bill when it comes due. This is where your Square reader comes in. Once your gift cards arrive in the mail, you can cash them in through Square for a fee of 2.75% each:

Plug in your Square card reader to your device
Open the Square app and sign in
Type in the $ amount of your gift card and press "charge".
Swipe the gift card (if you're like me you'll have to swipe several times before it takes)
Sign your name and click "no receipt needed".
Square will deposit the full amount less 2.75% into your bank account that evening. In the example from this post, I cashed in two cards for a total of $5000 less 2.75% ($4,862.50).
Review:

In the examples shown above, I went through the Big Crumbs portal to the American Express gift card store in order to buy $5000 worth of gift cards. I then used Square to turn the gift cards into cash in my bank account. Here is an accounting of my spend:

| | |
| --- | --- |
| Transaction | Result |
| Two gift cards purchased | $-5010.90 |
| Big Crumbs rebate | $+80 |
| Square deposit | $+4862.50 |
| Total: | $-68.40 |
So, even though I had to pay Square to cash in the gift cards, I ended up only having to pay $68.40 to meet my minimum spend all at once. If you consider the value of a typical credit card bonus (most of the good ones are worth at least $500), spending $68.40 is not bad! Of course, if the minimum spend you are trying to achieve is less than $5000 then your total cost will be proportionally smaller than $68.40.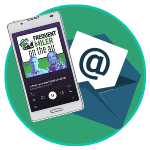 Want to learn more about miles and points?
Subscribe to email updates
 or check out 
our podcast
 on your favorite podcast platform.