Today's T-Mobile Tuesday giveaways include a discount at HotelStorm that is showing some huge value on certain properties/dates. My first search showed an example hotel that is $200 less than the next best price for a single-night, refundable rate. This one is worth a look.
The Deal
Huge discounts through HotelStorm and T-Mobile Tuesday (advertised as 25% off or more, and I've definitely found more than 25%)
Key Terms
Must be a T-Mobile customer
Must "claim" the offer in the T-Mobile Tuesdays app today
Must book by 11:59pm on July 24, 2017 (valid for stays up to a year in advance)
What is T-Mobile Tuesdays?
Today is Tuesday, which T-Mobile customers know as T-Mobile Tuesday. Each week, the wireless carrier runs a promotion giving away freebies to all T-Mobile customers who download the free T-Mobile Tuesdays app and register. You can also access the promotion on the web here. Each week, there are a number of prizes that all customers receive and then a few larger prizes that a limited number of customers win.
Who is eligible for T-Mobile Tuesdays?
Anyone with a T-Mobile line of some sort can download the app. For instance, I have a T-Mobile prepaid hotspot. That hotspot has a SIM card, meaning that it has a phone number. So even though my regular cell phone service was not T-Mobile, I was able to download the app on my phone and register with the phone number assigned to the hotspot.
What are this week's prizes?
This week, everyone gets the following prizes:
1 free movie rental from Vudu
25% off at Papa John's
Free photos from FreePrints (including free expedited shipping)
25% off or more at HotelStorm (and they aren't joking about the "or more" part)
Most people will get a free National Geographic eBook about the national parks, though a few people will win $25 ecodes or National Geographic prize packs. The Grand Prize is $5K for a trip to a national park)
Additionally, T-Mobile is giving out free pizzas randomly. I won a free medium 1-topping pizza from Papa John's today:
The big deal: HotelStorm
The Hotel Storm deal first caught my eye since it said 25% off and I know there is also an Amex Offer valid at HotelStorm ($50 back on $200 or more).  I was also just looking up hotel prices for something last night, so I had rates for a specific city and set of dates fresh in mind. When I actually clicked on the offer, I immediately felt less excited:
The words or more sounded suspect to me. This obviously wasn't a coupon code for a straight 25% off. I immediately assumed this was just a flowery way of saying that HotelStorm always saves you "25% off or more" by displaying ridiculous rack rates that nobody pays and slashing them out….only to match the rates you find elsewhere for the same hotels. Checking the terms made me feel no more confident that this was just a paid marketing spot.
But, as I said, I was just looking at a specific hotel and dates yesterday, so I had rates fresh in mind and figured it would only take a quick minute to verify whether or not this was a deal. Unfortunately, the hotel I wanted isn't bookable via HotelStorm. However, another hotel caught my eye as I recognized the rate was low for my dates. While this wasn't the hotel I was looking for, the W Chicago Lakeshore immediately caught my eye:
I knew that rate was low for my date. I went to SPG.com to check the same dates. The cheapest room was a lot more:
I clicked through another page with HotelStorm to see what the room type and cancellation policy was:
Lo and behold, it's a refundable rate (though note that the cancellation policy isn't exactly the same as Starwood's — HotelStorm requires cancellation by 11:59pm five days before arrival, whereas SPG.com showed a cancellation deadline of 6pm three days before arrival. HotelStorm was also for a different room type — a Double room, which is even more expensive at SPG.com:
You'll see that the cheapest rate for that room with free cancellation is the Starbucks Pkg, which rings in at $496 a night before tax (which includes a $10 Starbucks gift card). That's a huge difference in price — especially when you consider the fact that not only is the HotelStorm price only $279, there is also that Amex Offer. Now, the terms of the Amex Offer state that you need to book through hotelstorm.com/amex in order to activate the email — so I can't guarantee that the booking through T-Mobile Tuesdays will activate the offer. However, as you'll be charged by HotelStorm, it might.
Of course, you can always save a bundle on the HotelStorm price by going through a portal. Right now, the price of the same hotel if clicking through BeFrugal (for 20% cash back) is $456:
That brings the pre-tax price down to $364.80 — which is still great compared to the SPG price, but not as good as $279.
But there are two catches
Catch #1: HotelStorm seems to be applying tax on the full price ($456) even through the T-Mobile promotion. The tax is the same $79.34 even though the rate is much lower through the T-Mobile promotion. Will this get adjusted to the correct amount of tax, or will you just pay tax on the "full retail value"? I'm not sure. Even if you pay the inflated tax on the full $456, the savings are still substantial.
Catch #2: As a booking through a third-party online travel agency, I would expect that you would not receive points, elite credit, or elite benefits for your stay. In my case, I have no plans to go beyond Gold status this year in Starwood and I won't be having breakfast at the hotel anyway. If the W were the hotel I needed, I think I'd book it through this promotion. If the Amex offer also comes through, it'd be yuge.
Bottom Line
I love T-Mobile Tuesdays. While I haven't had a chance to use many of the free rentals, there is almost a weekly free Redbox or Vudu rental available and I've gotten free $5 gift cards to Dunkin Donuts a number of times as well as 25 cents off per gallon at Shell. Every now and then there is a particularly valuable offer. This HotelStorm offer appears to be one of those. The example above is just one — after typing this up, I tried a couple of other dates and cities and found large savings as well, so I don't think this is a one-off example.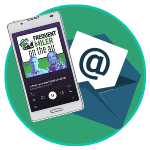 Want to learn more about miles and points?
Subscribe to email updates
 or check out 
our podcast
 on your favorite podcast platform.