Last night, I had a quick stay at the Hyatt House Orlando International Airport. It was just a quick overnight and I had to skip breakfast this morning to get to the airport, so this isn't really a normal bottom line review. However, I wanted to shoot out a quick post because this property just turned one month old and it is gorgeous. Rooms are relatively simple (and unfortunately I didn't take pictures), but the grounds are lovely, much more like a Hyatt Centric than a Hyatt House. It's a great value on points and given the fact that the award price was about half that of the Hyatt Regency at the airport, it's a great option to keep in mind if you don't mind a shuttle ride or very short drive to the airport.
Quick hits
Category: 2
Points price: 6.5K off peak / 8K standard / 9.5K peak (it was peak priced during my stay)
Value versus cash prices: Excellent. Rates started at $340 last night when I booked same-day, yielding well over 3c per point.
Elite benefits: Not much since breakfast is free for everyone, there seem to be very few true 1bdrm suites, and parking is free for everyone. A fairly typical Hyatt House experience in that regard
Does the Hyatt House Orlando International airport have a free shuttle?
Yes, it does. The Hyatt House sits immediately adjacent to a Hampton Inn and both properties share the same owner. As of now, both properties also share the Hampton Inn's shuttle — so if you get to the airport and call for a pickup, note that you'll be looking for a shuttle that says Hampton Inn & Suites.
The shuttle ran from the hotel to the airport every 30 minutes. I didn't ask if there was a cutoff time, but I was in the lobby working until about 2:30am and shuttle calls were still coming in shortly before I went to bed.
A gorgeous Hyatt House close to the airport with meeting facilities
Again, the room itself was relatively simple. It was modern, with plenty of power outlets near the bed. And a cabinet that held the mini fridge hat a cutout in the door so you could pull a coffee cup out of the cabinet without opening it. The bathroom was bright and fixtures were modern. You'll have to forgive me for not having pictures of those things — I didn't intend to write a review of this stay, I just couldn't not write something after checking out the rest of the grounds later in the night (when my family was already asleep in the room).
This place sets itself apart from the typical Hyatt House that I've seen in two distinct ways, one of which may be a negative for some and the other of which is a positive in my book.
The "downside" (if there is one) is that, unlike most Hyatt House locations, it seems that the majority of rooms at this property are regular hotel rooms rather than the 1bdrm suite or studio suite that's more common at Hyatt House properties. That is to say that you get approximately the space of a typical hotel room. We originally reserved a room with 1 King bed but asked for either 2 queens or 1 king and a pull out sofa at check in. The sofa in the 1 king "den" guestroom we had originally reserved didn't have a pull out sofa and neither did our room with 2 queens. That said, the sofa was set up more like a single bed. If you're not too tall, it would be relatively easy to sleep on it. I should also note that the website shows a picture of a pull out sofa, so I think they do exist — just not in all of the rooms.
Power outlets were everywhere you need them to be and there was a desk, a mini fridge, and a microwave. The room was plenty sufficient for an overnight near the airport.
But where this property really stood out was in the first floor facilities.
That started with a cool mosaic of Walt Disney right next to the check-in desk that was made of keyboard pieces.
And it continued on to the rest of the lobby, with more seating that I think I've ever seen in the lobby of a Hyatt House.
Furniture was nice and felt high quality. There was a huge bar that could accommodate a lot of guests.
In fact, the bar wasn't only for people inside the lobby….
As I continued outside to the pool area, I was really surprised by the fire pits and tons of outdoor seating.
In fact, the outdoor seating continued alongside the hotel with a covered area that had outdoor TV screens and seating by glass windows that could open so the bar could presumably also serve people outside in the pool area.
There were people in the pool late at night, so I took this picture looking down on the pool from our room this morning:
The gym was small but sufficient.
Hyatt House Orlando International Airport meeting rooms
Continuing off the lobby, there was a meeting room with a nice, heavy, sliding barn door that opened to this room.
Continuing down the hallway, there was another large meeting space. I was told that the wall between them can somehow move to open it as one single space, though I'm not entirely sure how that works since the wall that the spaces share is the one with the TV above.
Out in the hallway, there was tons of seating. All along the green bench under the movable tables were power outlets (and there was another section like this at the opposite end of the hallway). This really looked like a space put together for small conventions.
Location
The Hyatt House Orlando International Airport is very close to the airport. We had a great view from our room window of planes landing at the airport. According to the hotel website, it is 2 miles from the hotel to the airport, and that sounds about right. It was a very quick ride.
However, a word to the wise: If you have a rental car that you'll be returning at the airport, avoid the Sun Gas (the gas station closest to the Hyatt House). It is phenomenally overpriced — like more than $2 per gallon more than everywhere else. Ask me how I know.
Bottom line
While this quick post is about the Hyatt House Orlando International Airport, which is a brand new property, many readers are likely familiar with the Hyatt Regency Orlando International Airport, a well-regarded Category 4 property inside of the Orlando International Airport terminal. I stayed at the Hyatt Regency MCO a couple of times in November and December. You can not beat the convenience of staying inside the terminal if you have a flight that arrives late or takes off early (there is a CLEAR entrance to gates 1-59 right at the bottom of the escalator to the hotel). Had that property been available for the 18K points per night peak pricing that it should have been yesterday, I probably would have booked it. Since that property wasn't available for an award stay, instead I booked the Hyatt House Orlando International Airport for 9,500 points and it was terrific. At just over half the price of the Regency at the airport, I'd certainly consider booking this property again in the future if I anticipated the shuttle being convenient enough for my needs. Unfortunately, I didn't have time to get a look at breakfast this morning, so I can't comment on that, but if you no longer have Globalist status this may be the better pick if you'd like free breakfast since anyone booking through Hyatt gets breakfast at Hyatt House.
Stephen Pepper tells me that many of the newer Hyatt House properties are really well done. If this property is any indication as to what newer Hyatt House locations are like, I'll need to seek out new Hyatt Houses moving forward.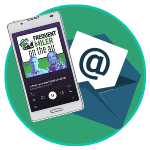 Want to learn more about miles and points?
Subscribe to email updates
 or check out 
our podcast
 on your favorite podcast platform.