Update: The list is now live: bookable for stays through September 30, 2018. See this link for the current list.
IHG will be putting up their next set of PointBreaks hotels on Monday, July 23rd, 2018. That's different than usual as the current PointBreaks are valid through 7/31. Still, with only slim pickin's left on that list, it will be nice to see a new list. As a reminder, PointBreaks now have three tiers, so properties will cost 5K, 10K, or 15K points per night depending on the property.
The Deal
Beginning at "noon" on Monday, July 23, 2018, a new IHG PointBreaks list will go live, with properties bookable for 5K / 10K / 15K points
Direct link to IHG PointBreaks hotels (note that this link will continue to show the old list – bookable through July 31st — until the new list goes live)
Key Terms
Not live until Monday, July 23rd (IHG's Facebook page states it goes live at noon on Monday, but I'd keep an eye on it and this Flyertalk thread throughout Monday morning as the individual hotels always go live before the page gets updated)
Members can make a maximum of 2 bookings per hotel (each can be for as many days as you want, you just can't make 30 separate 1-night reservations — 2 reservations per property)
PointBreaks awards are capacity-controlled
See the promotion page for further terms
Quick Thoughts
IHG PointBreaks have drawn the ire of many who yearn for the glory days of the program, when there were occasionally top-end properties available for a song and all properties were bookable for just 5K per night. That's just not the case anymore, but IHG PointBreaks remain a standout value among hotel promotions. That's because you can often buy IHG points for 0.5 cents each (or less) — including right now for those targeted (See: IHG Mystery Bonus: Buy points as low as 0.5cpp). That means that you can easily purchase the points to pay a net cost of $25 / $50 / $75 per night. There just aren't many chain hotels in the world that regularly go for less than $25 per night with tax and it hasn't been hard to find some in the $50 and $75 levels that would be a deal. Further, those who hold the old (and no longer available for new applicants) $49 version of the IHG Rewards Club credit card will get a 10% rebate on redemptions, meaning that their net cost is 4.5K / 9K / 13.5K). Those with the new IHG Rewards Club Premier or IHG Rewards Club Traveler card receive the 4th night free on award stays, which I believe drops the per-night cost of these properties to an average of 3,750 / 7,500 / 11,250 points per night for a 4 night stay.
The issue, of course, is that fewer and fewer properties have been located in hot vacation destinations. I've grown to focus on PointBreaks as good opportunities to save on a road trip overnight or a "staycation" to a place not far from home that you may have otherwise overlooked.
However, with the introduction of 10K and 15K levels, I think there is more of a chance of finding some more interesting destinations in the new list. The video on the IHG Rewards Facebook page tells us that these properties will be bookable via PointBreaks on Monday, but does not indicate the prices:
USA
UK:
Middle East
One can expect the InterContinental Doha will likey cost 15K and I'd think the Holiday Inn Resort Dead Sea will likely be a 5K property (which might make it an interesting 5K option), but we really don't yet know.
Typically, IHG releases a preview and then a complete list of the properties coming on the PointBreaks the Friday before they go live, but we have not yet seen an updated post from them. At this point, I'd suggest keeping an eye on the PointBreaks page. While the Facebook post says that the sale will go live on Monday, my past experience has always been that individual properties go live with the PointBreaks pricing before the PointBreaks page gets updated (and almost always at a weird time like 5 or 10 minutes before the hour). Keep an eye on this Flyertalk thread on Monday morning as people often begin reporting there as soon as they find places available.
We will surely post here when we find the hotels on the list bookable. If you'd like instant notification, be sure to sign up for "Instant Post Alerts" by clicking "Subscribe" at the top of the page under the Frequent Miler banner and/or follow us on Twitter and turn on mobile notifications or like us on Facebook.
H/T: Loyalty Lobby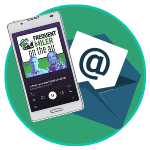 Want to learn more about miles and points?
Subscribe to email updates
 or check out 
our podcast
 on your favorite podcast platform.