An industry insider leaked a bit of interesting information to me the other day.  Apparently BankAmericard is planning to release a premium card to compete with the Chase Sapphire Reserve.  Here are the bits that he revealed:
$450 annual fee
Travel fee reimbursement (he didn't know how much)
Redeem points for 1.5 cents each towards travel
No transfer partners
To be released September or October 2017
My first thought was that this was simply another me-too card like the US Bank Altitude Reserve or the UBS Visa Infinite Card.  And it probably is.  But then a couple of exciting possibilities occurred to me…
Bank of America Preferred Rewards
Bank of America's Preferred Rewards program offers extra benefits to those with substantial savings and investments with Bank of America, Merrill Edge, and Merrill Lynch.
Those who can cobble together $100,000 or more of investments get a number of benefits including a 75% rewards bonus on eligible Bank of America credit cards.
One of the credit cards that is eligible for this bonus is the BankAmericard Travel Rewards card.  The bonus turns this ho-hum 1.5% towards travel rewards card into a 2.625% everywhere beast of a card.
You know where I'm going with this, right?  I see two exciting possibilities with the new card if it qualifies for the 75% bonus…
3X becomes 5.25X, and 4.5% towards travel becomes 7.875%
I don't have any information about how many points per dollar this new card may offer, but I do know that all of the cool kids are offering 3X for travel plus another bonus category or two.  That makes me think that we'll see something similar with BankAmericard.  Perhaps they'll match Chase and offer 3X for travel and dining, and 1X everywhere else.  Or maybe they'll try to out-cool Chase (like US Bank tried to do with 3X mobile pay) with a 3X category intended to appeal only to millennials.
If they offer 3X categories and if Preferred Rewards apply to this card, then those with Preferred Rewards Platinum Honors status will earn at the following rates:
3X categories: 3X x 1.75 = 5.25 points per dollar
Everywhere else: 1X x 1.75 = 1.75 points per dollar
And, since we were told that points can be used for 1.5 cents per point value towards travel, this means that the effective rebate for spend would be as follows:
3X w/ Platinum Honors = 5.25 points per dollar x 1.5 cents per point = 7.875% towards travel
1X  w/ Platinum Honors = 1.75 points per dollar x 1.5 cents per point = 2.625% towards travel
This would make the new card as good as the Travel Rewards card with Platinum Honors for everyday spend, and much better than almost any other card for it's 3X categories.
1.5X everywhere becomes 3.9375% everywhere
Another intriguing possibility is if BankAmericard allows cardholders to move points from the Travel Rewards card to the new premium card, or to pool the points together. Since the former card earns 1.5 points per dollar for all spend, the combination would be like using the Freedom Unlimited with the Sapphire Reserve.  Use the fee-free card to earn 1.5 points per dollar, move those points to the premium card, and spend those points for 1.5 cents per point value towards travel.  The combination gives a very good base earning rate of 2.25% for non-bonus spend.
That's all very good, but remember that the Preferred Rewards program does apply to the no fee Travel Rewards card.  So, those with Platinum Honors status actually earn 2.625 points per dollar for all spend.  If those customers were able to then move those points to the new premium card and spend points at 1.5 cents per point value, we would have an awesome result: 3.9375 cents per point value towards travel for all spend.
3.9% to 7.9%
In the unlikely event that both of the above scenarios come true, a person with both cards and with Platinum Honors status could use the premium card just for spend within its 3X categories and use the no-fee Travel Rewards card for spend everywhere else.  That cardholder would earn a rebate on spend of 7.9% for category spend and 3.9% everywhere else.  That would be insane.
I don't think this combination is likely, but its fun to imagine the possibilities.
Other guesses
More likely than any of the above, we can guess that the new premium card will be a Visa Infinite card and will offer some form of lounge access, global entry or TSA-Pre reimbursements, rental car benefits, etc.  But, what will the new card be called?  Here are a few guesses (mostly based on the idea that this card is a premium version of the no-fee Travel Rewards card):
BankAmericard Travel Rewards Reserve
BankAmericard Travel Rewards Infinite
BankAmericard Travel Rewards Platinum
BankAmericard Infinite Travel Rewards
What do you think this new card will be called?  Comment below.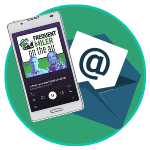 Want to learn more about miles and points?
Subscribe to email updates
 or check out 
our podcast
 on your favorite podcast platform.