Starting today, August 1st 2018, your SPG credit card will earn 2 rewards points per dollar for base spend.  Previously, the same card earned 1 Starpoint per dollar.  If you haven't been following the details of the Marriott & SPG transition to one rewards program, it might sound like the card has gotten better.  It hasn't.
Each Starpoint is worth 3 rewards points.  So, the transition from earning 1 Starpoint per dollar to 2 rewards points per dollar is a 33.3% depreciation.  For those most interested in airline miles, SPG cards previously offered 1.25 miles per dollar when Starpoints were converted to airline miles at the ratio of 20K points to 25K miles.  The new program has preserved the points to miles transfer ratio (20K Starpoints = 60K rewards points = 25K miles), but with 2X point earnings, it will take $30K spend to get the same 25K miles that required $20K spend before.  In other words, the SPG card now offers only 0.833 airline miles per dollar.  Boo.  For more on the topic of spending for airline miles, see: Spending for miles. Best SPG alternatives.
What if you're not interested in airline miles, but prefer to earn hotel rewards?  Our current Reasonable Redemption Value for Marriott Rewards points is 0.72 cents per point.  With that valuation, the new base earning rate for your SPG card is only 2 x 0.72 = 1.44 cents per point.  Compared to a 2% cash back card, or even a 1.5% cash back, that's not very good.  For hotel rewards, you can get better returns for spend if you focus on Hyatt or Hilton instead.  See: Manufacturing free nights (Hyatt, Hilton, Marriott).
Picking a new Everywhere Else card
Ever since the loyalty program merger was announced, I've been using my SPG card as my "everywhere else card".  This is the card I turn to when I can't earn a valuable category bonus using other cards.
With a few exceptions, these are the cards I use for various categories of spend:
And then there's my "everywhere else" card.  This is the card that I use at local merchants, department stores that don't accept Apple Pay, discount stores, etc.  With my SPG card turning into a pumpkin, my favorite everywhere else options are:
You can find a complete list of great "everywhere else" cards, here: Best rewards for everyday spend.
In my case, my new everywhere else card is the Blue Business Plus Credit Card.  2X everywhere Membership Rewards points is hard to beat!
Is the SPG card still useful for bonus categories?
The consumer and business SPG cards now earn 6 rewards points per dollar at SPG, Marriott, and Ritz properties. That's pretty good, but I value 3X Ultimate Rewards points about the same as 6X Marriott/SPG points.  So, personally, I'll keep using my Sapphire Reserve card for hotel spend.
The business SPG card adds the following bonus categories: 4X at US restaurants, US gas stations, wireless telephone services purchased directly from US service providers, and US purchases for shipping.  If you don't have a card that offers valuable category bonuses for those categories, it may be worth using your SPG Business card for these purposes, but many cards offer far more valuable rewards within these categories.  See our Best Category Bonuses page for in-depth category bonus coverage.
Personally, I already have cards that offer equal or better category bonuses, so I won't use my SPG card for any of the above purchases.
Consider keeping the SPG card even if you don't use it regularly
Even if you don't use the SPG card regularly, it might still be worth keeping despite the $95 annual fee thanks to these perks:
1 Free Night Award (redemption at or under 35,000 points) every year upon renewal.
15 nights towards elite status (starting 2019). This does NOT stack with elite nights offered by other cards.
Free unlimited Boingo Wi-Fi
Amex Offers
The most valuable of the above perks, as far as I'm concerned, is the annual free night award.  Based on the award pricing that becomes effective on August 18th, these certificates can be used to book hotels up to category 5.  And there are many very nice hotels at category 5 or below (you can find the announced pricing per hotel here).
The annual free night certificates will hit a snag once peak pricing becomes a thing in early 2019.  At that time, some or many of the category 5 hotels you may want to stay at will have peak pricing at 40K.  You won't be able to use the 35K free night certificates to book 40K nights.  Instead, you'll have to use the certificates during non peak times or with lower category hotels.
Personally, I was initially excited to see that a favorite Michigan hotel of mine would be priced at 35K in the new program: Inn at Bay Harbor, Autograph Collection.  It would be great if I could use my free night certificates there each summer.  But then I realized that they'll almost certainly set the entire summer to peak award pricing.  So, that won't work.
Despite the peak pricing issue, I'm confident that I can get significantly more than $95 value from the free night certificates each year.  Until that changes, I'll keep my SPG cards open, and continue to pay the $95 annual fee.  Yes, they'll be stuffed into my sock drawer, but they'll still be alive.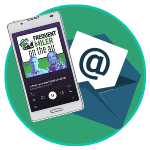 Want to learn more about miles and points?
Subscribe to email updates
 or check out 
our podcast
 on your favorite podcast platform.