JetBlue has announced some policy changes which are, for the most part, good for flyers. There are some features of the changes which are important to be aware of though.
You can find JetBlue's announcement here, but here's a quick summary.
Eliminating Change & Cancellation Fees
The biggest announcement here is that JetBlue is removing change and cancellation fees for all fare types with the exception of Blue Basic. They're still honoring their policy of not charging change or cancellation fees on all fare types – including Blue Basic – for all flights booked through March 31, 2021, but after that date this new policy will apply.
From April 1, 2021, Blue Basic fares can still be changed or cancelled, but you'll have to pay $100 for flights to or from U.S., Caribbean, Mexico and Central America, or $200 for all other routes. While that's not cheap, it could still come in handy depending on how much you originally paid for your flight.
For all other fares, note that cancelling your flight won't provide a refund back on to your credit/debit card. Instead, the funds will be added to your Travel Bank which expire after 12 months.
The removal of change and cancellation fees also doesn't apply to same-day switches. There'll still a $75 fee for same-day switches, although that's waived on Blue Extra fares and for Mosaic members. If you make a same-day switch, there's no additional fare to be paid, even for more expensive flights. If the fare difference would be less than $75, you can cancel your flight and rebook on that alternative flight to save money.
Guaranteed Overhead Bin Space
JetBlue is also guaranteeing that if you fly on a non-Blue Basic fare after July 20, 2021 within the US, you'll have overhead bin space for one bag. If that guarantee isn't met, JetBlue will give you a $25 Travel Bank credit which expires after 12 months.
As part of this change, if you book a Blue Basic fare after February 25, 2021 for travel after July 20, 2021, you can bring a personal item that will fit under the seat in front of you, but you can't bring a carry-on bag which goes in an overhead bin. If you bring a bag larger than a personal item, you'll be charged $65 per bag for the first or second bag and $180 if it's your third.
There are a few exceptions to this. If you book a Blue Basic fare with an Even More Space seat, you'll still get a carry-on bag. The same applies for Mosaic members, active military and unaccompanied minors traveling on a Blue Basic fare, but only flyers booking an Even More Space seat are guaranteed a space for their bag in the overhead bin – those other exceptions might require gate-checking your bag, but they wouldn't get the $25 Travel Bank credit.
Quick Thoughts
For the most part, this is good news. Most customers will get more flexibility with their flights, with even Basic Economy customers getting some degree of flexibility (albeit with a fee). COVID-related fee waivers were never going to stay around forever, so it's nice that JetBlue is improving on change and cancellation fee policies compared to pre-COVID times.
Getting guaranteed space in the overhead bin is also a positive development, although it remains to be seen how easy it is to get that credit if you do have to gate-check a bag. If you're given a $25 voucher at the gate with a code that can be redeemed to your Travel Bank if your bag gets gate-checked, that'd be far more optimal than having to make a claim after your flight and providing some kind of evidence that your bag was gate-checked.
The biggest downside to these changes relates to carry-on bags for people flying on a Blue Basic fare. In the past, even Blue Basic flyers got a free carry-on bag, but now they're restricted to one personal item. If Blue Basic customers want to bring on a bag, that'll cost $65 which may well be more expensive than simply booking a Blue fare which includes a carry-on. I'm sure JetBlue will make this policy clear during the booking process, so it hopefully won't come as a surprise when people get to the gate.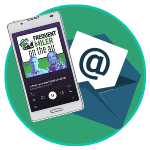 Want to learn more about miles and points?
Subscribe to email updates
 or check out 
our podcast
 on your favorite podcast platform.