If you're shopping at Kroger, you should check for a digital coupon for 4x fuel points on gift cards, which includes both 3rd party cards and fixed-denomination Visa and Mastercard gift cards. This can certainly make for some great net discounts if you have a use for the fuel points and it can mean racking up some easy rewards if you're using a credit card that earns one of the best category bonuses at US Supermarkets.
Kroger (and presumably affiliates) is offering 4x fuel points on both third party and Visa or Mastercard gift cards (note: only on fixed-value denomination Visa and Mastercards) through 5/12/20 when you load the associated coupons.
Key Details
Expires 5/12/20
Must sign in and load coupons prior to purchase
Visa and Mastercard offer only applies to fixed-denomination cards (excludes variable-load Visa and Mastercards)
Quick Thoughts
If you have a use for fuel points, this promo can certainly be well worthwhile. A $250 purchase will yield 1,000 fuel points, good for $1 off per gallon on up to 35 gallons. YMMV in terms of the max amount you can use in a single fill-up — while some areas cap your discount at a max of $1 off per gallon, others don't have that restriction.
Even at just $1 off per gallon and a fill-up of just 20 gallons, you'd essentially be saving $20 with a $250 gift card purchase. That's enough to mitigate the fees on the Visa and Mastercard gift cards. A little further effort to maximize and you may even be able to resell some gift cards for a profit.
Of course, the added benefit here is the ability to take advantage of a nice category bonus on your favorite card to use at the grocery store. You have a number of options there; check out our Best Category Bonuses page to see some of them.
Keep in mind that fuel points expire on the last day of the month following the month in which they are earned — so fuel points earned during April will expire on 5/31/20 and fuel points earned in May will expire on 6/30/20.
Other recent times Kroger ran coupons for both third-party and Visa and Mastercard gift cards concurrently included:
March 30-April 15, 2020
February 28-March 1, 2020
January 30 – Feb 2, 2020
July 30-August 13, 2019
July 17-19, 2019
May 24-27, 2019
H/T: Doctor of Credit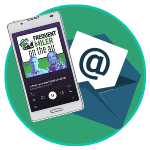 Want to learn more about miles and points?
Subscribe to email updates
 or check out 
our podcast
 on your favorite podcast platform.