Only two weeks after their last 4x fuel points offers ended, Kroger and its affiliate stores have released two new digital coupons offering 4x fuel points on all third party gift cards and fixed value Visa and Mastercard gift cards. Before rushing out to your local store though, note that the coupons are only valid for purchases from August 30 to September 2.
The Deal
Earn 4x fuel points on the following gift cards at Kroger & its affiliates:
Key Terms
Offer valid August 30, 2019 to September 2, 2019.
Variable Visa & Mastercard gift cards excluded; only valid on $25, $50 and $100 fixed value cards.
Quick Thoughts
Kroger tends to run these 4x fuel point offers at least once a month and they're a good way to save up to 14% on gas. That's because you can redeem your points on up to 35 gallons of gas, so a $250 gift card can save you up to $35.
In many locations you can only redeem 1,000 fuel points at a time, so it's worth being aware of that limit before buying a ton of gift cards for reselling in case you won't be able to redeem all the points before they expire. Some locations let you redeem more than 1,000 points at a time though; for example, I filled up at a Kroger in Richmond VA the other day and was able to redeem ~2,000 fuel points which meant filling my tank only cost $3.
The fixed value Visa and Mastercard gift cards represent a different value proposition due to the activation fees. However, if you can fill up with at least 13.5 gallons, you should come out ahead before taking into account liquidation fees for those cards.
This deal is only running from Friday to Monday (August 30-September 2), so even though you can load the digital coupons to your account now, you won't earn 4x fuel points until this weekend. Unless you need to refuel immediately, it could be worth waiting until September 1 to buy gift cards. That's because Kroger's fuel points expire at the end of the month after you earn them. That means if you buy them on August 30 or 31, they'll expire on September 30; buy them on September 1 or 2 though and they'll be valid until October 31, giving you far more time to use them.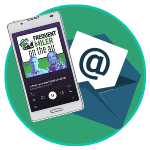 Want to learn more about miles and points?
Subscribe to email updates
 or check out 
our podcast
 on your favorite podcast platform.