Gilbert Ott at God Save the Points published a great tip this week for parents with a young child who is about to age out of lap infant travel. Whereas most airlines will only give you lap infant ticket pricing on a trip where the child is under 2 years old for the entire trip, British Airways and Virgin Atlantic will apparently allow you to book a lap infant ticket for travel in both directions even if your child turns 2 during the trip. That could potentially save you quite a bit.
I booked quite a lot of lap infant tickets when my first son was a baby. He had flown more than 70 times by the time he was 2 years old and quite a bit of it was in international business class. I was careful to book tickets with programs that offered reasonable rates for lap infants.
For those unaware, most airline programs charge 10% of the adult revenue fare for a lap infant ticket. On an international business class ticket, that can easily mean hundreds of dollars for the lap infant ticket (or even a thousand dollars or more in some cases). A few airlines charge 10% of the adult mileage cost and a couple others (like Aeroplan and Virgin Atlantic) just charge a nominal number of miles for a lap infant ticket (that is far less than 10%).
But every program at which I've looked only allows lap infant pricing if your entire trip will be completed before your child is 2 years old. If the child turns 2 during the trip, most airline programs insist that you need to buy the child his or her own seat (or book separate one-ways to get infant pricing on the outbound).
However, this week I learned from Gilbert that British Airways and Virgin Atlantic have a policy of allowing the child to fly the return flight for the lap infant price if they turn 2 years old during the trip. The British Airways policy can be found here and it says:
Infants who become children while travelling

If you're travelling with an infant who reaches the age of 2 during their journey, your child will need their own seat for any flights on and after their 2nd birthday. We won't charge you extra for this; you'll only pay the infant fare for the entire journey.

This booking can't be made online, so contact us and we'll be pleased to help you
The fact that the child not only gets lap infant pricing but they get their own free seat is pretty amazing. Obviously carrier-imposed surcharges still make British Airways long-haul flights pricey, but if you were already considering paying those surcharges this is a great deal.
I didn't find that policy on the Virgin Atlantic site, but as I know that Gilbert has a young child and has long split time between the US and UK, I don't doubt that he's correct.
I found this tip somewhat timely as I theoretically have European cruises booked in the summer and fall (try to contain your laughter) and the fall cruise is shortly after my younger son turns two. While we took advantage of plenty of lap infant travel during my first son's first two years, my second son hasn't yet been on a plane. I'd love to save on a ticket or two beyond his birthday if I could.
If I could nest the trips (i.e. Fly a "round trip" that departs the US in summer and "returns" to the US in fall and fly a round trip that "departs" Europe in the summer and "returns" in the fall), I could theoretically get him a free seat for the lap infant fee in both directions in the fall. That said, carrier-imposed surcharges combined with the declining faith I have in the idea of getting on a cruise ship in a few months means that I'll probably not be booking this deal unless it's a game-time decision based on last-minute availability. Still, what a good tip to have in mind should the need arise.
Read more about this at God Save the Points.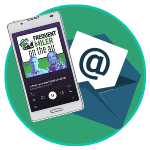 Want to learn more about miles and points?
Subscribe to email updates
 or check out 
our podcast
 on your favorite podcast platform.