Update: Chase has changed the annual free night benefit, sending out a letter indicating that annual free night certificates issued after 5/1/18 will be capped at properties costing up to 40K per night. See this post for more details.
Over the weekend, Chase links to the IHG credit card went down.  If you browse to an old Chase link, you'll get this:
Doctor of Credit reports on rumors published by AskSebby that suggest that Chase may be replacing the current IHG card with two new cards, neither of which will have an annual free night.  That seems unlikely to me, but I do think it is certain that any new cards will be less of an amazing deal than the current IHG card.
Update: Details about a new IHG card have leaked out. As I expected, the higher-end card ($89) will offer an annual free night.  Still, personally I'd prefer the $49 card.  See: New IHG card will carry free night, but higher fee.
Fortunately, there are still some working links to the IHG card, but these may disappear any moment.  We will do our best to keep up-to-date working links on our dedicated IHG credit card page.
As I write this, the best working offer is for 60,000 points after $1K spend, plus a $50 statement credit after first purchase.  If you have IHG elite status, you may be able to find an even better offer by going through the steps of booking a paid night on IHG.com.  On the last screen before confirming the booking, scroll down to the bottom to look for an 80K offer (I can't promise it will be there, but it might).
I've always thought of the $49 Chase IHG card as the single best card to have and to hold.  It offers fantastic value for it's annual fee, but it's not particularly rewarding to use for spend.  Here's why I love the IHG card in its current form:
It's cheap: $49 annual fee
Annual free night e-certificate good at ANY IHG property
Automatic 10% point rebate on awards
Automatic Platinum elite status
The annual free night certificate will first appear at the end of your first year of card membership and then each year after that.  The amazing thing about this free night certificate is that it is good at any IHG property worldwide, including Intercontinental Hotels that may otherwise cost upwards of $1,000 per night.  But, even if you use the certificate to cover a hotel that would have cost $200 per night, you'll come out way ahead.  And now that the free night certificates can be used at Kimpton hotels, I like them even more!  See: Kimpton IHG Platinum experience redeeming free nights at the Kimpton Muse.
What about 5/24?
The IHG card is not subject to 5/24.  That means that even if you've signed up for 5 or more cards in the past 24 months, it is still possible to get approved for this card.  On the other hand, as is true with all personal cards, this card does add to your 5/24 count once approved.
Chase's 5/24 Rule: With most Chase credit cards, Chase will not approve your application if you have opened 5 or more cards with any bank in the past 24 months.

To determine your 5/24 status, see: 3 Easy Ways to Count Your 5/24 Status. The easiest option is to track all of your cards for free with Travel Freely.
Who should apply?
Anyone who doesn't already have the IHG card should consider picking one up today.  Our hope is that Chase will grandfather in everyone who gets the card now so that we can keep the current card pricing and benefits long term.
Question: I'm under 5/24. Is this card worth pushing me closer to 5/24?
I think so, yes.  Of course there are other Chase cards that may be even more worthy.  If you have your eye on another card and you're at 4/25, consider signing up for both on the same day.  This way it's possible to get approved for both even though you'll end up at 6/24 afterwards.
Question: What if I'm way over 5/24?
Then definitely get the card.  One more new account won't hurt you.
Question: I'm over 5/24, but will soon be under. What should I do?
That depends upon how many accounts will soon be past the 24 month threshold.  If you'll soon be well under 5/24, then that will still be true even if you sign up for this one card now.  On the other hand, if you're waiting for just one card to age off the 24 month limit, then signing up for this card will prolong your 5/24 count.  In that case, the answer to whether you should go for this card depends upon what other Chase card you are anxious to get.  Is it more valuable to get that other Chase card soon vs. giving up on the $49 IHG card forever?  I can't answer that for you.
Application Link
We will do our best to keep up-to-date working links on our dedicated IHG credit card page (click to view).  At the present time, the best offer is not an affiliate link.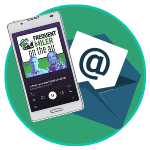 Want to learn more about miles and points?
Subscribe to email updates
 or check out 
our podcast
 on your favorite podcast platform.