Marriott's Le Meridien Maldives Resort & Spa opened September 1st 2021.  Just 10 days later, Nick and I visited the resort for a brief 3 night stay.  It was fantastic!  We didn't experience any issues usually associated with brand new hotels.  Quite the opposite: The buildings and grounds were beautiful and the staff were exceptional.
As is the case with most resorts in the Maldives, it's necessary to fly into Malé airport (MLE).  From there, the resort organizes a 30 minute seaplane transfer to their island (a few resorts offer a boat transfer option, but that's not available with Le Meridien).  Once at the resort, there is no practical way to visit other islands unless participating in a resort sponsored excursion.  As a result, in the Maldives, its essential to carefully read reviews before committing to a resort.  Here's my review of Le Meridien Maldives…
It's hard to believe that it was only a few months ago when we first learned about the Le Meridien Maldives.  It's a brand new resort with overwater bungalows classified as standard rooms.  This is important because it's possible to use points or free night certificates to book these.  Even better, the resort is currently a category 5 Marriott property.  This means that rooms cost only 35K per night standard (or 40K peak, or 30K off-peak).  That's a steal for the Maldives!  To see how great of a deal this is, see this post that compares Marriott's multiple offerings: Overwater villas in the Maldives, bookable with Marriott points.
Le Meridien Maldives Bottom Line Review
Bottom line: Le Meridien Maldives is awesome.  On our second day on the island, I wrote "Le Meridien Maldives first impressions: Wow!"  And the resort continued to impress us for the rest of the trip.  The resort offers great service on par with the best luxury resorts in the world; and both the island, restaurants, and accommodations are physically gorgeous.  Plus, excellent snorkeling is available by swimming directly from the beach or from an overwater villa.  The only minor negatives relate to food and activities: we found the food to be good, but not great; and while the resort does offer a number of excursions, there's not a lot to do there during a long stay unless you are into water sports.
Points Price: Category 5, 35K points per night standard, 30K off-peak, or 40K peak.  Expect to pay 40K per night during the winter.  I expect Marriott to increase this resort to Category 6 or (more likely) Category 7 when they make annual category adjustments in March 2022.
Cash Price: Varies. Expect to pay at least $450 to $550 per night in the off-season or $600 to $900 per night in peak season (December through March) for a standard Beach Bungalow room.  Prices for overwater villas and upgraded rooms are usually higher.
Points Value: Great!  During peak dates it can be hard to snag with points (especially for an overwater villa at standard pricing), but if successful, you'll usually score well over 1 cent per point value before accounting for taxes and service charges which drive the point value higher since they are not charged on award stays at this property.  On the other hand, cash rates include breakfast whereas award nights do not.  So, if you don't have Platinum Elite status or higher (which includes free breakfast as a welcome gift option), the value of your points here will be slightly lower.
Resort Fee: This resort doesn't technically have a resort fee, but 10 percent of the nightly room rate is listed on the bill as a "service charge."  When booking with points or with free night certificates, there is no resort fee or service charge based on the room rate because 10% of nothing is nothing.  There is a standard 10% service charge for any activities, food, etc. charged to your room.
Tipping: The resort automatically charges a 10 percent service charge on top of room and food charges.  I never felt any expectation to tip during any staff interactions except maybe at meals.  After each meal, the bill includes a line to add an optional tip.  Since the 10 percent charge is already included, I didn't feel like a tip was required, but I did round up my charges to the next $10 or so.
Airport Transfer: Le Meridien charges $420 ($426 after taxes) per person for round-trip transfers from Malé airport (MLE).  This charge is billed directly to your room.  There is no option to book your own transfers separately.  Compared to other resorts that require seaplane transfers, $420 is very reasonable.  See this post for a comparison of Marriott properties in the Maldives: Overwater villas in the Maldives, bookable with Marriott points.
Housekeeping: Rooms are cleaned and serviced twice per day.  Housekeeping staff ensures that rooms are always stocked with bottled water (from the island's own bottling plant), clean bath towels, and clean beach towels.  With the evening service (which always happened while I was at dinner), lights are dimmed and curtains closed.
Internet: Internet coverage around the island and in rooms was very reliable.  It was slow for uploading very large files, but it was fast enough to easily stream video calls.
Dining: The resort offers several restaurants and bars around the small island.  See the "Dining" section later in this post for details and reviews.
Spa: Neither of us tried the spa, but I can at least assert that the views must be great.  Spa rooms are in their own overwater villas on the south side of the island (which is more secluded since most other things are on the north side).
Fitness Room:  Neither of us tried the fitness room but it's located in the Waves Lifestyle Hub and has ocean views.
Marriott Elite Benefits:  Nick and I each had Titanium Elite status going into our stay, but I expect that Platinum elites will get similar treatment.  Here are the elite benefits available for those with Platinum status or higher at Le Meridien Maldives:

Room Upgrade at Check-In: We had each booked a sunrise overwater villa.  Nick was upgraded to a sunset overwater villa, but I wasn't upgraded.  I have no idea why he secured an upgrade and I didn't, but I was actually very happy about that outcome because we both agreed that my villa was better!  See this post for more: Le Meridien Maldives Villa Selection: Which is Best?
Welcome Gift: Your choice of daily breakfast buffet, 1000 bonus points, or a local gift (which is traditional Sarong). The daily breakfast is unquestionably the most valuable choice.
20% Off Food & Beverage Purchases:  This discount is applied automatically.  The discount includes alcohol.  It does not include in-room dinning or any other activities or spa treatments.
4PM Late Checkout:  This is not guaranteed at Marriott resorts.  I don't think that checkout time is an issue at this resort since they schedule check-out based on your seaplane transfer time which is dictated by your flight departure time from Male airport.
No Suite Night Awards: Suite Night Awards are not accepted at this resort.

Would I stay again? Yes!  I would love to stay again.  In fact, I've already tentatively booked a 5 night stay with points for early next year.
Arrival
To get to the Le Meridien, it's necessary to fly into Malé and then take a seaplane transfer to the resort (transfers cost $420 round-trip per person).  There was a bit of a hiccup upon arrival in Malé: as we exited customs, we should have seen a guy holding a sign for the Le Meridien, but we missed him.  We saw people with signs for every other resort in this hemisphere, but not this one.  If this happens to you, I recommend asking someone from another Marriott property (St. Regis, Ritz-Carlton, W, JW, Westin, Sheraton) and I'm sure they'll point you the right way.  We didn't know to expect this, though, so we went a different route.  We had an email from the resort saying which island transfer service they use (Trans Maldivian Airways) and so we went to their desk to figure out next steps.  The sign-holder-guy came over and apologized for missing us, got our bags sorted, and pointed us to a shuttle bus.  The shuttle bus took us to a passenger holding area (an off-airport lounge) and then to the seaplane marina where we were loaded onto the small plane and took off.  We flew first to drop off half the passengers (or maybe more) at a different resort and then went on to the Le Meridien.  The entire flight took about 35 minutes.
Service
From the moment we stepped off the seaplane, Le Meridien's incredible staff made us feel welcome and pampered.  Every single interaction from then on reinforced the notion that Le Meridien Maldives offers a level of service on par with the best of the best, anywhere.  On the last full day of the trip we met the resort's general manager, Nilesh Singh.  It turns out that before he became general manager here, he worked at Ritz-Carlton and St. Regis properties.  He believes that Le Meridien's staff should be held to the same level of service as is more common at Ritz and St. Regis hotels.  And it shows.
Overwater Villas
Check out this video walk-through of an overwater villa:
Le Meridien Maldives offers a number of different room types.  The two that are considered "standard" and which can be booked with 30K to 40K points per night without additional upgrade charges are: Sunrise Overwater Villa and Beach Bungalow.  For a full discussion about room types and which is best, please see: Le Meridien Maldives Villa Selection: Which is Best?  The short answer is that the best choice for those interested in snorkeling is the Sunrise Overwater Villa on the west jetty.  I would actually consider turning down an upgrade offer in order to keep this base level room.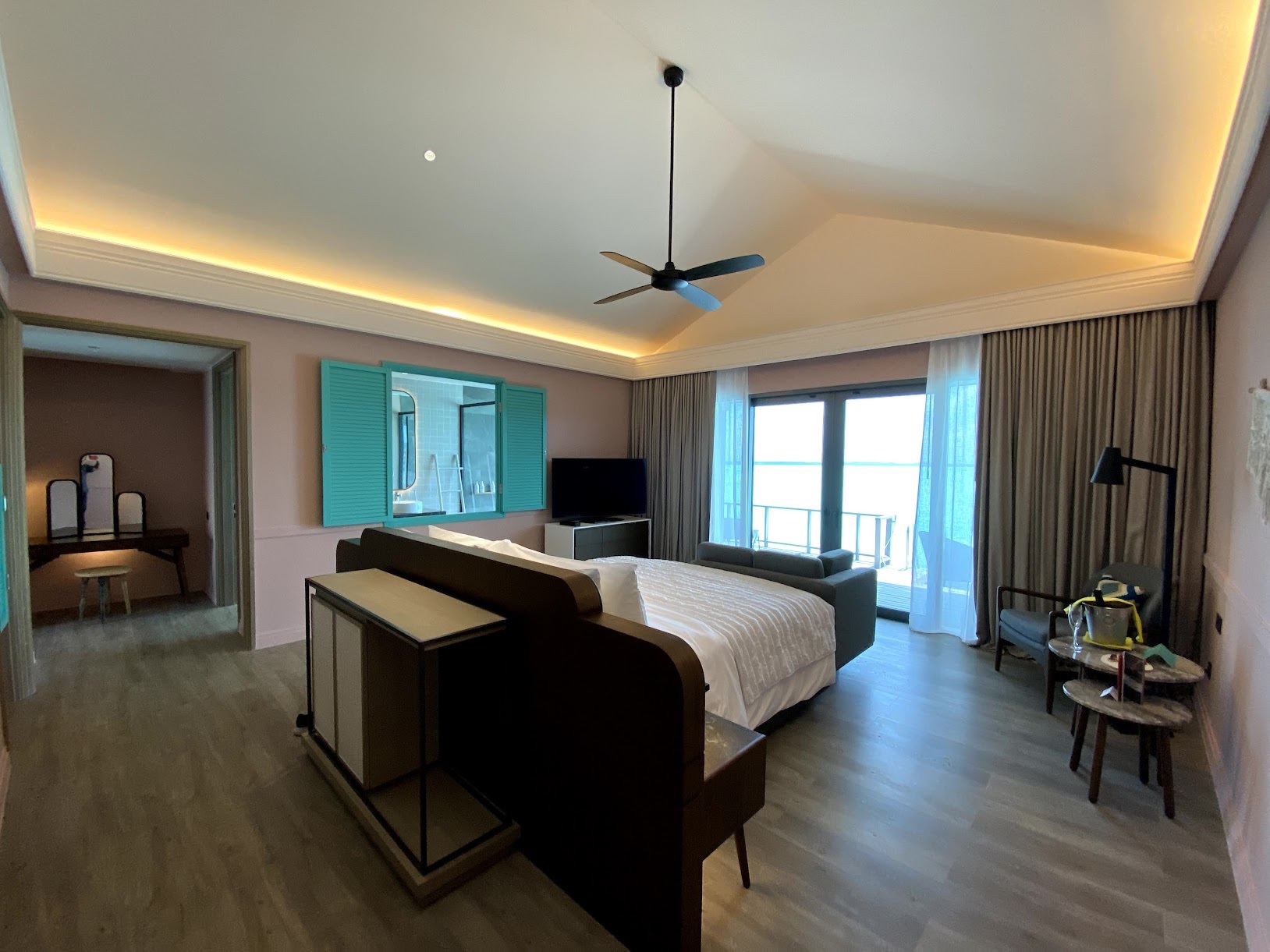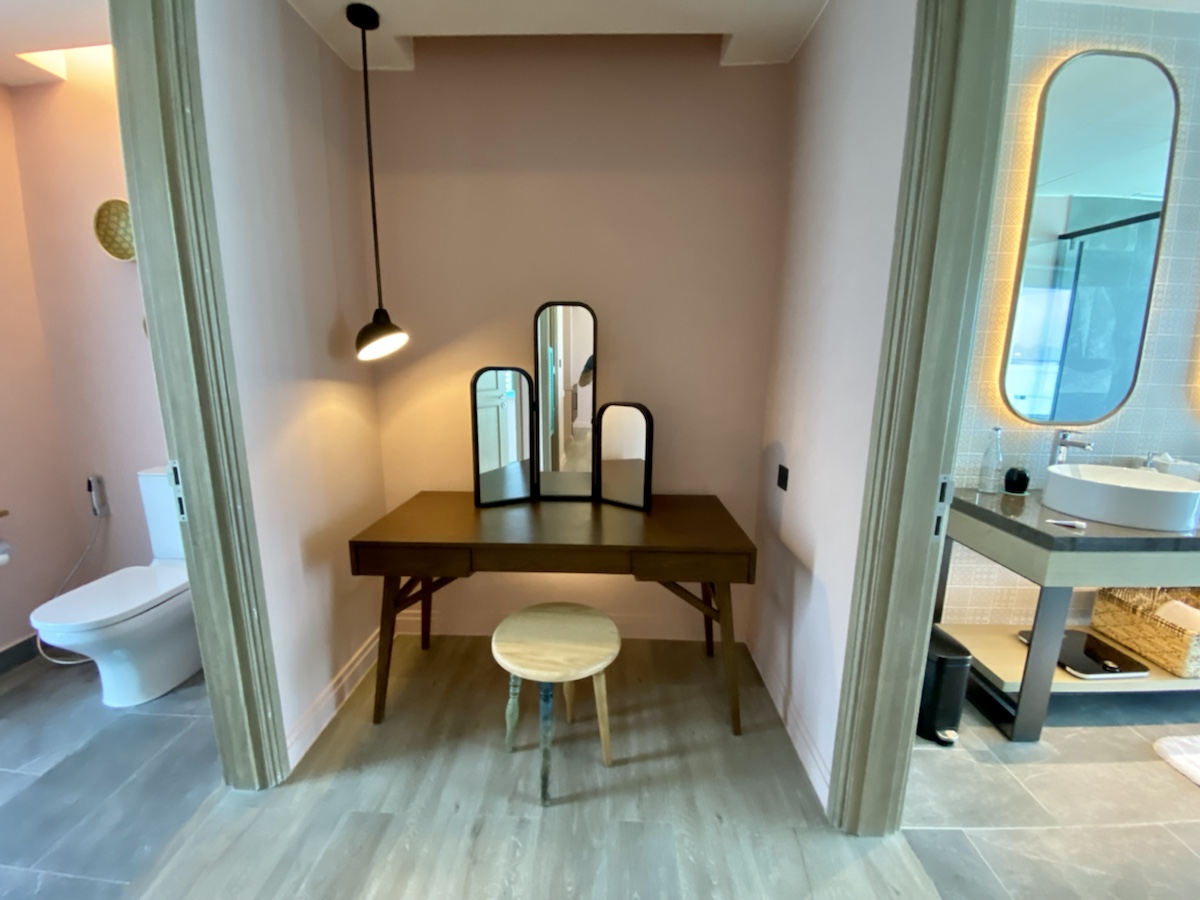 Snorkeling
Le Meridien Maldives has a beautiful reef teeming with fish.  As shown below (with the yellow arrows) it's possible to swim from west jetty sunrise villas to the reef.  Currents are such that it is sometimes very difficult to swim back to the west jetty and so a suggested route is to swim along the reef and then to the beach as shown below.  Make sure to bring a room key with you (hopefully your swim suit has a secure pocket!) so that you can get back into your room after walking back.  If you're not interested in swimming far, there are also little artificial reef "pods" dotted all around the island so that you can see plenty of fish from almost anywhere.
Always, always, always wear a life vest when snorkeling here.  The currents are often very strong and so it can be very dangerous to go without one.  The resort provides two life vests in every room.
As shown above, we each used waterproof phone cases that we bought on Amazon.com to record our snorkeling adventures (in case you're interested, here's our affiliate link to the specific product we purchased).  The case worked well to protect our phones, but you do need to make sure to dry off the case thoroughly before opening it so as to prevent water from getting trapped inside (we each made that mistake at least once).  While snorkeling, we could manipulate the phone screens through the case's soft plastic, but usually we had to surface to do so.  The screen didn't usually register our finger swipes while underwater.  The shutter button on the case worked perfectly with my iPhone 11 Pro, but it didn't line up correctly to work with Nick's Android phone so he had to turn on and off recording via his phone's screen.
While we only once saw a stingray while snorkeling, they often swam right up to our overwater villas.  The stingray shown above took a liking to Nick's villa and hung out nearby for a long time.
Dining
The resort offers three primary restaurants: Turquoise, Velaa Bar + Grill, and Tabemasu Japanese Restaurant.  Additionally, mid-day food can be found at their Latitude coffee shop, Waves Cafe, and Riviera (adults only bar).
All of the dining venues are beautiful themselves and have beautiful views.  And, in all cases, service was outstanding.
Turquoise Breakfast
Turquoise is the one and only breakfast restaurant on the island.  They offer an excellent buffet with a wide variety of Maldivian, Asian, and Western foods.  Additionally, the island's barista is on-hand to prepare coffee any way that you'd like.  I would have liked to have seen a bigger variety of fresh fruit options, but I eventually learned that you can request some things even if they're not on display.  Twice I asked for papaya and it was brought to my table on a plate.
Turquoise Dinner
Nick and I had mixed opinions of Turquoise for dinner.  Nick ordered a Maldivian dish that he liked a lot.  I ordered the catch of the day which was under flavored and a bit rubbery.  You can find the dinner menu here (you may have to hit refresh on your browser a couple of times).
Velaa Bar & Grill
This was my favorite restaurant at the resort.  Nick ordered a huge meat platter (which he was gracious enough to share with me) and I ordered the tuna steak.  Both entrees were very good.  You can find the lunch and dinner menu here (you may have to hit refresh on your browser a couple of times).
Tabemasu (Japanese restaurant)
In my opinion, dinner here was good but not great.  Perhaps my expectations were too high since this seems to be the premier featured restaurant on the island.  I ordered the $130 Omakase (chef's choice) six course meal.  Everything was good, but nothing was great enough to justify the price in my opinion.  You can find the dinner menu here (you may have to hit refresh on your browser a couple of times).
Meal Plan Info
Guests have the option to add full or half board meal plans to their stay.  Many guests have breakfast included already (either because it was included with the cash rate they booked or because they chose breakfast as their Platinum Elite welcome gift) and so the meal plan options are $30 cheaper in those cases.
Half Board: $95 per day ($65 per day for those with breakfast already included)
Daily breakfast buffet at Turquoise (which is the only restaurant open for breakfast)
Daily dinner: Buffet dinner or a 3-course meal served at Turquoise; or a 3-course set menu at Velaa Bar + Grill.
Surcharges apply on selected items.
Specialty outlets, destination dining, in villa dining and special events are not included in Half Board meal plan and will incur additional charges.
Beverages are not included and will be charged on consumption. Still and sparkling island water are included (Note: without a meal plan, we were charged $5 per meal for water).
Full Board: $230 per day ($200 per day for those with breakfast already included)
Daily breakfast buffet at Turquoise (which is the only restaurant open for breakfast)
Daily lunch: Choice of Turquoise, Waves Cafe, Latitude, Riviera (adults only bar), Velaa Bar & Grill.  In other words, lunch is included at any dining outlet on the island.
Daily dinner: Choice of buffet dinner or a 3-course meal served at Turquoise;  3-course meal at Velaa Bar + Grill; 3-course meal at Tabemasu
Beverages: All alcoholic and non-alcoholic beverages are included, including Minibar drinks (excluding Champagne).
Excludes destination dining and in-villa dining.
Platinum Elite (or higher) Notes Regarding Meal Packages:
If you select daily breakfast as your welcome gift, then the plans listed above would cost $65 (half-board) or $200 (full-board).
The Platinum Elite 20% Food & Beverage discount does not apply to the purchase of full or half board packages.
How to book with points
The trick to finding base level rooms available to book with points or with free night certificates is to use Marriott's Flexible Date search tool.  In my experience, flexible date searches never seem to work on the mobile app, but they often work when using a desktop browser.  If you find that you're not getting any results on a desktop browser, try again in Incognito or Private mode.
To find available award nights, go to Marriott.com and search for Le Meridien Maldives to book any date range of interest.  Once you get to the resort's search results, you can click the Edit button to change the parameters of your search.  Next, make sure that "Use points / certificates" is checked, and then click on the "from" date.  This will drop down a calendar where you can then click the "Flexible Dates" tab as shown below:
I like to do flexible date searches for 1 night stays so as to get a decent picture of what's available.  With the above search, I found this calendar view:
Dates shown above with numbers in them are days where base level rooms are available.  From this view, though, you can't tell whether Sunrise Overwater Villas or Beach Bungalows are available, or both.  You'll have to click into one of the dates to see.
If a Sunrise Overwater Villa is available, you should then see something like this:
If a Sunrise Overwater Villa isn't available, you may instead see a Sunset Overwater Villa like this:
The Sunset Overwater Villa costs more because it is considered an upgrade (even though I prefer the Sunrise Overwater Villas!  See: Le Meridien Maldives Villa Selection: Which is Best?
If you book a standard room with points for 5 nights or more, you'll be able to take advantage of Marriott's Stay for 5, Pay for 4 awards.  Basically, Marriott won't charge you for the least expensive award night of your trip.  If you book an upgraded room for 5 nights, though, you will have to pay the upgrade amount (either $100 per night or 20K points per night in the example above) for every night of the stay even though you won't be charged the base rate for one of the nights.
See our Marriott Bonvoy Complete Guide for more about booking Marriott award nights.
Paying with Marriott Gift Cards
Every now and then it's possible to get a deal on Marriott gift cards.  Sometimes Marriott sells them directly at a discount.  Other times, you may have a credit card offer that gives you a rebate at Marriott hotels.  In those cases, it is often possible to buy a gift card from the front desk at a Marriott hotel in order to earn the rebate.
Marriott gift cards can be used without any problem at Le Meridien Maldives.  The resort charges in US dollars and so there are no issues with foreign currency exchange rates.  Everything that you charge to your room can be paid with a gift card.  This includes all food charges, COVID testing, seaplane transfers, excursions, etc.
I recommend letting staff know that you intend to pay this way before the end of the trip.  That way, gift card processing can be done in advance and won't hold up your departure when checking out.
COVID Notes
Requirements for arriving in the Maldives
At the time of this writing (also at the time of our visit), there are only two requirements for entering the Maldives:
You must have a certificate of a negative PCR test taken within the 96 hours prior to departure.
You must fill out a Traveler Health Declaration form and submit it online within 24 hours of arrival.  After submitting the form you'll be presented with a QR code.  I recommend snapping a photo of that code so that you have easy access to it when needed.
Requirements at the Le Meridien Maldives
Here's what you need to know about Covid policies during your stay:
Guests are required to wear masks only when entering the buffet area at breakfast.  Otherwise, masks are not required.
Staff wear masks at all times.
Requirements for departing the Maldives
If you need a negative PCR test when leaving the Maldives (requirements vary based on your next destination), a staff member at Le Meridien will contact you to arrange a test on the island a day or two before you leave.  The test costs just short of $150 after taxes and fees.  The resort has a little health clinic on the island that you go to during certain hours to get your test done.  It was very easy.
You must fill out a Traveler Health Declaration form again and submit it online within 24 hours of departure.  Wait until you've received your PCR test results before filling this out since you'll need the info from the test to complete the form.
More Information
Below are links to PDF files that the resort supplied to us:
And here's a video of our live stream from the resort.  In this video we reviewed the basics, answered questions, and gave a quick tour of Nick's villa.  We also spotted a sting ray during the recording!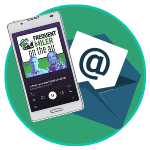 Want to learn more about miles and points?
Subscribe to email updates
 or check out 
our podcast
 on your favorite podcast platform.