Bank of America is running what looks like a targeted promotion for new business checking accounts that offers up to a $750 bonus with very easy requirements. This deal has been around since June, but it just popped up in my wife's account over the last few days and is only valid until 9/30/21.
The Deal
Bank of America is offering a bonus of up to $750 with a new business checking account. Per the terms, this offer is targeted (you should see it in your online login if targeted). Bonus amounts and requirements are as follows:

$500 bonus: Make $20,000 in qualifying deposits within 15 days of opening account and maintain that minimum average balance for the next 60 days (days 16-75 from account opening)
$750 bonus: Make $50,000 in qualifying deposits within 15 days of opening account and maintain that minimum average balance for the next 60 days (days 16-75 from account opening)
Key Terms
Must make qualifying deposits in new money (i.e. money which is not currently or previously held in any account at Bank of America or Merrill) within 15 days of accou t opening
Must maintain the qualifying minimum average daily balance for the next 60 days (days 16-75)
Offer only available to business owners who receive this offer via a direct communication from a Bank of America Specialist or from a Bank of America communication. This offer is intended for new customers only; your business is not eligible for this offer if you were an owner or signer on a Bank of America Business Advantage Banking account within the last twelve (12) months.
Between 6/4/21 and 9/30/21 ("Promotion Period") as part of the Preferred Rewards for Business ("Program") 12 – Month Trial Promotion ("Promotion"), the three-month combined average daily business balance requirement to be eligible for program enrollment will be waived. Clients who open an eligible Business Advantage FundamentalsTM or Business Advantage Relationship Banking account online, are accepting the offer at the time of account opening ("Offer Acceptance") and will be enrolled to receive Program Gold tier benefits for 12- Months. Offer Acceptance must take place by September 30, 2021. Program Enrollment will take place within 60 days of offer acceptance if you qualify. Benefits become effective within 30 days of your enrollment. Bank of America may change, extend or terminate this offer before this date without notice
Quick Thoughts
The nice thing about this checking account bonus is that it is very simple: deposit the money within 15 days of account opening, leave it there for 60 days, collect a nice bonus and also get Bank of America Preferred Rewards Gold status (which is nice since that waives the monthly fee without needing to meet any requirements).
While the offer appears to be targeted based on the terms, I've seen multiple data points from people who have received the bonus despite not being targeted. YMMV — there is obviously a chance that it won't be honored if you weren't targeted.
I did this bonus last year, depositing $20K for 60 days and I quickly received my $500 bonus (see my 2020 bank bonus tally post for more info about the bonuses I did last year). This time around, my wife will be happy to open the account and earn an easy bonus (we frequently move our emergency fund around for new bonuses like this one). I like that this year they have added Preferred Rewards for Business Gold tier benefits right off the bat since it would mean a 25% bonus on eligible business credit card earnings. The Business Cash Rewards card would be much better with Platinum Honors status, but even at the Gold level it becomes a 3.75% card in a category of your choice from gas stations (default), office supply stores, travel, TV/telecom & wireless, computer services or business consulting services (on up to $50K per calendar year). I'm not sure that will be a high priority for us right now given all of the great bonuses on the market, but since the Preferred Rewards Gold trial is good for 12 months, it may become useful at some point during that time. At the very least, the 12-month Gold tier benefits mean no monthly maintenance fee (which can be avoided with minimum average balance, deposit, or debit card activity, but having Gold status obviates the need to worry about it).
Keep in mind that you need to open the account by September 30th and fund it within 15 calendar days. We've seen this offer come around several times before, so there is certainly a chance that this will either get extended or targeted to a new group in the coming weeks.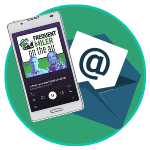 Want to learn more about miles and points?
Subscribe to email updates
 or check out 
our podcast
 on your favorite podcast platform.