For years, my wife and I hustled on easy opportunities: we were young and ready to strike while the iron was hot when we saw a chance to make a quick flip or earn an easy buck. If there was low-hanging fruit, we picked it. But eventually, the credit card game spoiled us. Between quarterly categories and spending bonuses and welcome offers, there was fruit everywhere we looked. Once we got into a pattern on that, we admittedly neglected some of the easiest deals to pick. Then the recent SoFi Money deal came along and my wife and I got $250 cash and $100 in free stock on Day 1 just by me opening and funding my accounts and referring her to do the same. That reminded me that if I'm going to spend time doing the math on the small stuff, I'd better not ignore the easy stuff. An example of the easy stuff that came back on my radar with SoFi is bank account bonuses. These often get less attention in the blogosphere, but they can be a great way to pad your vacation fund to cover miscellaneous expenses, reduce the cost of the upcoming holidays, or just help you set aside something for a rainy day.
Bank account bonuses
Years ago, before I got into earning credit card welcome bonuses, I used to often go after a different kind of bonus that can also be very lucrative and that you should not be ignoring: bank account bonuses. Just as banks pay a bonus for opening a new credit card and using it, many banks pay a bonus for opening a checking account and using it.  The difference is that in many cases there is no credit pull for a new bank account and there typically isn't a large spending requirement (if there is any at all). Instead, there is often a deposit requirement of some sort. Just as there are ways to meet minimum spending requirements and get most of it back, it is sometimes possible to find creative ways around such deposit requirements. And it can be well worthwhile: these bonuses can sometimes rival those offered by credit cards and at times require far less effort. If you are focusing on maxing out 5x bonus categories and timing your 5/24 applications just right and whether you should be earning 3x URs or 4x MRs or 5x TY points for your venti peppermint latte and you aren't doing any bank account bonuses, there is low-hanging fruit out there that you should be picking.
For example, earlier this month, I opened a new bank account at a smaller regional bank. At account opening, I needed to deposit at least $50, which I did electronically by connecting an external bank account. In this case, the new bank was a regional bank with a bonus structure that varies a bit based on geography. For me, the bonus offer was as follows: Get a $250 bonus after opening a new checking account and receiving direct deposits totaling $500 or more in the first 3 months. That's it: the account has no monthly maintenance fee or minimum balance to maintain, just a single direct deposit requirement of $500 or more to get the new account bonus. Most readers here could probably meet a requirement like that and make an easy $250 that requires no hard pull, does not count against your 5/24 status, and requires no purchase and liquidation of gift cards.
If you have an employer that makes it easy for you to switch direct deposit or split direct deposit to multiple banks, that's awesome. If you're playing in 2-player mode, this kind of bonus puts an extra $500 in your collective pockets. Done a couple of times per year, this could easily be the fund that covers miscellaneous travel expenses.
But what if you don't want to contact your HR department and switch over direct deposit three or four times a year? In some cases, you may not have to. Direct deposit is typically a requirement for earning a bank bonus, but just like we find with many kinds of credit card benefits and loyalty programs, what is written in the terms does not always match reality. While banks offering new checking and/or savings account opening bonuses generally stipulate that a direct deposit must come from an employer, government benefits, or a retirement distribution (or something of the sort), in practice many different types of deposits may trigger the computer system to recognize that you've met the direct deposit requirement.
For instance, last Friday I made a transfer from my SoFi Investing account to the above-mentioned new checking account that I had opened earlier this month (the one that required direct deposits totaling $500 or more in order to receive the new account bonus). The very next day, the new account bonus posted to my account.
That's certainly not going to work with every bank every time, but I had a hunch that it might in this case because Doctor of Credit maintains an excellent resource page about what "counts" as a direct deposit at various banks. Of course this is subject to change at any time, but it's a great collection of data points about what has worked in the past (which is often a decent indication of what will work in the future). In this case, moving around some of my own money in my pajamas scored me about what I paid for four nights at the Courtyard Hakuba earlier this year after the 4th night free savings.
Do these opportunities come around often?
You might assume that I cherry-picked an example for this post, but the fact is that there are many banks offering such bonuses. Some require more hoops. For example, at the time of writing, there is a current Wells Fargo checking account bonus that requires three months of direct deposits of $3,000 or more. That account requires a minimum daily balance of $1500 in order to remain fee-free. However, if you can meet the deposit requirement and maintain that float, the $400 bonus for opening a checking account can be a nice windfall. Playing in 2-player mode looks even better. Some banks require a minimum number of debit card transactions. Others require large new-money deposits. The requirements vary, as do the rewards.
Doctor of Credit again maintains an excellent resource page of current bank account bonuses that we've long linked to from our weekly Last Chance Deals post / email. At the time of writing, there are more than 100 bank account bonuses on that page. Some are only available in select states, some are only available for business accounts; not all hundred plus accounts will be available to you, but it is likely that at least a few are applicable to your situation. Doing a few of those per year could certainly add up to a nice little windfall with minimal effort. Best of all, many of these can be done in your pajamas from the comfort of your couch.
Things to know about bank bonuses
There are a few key considerations that I recommend keeping in mind if you're interested in pursuing new bank account bonuses.
Always check Doctor of Credit to see if it is a hard or soft pull. I've always found DoC's info to be accurate in this regard.
Always opt out of overdraft protection if given the choice. While opening the bank account may be a soft pull, sometimes choosing overdraft protection (if it is offered as an additional feature) will cause a hard credit pull, so I always opt out if there is a check box related to it.
Know if there are early termination fees. Stay organized in terms of knowing what actions are required and when. I set a reminder on my phone as to when to evaluate whether I'll keep or cancel the account. Some accounts are churnable (meaning that you may be eligible for the bonus again after a minimum length of time).
Remember that this does come at a cost to the bank. Personally, I often use these accounts more than the minimum and I'm open to giving a new bank the chance to earn some of my business (especially so with smaller regional banks).
You will be taxed on bank account bonuses. Most banks send out a 1099 for bank account bonuses, so you will pay tax. This is no big deal in my opinion — it's still easy profit in the pocket.
Many new accounts can be funded with a credit card. You will want to look for data points before applying as in some cases your (credit card) bank may code this as a cash advance. In other cases, it codes as a purchase and is an easy way to help meet minimum spend and earn rewards. It's always a good idea to set your cash advance limit as low as possible to avoid accidentally being hit with higher fees.
Make sure you read and follow directions well. As noted above, requirements vary; in some cases a bonus will require a minimum number of direct deposits, in others there will be a minimum number of debit card transactions per month, etc.
Don't call the bank to complain that your alternative direct deposit didn't work. If you made a transfer that probably wouldn't satisfy the traditional definition of a direct deposit and it did not successfully trigger your new account bonus, calling the bank to complain about that isn't likely to change anything. Rather, check for recent data points and try a different method (if there is time) and if all else fails you may need to accept that you can't win 'em all. Usually there is little lost here since most accounts do not require a hard pull. On the other hand, if you followed requirements to the letter and received an official direct deposit, etc, then you will certainly want to reach out to the bank and if all else fails file a CFPB complaint. In my experience, I've only once had to go that route over a bank account.
Many banks use and report to ChexSystems. This is a reporting system for bank accounts that typically records fraudulent activity (like bounced checks) or may show a warning if you're opening too many accounts too fast as this would be a warning sign for fraudulent activity to come. Not all banks use this system, but some do. For this reason, don't get out of control in terms of velocity of opening new bank accounts.
Bottom line
Our main focus here in terms of bank rewards is credit cards. Frequent Miler is about earning miles without flying, and as such we spend a lot of time analyzing the best ways to do that — whether via welcome bonuses, strategic spending, etc. We also spend a lot of time analyzing the best ways to use the rewards you've earned. But the ease with which the recent SoFi Money bonuses were triggered reminded me that there are a lot of other easy bonuses to be had that can supplement your credit card rewards and help pay for ancillary travel expenses and can also be useful for satisfying that itch to earn a bonus without adding to your 5/24 count.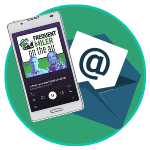 Want to learn more about miles and points?
Subscribe to email updates
 or check out 
our podcast
 on your favorite podcast platform.