In the aftermath of Marriott's change to dynamic pricing, we've heard a lot of complaints about the increase in price of the aspirational properties that many members earn points for. While we're pretty confident that, the overall value of a Marriott point has increased, there's no doubt that there's a subset of 200 or so properties where that's not the the case. Well, for those folks wanting to ditch Marriott for good, there might be an out…although a somewhat angular one.
Air Canada is offering a 20% bonus when you transfer Bonvoy points to Aeroplan during the month of May. But this bonus can actually turn into as good as a 2:1 transfer ratio.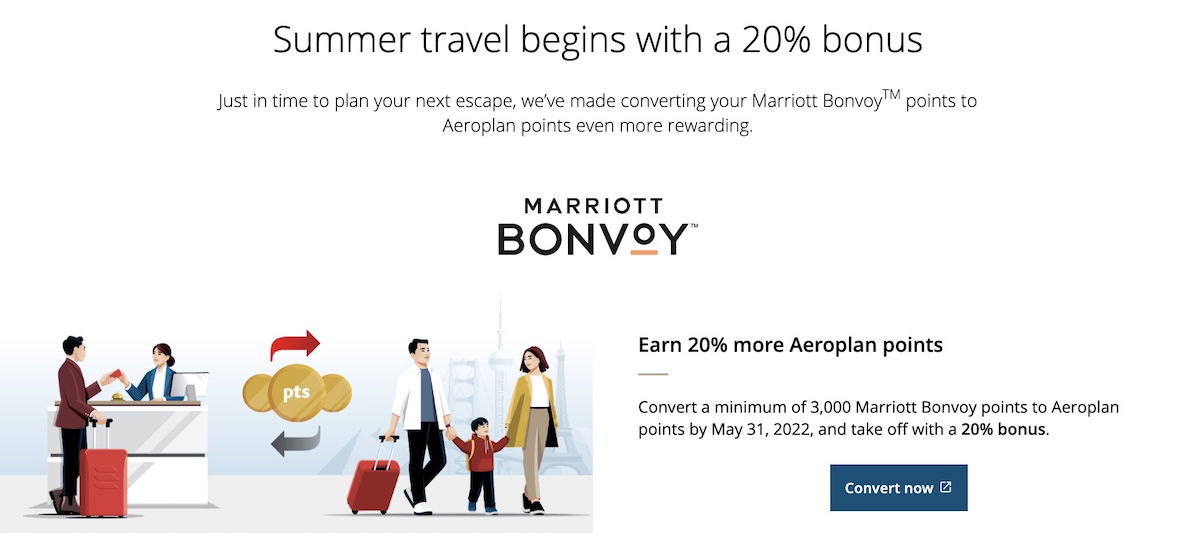 The Deal
Air Canada Aeroplan is offering a 20% transfer bonus on all transfers from Marriott Bonvoy to Aeroplan until 5/31/22.
Terms and Conditions
Offer valid on conversion transactions from Marriott Bonvoy points ("Marriott Bonvoy Points") into Aeroplan points ("Aeroplan Points") made between May 20, 2022, at 12:00 AM EDT and May 31, 2022, at 11:59 PM EDT ("Promotional Period").
This offer is applicable only to Aeroplan Members who are also members of Marriot Bonvoy and are in good standing in both programs. If you are not an Aeroplan Member, you can enroll for free today at aircanada.com/joinaeroplan.
Bonus Aeroplan Points may take up to 4-6 weeks to be credited to the Aeroplan Members' account after the end of the Promotional Period.
A minimum of 3,000 Marriott Bonvoy Points must be converted in a single transaction into Aeroplan Points to be eligible for this Offer and the maximum amount that can be converted in a single 24-hour period is 240,000 Marriott Bonvoy Points.
Quck Thoughts
Marriott Bonvoy transfers to Aeroplan at a 3:1 ratio, but there's an additional bonus of 5,000 Aeroplan points when you transfer exactly 60,000 Bonvoy points (ie, 60,000 Bonvoy points gets a 5,000 Aeroplan points bonus, 120,000 gets 10,000, etc).
So, the best play here is to transfer in bundles of 60,000 points, as the transfer ratio will effectively go from 3:1 to 2:1. If you transfer 60,000 Bonvoy points during the 20% bonus period, you'll receive a total of 30,000 Aeroplan points. 60,000 Bonvoy points will become 20,000 Aeroplan points, you'll get another 5,000 bonus Aeroplan points and then you'll get another 5,000 points because of the 20% bonus for a total of 30,000 points.
Marriott points are worth .75 cents at our current RRV's and Aeroplan is worth 1.3 cents per point. At the normal 3:1 ratio, that's 2:25:1.3 which = bad value. At 2:1, that shifts to 1.5:1.3, which is much closer to parity. If you want an avenue to dump Marriott points, this could be a decent option.
Best Uses for Aeroplan Points
Add Stopovers for 5,000 miles: There's great value in the Aeroplan due to the ability to add a stopover on a one-way award for 5,000 additional miles, making it possible to combine two destinations on one award.
Lap Infants: Lap infants are just $25 CAD or 2,500 miles per direction (far cheaper than what most programs charge).
Travel within US and Canada: Aeroplan charges 6K to 22.5K miles each way in economy class or 15K to 35K miles each way in business class in within US and Canada
Business Class to Asia and the South Pacific: Flights to Asia and South Pacific range from 55K-105K one-way in business class (plus 5K miles for a stopover), which can be a particularly good value for awards combining Asia and the South Pacific in one itinerary.
Business Class to Africa (with a stopover in Europe): Flights to Africa can vary between from 60K to 100K in business class based on distance (add 5K miles for a stopover within Africa or Europe).
Things to Know
How to find awards: Search for available space at Aeroplan.com (you'll need to create a free Aeroplan frequent flyer account to search)
Change and cancellation fees: Fees vary from $25 for a Flex fare change to $100 for a close-in saver change and from $75-$175 for cancellations.
Key warnings: Cancellation fees can be high, particularly for close-in travel.
Transfer from: Amex, Capital One, Chase, Marriott