Marriott has updated its COVID-19 / coronavirus cancellation policies and made some really positive changes for members, making new and existing bookings more flexible while also extending the shelf-life of free night certificates, suite upgrade awards, and more. Note that even existing advance purchase reservations can now be canceled, so if you're holding a reservation you need to cancel but thought you couldn't, you may be in luck.
Flexible cancellations
Update: The included dates below have been updated to reflect the new policy as of 3/30/20.
Marriott has made the following changes to improve the cancellation policy on all bookings:
Reservations for arrival through June 30 can be cancelled up to 24 hours prior to arrival. While most hotels have a 72-hour cancellation window, this could be huge for some properties with more restriction cancellation policies.
All new reservations made by June 30 can be cancelled up to 24 hours prior to arrival regardless of travel date. That's a decent incentive to book future travel, especially at properties which traditionally have those 14-day, 30-day, or 45-day cancellation windows.
The former bullet point is nice peace of mind for those folks whose plans are up in the air and the second point is a good way to drive new business — both are good for consumers.
The wording from the announcement clearly stipulates that even existing advance purchase reservations will qualify for cancellation. It is less explicit about new reservations at the advance purchase rate. It doesn't say that those won't be covered under the new 24hr cancellation window – it's a little unclear to me. Further, this new 24hr cancellation window is not reflected on the booking page of hotels as far as I've seen. Here is the text from the announcement for your reference — I recommend saving screen shots from that announcement page for the sake of your new reservations.
Given the impact of COVID-19 on how we work, socialize and travel, we have been adapting our cancellation policy over the past several weeks to the evolving nature of this epidemic. Today, we are updating our policy to provide our customers the most flexibility we can offer during these challenging times. Generally speaking, for guests with existing individual reservations, including reservations with pre-paid rates that are typically more restrictive, we will allow changes or cancellation without a charge up to 24 hours prior to arrival as long as the change or cancellation is made by April 30, 2020. For guests making new individual reservations between today and April 30, 2020, we will allow those reservations to be changed or cancelled at no charge up to 24 hours before a guest's scheduled arrival date. Please visit our website for the most up-to-date information and for additional details about availability and exclusions.
Extended points, suite nights, and free night certificates
Marriott has additionally announced that Marriott Bonvoy points will not expire until August 31, 2020 (though hopefully most readers have easy access to keep those alive well beyond that date).
Furthermore, Suite Night Awards set to expire on December 31, 2020 (i.e. those earned last year as 50-night or 75-night choice benefits) will not expire until December 31, 2021. Additionally, free night certificates — including annual credit card free night certificates, annual choice benefit certificates, and travel package certificates that were scheduled to expire in 2020 will be extended to January 31, 2021. That's not a huge extension for those whose certificates were due to expire on December 31st of this year (since this extension would only represent an extra month), but it's a great deal for those with certificates that were set to expire in the next month or two (especially given the likelihood that most are pausing travel plans during this time). Note that my certificates do not yet reflect this new expiration date: I expect it will take weeks or months to fix all of that in the computer if it ever happens, so keep an eye on your certificates and screen shots of everything.
Update 4/8/20: Marriott has advised the following:
Members who have active Free Night Awards or The Ritz-Carlton Club Level Upgrade E-Certificates (where available) as part of a credit card benefit, 75-Night Annual Choice Benefit, Promotion or Travel Package, and have an expiration date of March 1, 2020 through December 31, 2020, will be extended through January 31, 2021.

Our System will automatically complete these updates. You will see updates in your Account on marriott.com by the end of April 2020. You do not need to take any action. I regret the inconvenience this delay may cause.
Again, this is a net win for those who were struggling to find a use in the near-term for these certificates. The extension of suite night awards until the end of 2021 could mean the chance to stack them on a longer stay if you qualify for more this year.
On that note, we do not yet have any news as to Marriott's adjusted elite status requirements for 2020, but I think it is likely that we will see them follow suit with their competitors and reduce requirements to some degree. IHG announced changes yesterday and Hilton and Hyatt's websites both indicate that they will make adjustments to elite status qualification requirements but that it is too early to say what those adjustments will be. Still, I expect we'll see reductions across the board.
Hopefully by the latter half of this year the landscape will change for the better. For now, these are some decent changes from Marriott.
H/T: View from the Wing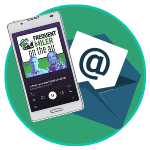 Want to learn more about miles and points?
Subscribe to email updates
 or check out 
our podcast
 on your favorite podcast platform.