On last weekend's Frequent Miler on the Air podcast, I relayed a story about something weird that happened to me recently regarding Marriott Suite Night Awards. It later occurred to me that the story is worth sharing on the blog. I have no idea whether this is a widespread problem or something strange I ran into a single time, but it will certainly make me adjust the process I use to determine whether or not I can use a Marriott Suite Night Award.
How Marriott Suite Night Awards Work
For those unfamiliar, Marriott offers choice benefits for members who reach 50 elite nights in a calendar year and again at 75 nights. One of the options at both levels is "five suite night awards". Suite Night Awards are essentially individual certificates that can be applied to upgrade one night of your stay into a suite. These can be very valuable in some circumstances (I recently scored an amazing upgrade at the St Panrcas Renaissance London with a suite night award), but they can also be difficult to use because:
You must have suite night awards to cover every night of your reservation. If you're staying for 7 nights, you must have 7 suite night awards. You can not just upgrade the first 5 nights or the last 5 nights for instance.
Marriott only begins looking for upgrade space 5 days before your arrival. This limits the utility both because inventory will likely be much more limited and you can't make plans far in advance counting on having a suite.
Just like with airlines, "upgrade inventory" doesn't necessarily match "for sale" inventory.
Some properties just don't accept Suite Night Awards at all
The challenge is not knowing when you can use Marriott Suite Night Awards
That last point above has been the real pain point for me.
I have frequently been annoyed by how few Marriott properties seem to accept suite night awards. For starters, Ritz-Carlton properties do not accept Suite Night Awards at all. However, it isn't only Ritz properties that refuse to accept them: last year, after an afternoon spend checking around New York City, I found very few properties in Manhattan seemed to allow suite night awards to be applied at all.
More frustrating yet is the fact that it is difficult to determine which properties accept Suite Night Awards. To my knowledge, the only way to know whether or not it's possible to use a suite night award is to make a reservation and then go into that reservation in the Marriott app or website to see whether you can apply a suite night award(s) to your reservation.
For instance, when a reservation is eligible for a suite night award, you'll typically see this message in the app:
Once you've clicked through, you can choose which rooms you would be willing to accept in exchange for your suite night award.
However, if a reservation has this message, it means that this property does not accept suite night awards:
At least, that's what I've always thought.
The problem with this system is that if you are booking a property where you've never tried to use a suite night award, the only way to know whether or not that property accepts suite night awards is to make a reservation and see whether or not you are offered the chance to upgrade it.
In the past, I've made countless dummy reservations to test whether various properties accept suite night awards. The process is to pick a random date sometime far in the future and book a fully flexible cash rate, then go into the app and see whether the stay can be upgraded. If it can, then I'll at least consider booking the date I really want since I know the property accepts suite night awards. If the app gives me the message that I can't apply a suite upgrade, I've assumed they don't take suite night awards at all. Either way, I cancel the dummy reservation. It has long seemed silly to me that I need to go through the process of making these dummy bookings, but I don't want to tie up points or free night certificates that may or may not detach properly when I cancel just to test whether or not a property takes suite night awards. I do my test shopping and dummy booking with cash rates.
This past weekend, I stayed at a Residence Inn outside of Rochester, NY and I had a strange thing happen that made me question my method for testing suite night awards.
I needed to be in Rochester for the weekend, but I dragged my feet until about a week beforehand to make a reservation. When I looked at the Residence Inn Rochester West / Greece,  I noticed that while the "standard" room for an award stay (which was 20,000 points) was a studio suite, the property also has a number of both 1-bedroom and 2-bedroom suites. Since I was traveling with my wife and two young kids, I wondered whether my suite night award could be used for one of the 2-bedroom suites.
I just wanted to test whether or not suite night awards could be applied at this property, so I picked a random date in September and I made a dummy booking for the base level studio room. I immediately pulled up the reservation in the Marriott app and saw the button to request an upgrade. When I clicked it to see my upgrade options, I was glad to see that available suite options included a couple of different 2-bedroom suites (one with a fireplace and one without).
Satisfied that I'd be able to try to apply my suite night award, I went ahead and booked the date I really needed (Saturday, August 6th). However, this time when I pulled up the reservation in the Marriott app, I was given the message that my suite night awards could not be used for this reservation.
That didn't make sense to me — I had been under the impression that a property either participates in Suite Night Awards or doesn't. I wondered whether properties can limit which dates they are willing to accept suite night awards. I went back to my September reservation for the same property and now the app said that suite night awards could not be applied to that reservation, either.
At this point, I felt like I was losing my mind a bit. Had this not all happened within the space of a few minutes on an afternoon while I was 100% focused on what I was doing, I might have assumed that the mistake was somehow on my end, but in this case I knew I had been looking at the upgrade selection options for the September reservation just moments ago and now the reservation suddenly wasn't eligible for a suite night award.
I took to the Frequent Miler internal messaging system to air my grievances with the rest of the team. After 10 or 15 minutes of tapping out my frustrations with Marriott, I pulled up the August 6th reservation in the app again to cancel it (I would stay somewhere else if I couldn't try to upgrade this to a 2-bedroom suite). Wouldn't you know it, the Residence Inn reservation now gave me the "Go ahead, you've earned it, take an upgrade" message. I clicked to upgrade, chose a 2-bedroom suite, and a day or two later I received confirmation that my upgrade to a 2-bedroom suite had cleared. Immediately after submitting my upgrade request, I opened the September booking (which I had not yet canceled) and it was also eligible for a suite night upgrade request once again.
In the end, the stay went fine and we did enjoy a spacious suite. I got the result I wanted, but had I not taken 10 or 15 minutes to whine to my colleagues about the inability to use a suite night award, I would not have realized that I could indeed use one on this reservation after all.
The problem here for me is that when I want to test whether a property accepts suite night awards, I usually go about the entire process quickly. I book a dummy reservation for a date far in the future, open it immediately in the Marriott app, and if I get the message that an upgrade can't be applied then I usually cancel the dummy booking within minutes and move on to looking for a different hotel (I follow this process when using an upgrade is my primary focus). I don't know whether my Residence Inn booking hit a rare technical glitch or whether I should generally be giving my reservations time to marinate for a few more minutes before giving up on using a suite night award. Maybe this was a one-time glitch, but given Marriott's reputation regarding IT, I'll leave room for the possibility that a one-time glitch repeats at least twice.
In the future, when Marriott says that a suite night award can not be applied to my stay, I will know not to take their word for it immediately; I'll probably leave my dummy bookings for an hour before cancelling to be surer that I can not use the suite upgrade. That system still doesn't seem perfect, but it's the best I've got since (to my knowledge) Marriott doesn't publish a list or any indication as to whether or not a property participates in suite night awards. The user is left to figure it out on their own — and if not for dumb luck, I'd have not figured it out correctly on my most recent stay.
I've had a decent success rate with Marriott Suite Night Awards clearing this year. Ironically, stuff like this makes me question the value of a benefit that has worked really well for me on paper. I wish Marriott would just make using Suite Night Awards a smoother and more transparent process so it felt more like a benefit of loyalty and less like winning the lottery when these work out.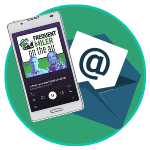 Want to learn more about miles and points?
Subscribe to email updates
 or check out 
our podcast
 on your favorite podcast platform.