Here's a piece of hard-earned advice: If an ANA rep tells you that they don't need your credit card security code to finalize an award, the wrong response is "Oh, OK."  On August 3rd, I wrote about my updated plans for the 3 Cards, 3 Continents Challenge.  At the time, I thought that my award bookings were all set.  Then, on Thursday August 4th, an ANA agent called.  Due to mistakes on their end, the award wasn't yet ticketed and some of the required award space was gone.  Yikes!
What is 3 Cards, 3 Continents?
Frequent Miler loves creating fun and competitive team challenges. This year Greg, Nick, and Stephen are competing to
book the most amazing 3-continent dream-trip using 3 credit card welcome bonuses.
The ANA agent admitted that she had made a mistake when she didn't collect my credit card security code.  Worse, when the ticketing department realized the problem, they left her a message about it… on the wrong voice mail.  As a result, it took 4 days for her to realize that there was a problem and, by then, some important legs of the trip were no longer bookable.
To the ANA agent's credit, she owned up to the mistake, was deeply apologetic, and worked like crazy to help me find a good alternative plan.  Ultimately, we developed a new plan that I like better than the original, and she stuck with me on the phone for hours to ensure it was properly ticketed this time (she also waived award cancellation and rebooking fees, as was appropriate).  In the end, yes, my hair is even greyer than before, but I have a great new plan.  And, thanks to this change, I can now share with you the part of the trip that won't happen…
The trip that won't happen…
In the original plan, near the end of our Round the World adventure, my mystery travel companion and I would have landed in Madrid, Spain and a few days later we would have flown onward from Lisbon Portugal.  In-between, we had some exciting plans.  Actually, "plan" is too strong strong of a word.  We had some exciting notions…
José Reunion
Regular readers may remember that a guy named José saved my 2019 40K to Far Away stay in Madrid.  I had flown into Madrid with no cash budget to spare and no concrete plans for where I'd stay that night.  To make matters a bit worse, the free walking tour I had booked cancelled on me.  While in Madrid, I posted a desperate plea to the CouchSurfing Last Minute Madrid forum and José stepped up and saved the day.  He messaged me with self-guided walking tour instructions, prepared a Spanish meal for dinner, made up a comfy bed for me in his living room, and even got up ridiculously early the next day to provide me with coffee and toast before I darted off to the airport for my next adventure.
In this new contest, food & activities aren't part of our strict budget and so I hoped to reciprocate José's generosity.  My intent was to book a spectacular high-end restaurant and invite him along.  Unfortunately, the new plans no longer take us to Madrid and so I'll have to wait for another time thank José properly.  Fortunately, plans hadn't cemented enough yet to have invited José and so I didn't have to withdraw an invitation from him.  Of course, I don't know if he would have been available for this dinner anyway, but I was sad to let this idea go.
The trains in Spain…
Spain has a great network of high-speed trains, and they're very reasonably priced.  I found that it was possible to book train rides from Madrid to southern Spain for less than $40, and that the journey takes less than 3 hours.  This looked like it would have been a great way to hop around Spain.
Ferry across the Strait of Gibraltar
Two ferry companies offer high-speed ferry rides across the Strait of Gibraltar, between Tarifa Spain and Tangier, Morocco.  As you can see in the dotted lines in the image above, there are other ferry routes too, but this is the route that will get you directly to or from the action in downtown Tangier.  Ferry rides cost approximately $40 one-way when traveling without a car.
We had planned to take advantage of this route to add Africa to our list of continents for this trip and we were going to try to time a ferry crossing with the rising or setting sun for a hopefully spectacular view.
Lisbon, Portugal
Our final European stop in our abandoned plans was to be Lisbon, Portugal.  There I hoped to use one of my Marriott 50K certs to stay at the Penha Longa Ritz Carlton Resort.  This resort was listed in Travel & Leisure's Top 100 Hotels in the World for 2021 (See: The Best Points-Bookable Hotels in the World).  Of course we planned to tour Lisbon as well!
TAP Portugal
TAP Portugal flies between Lisbon and a number of North American airports as shown by FlightConnections:
The great thing about these flights is that business class award availability is often pretty good, they offer true lie-flat seats, and they don't impose fuel surcharges.  The latter is especially important when booking with ANA miles since ANA would pass along fuel surcharges if there were any.  When I first started looking for Round the World award options, there were plenty of seats available when I needed them from Lisbon to Boston.  By the time I actually booked, though, the only options still available were to Toronto and Montreal.  I had booked myself to Toronto and my mystery travel companion to Montreal.  Or was it vice versa?  I don't remember.  It doesn't matter since our new plans don't involve TAP Portugal at all.
Wrap up
As you can see above, my travel companion and I had some exciting plans for the tail end of our 3 Cards 3 Continents challenge trip.  Those plans were blown up when ANA failed to properly ticket the award for one of us.  This forced me to go back to the drawing board and, very luckily, I was able to find what I think is an even better plan which will be revealed as we travel the route in September.
What do you think?  Was the original plan pretty cool?  Or, are you thinking "no way, José" because you could have come up with a better plan?  Please comment below.
A final scare…
The initial conversation where ANA told me that they had messed up happened last Thursday afternoon and on Friday morning she called me back and we finalized the new plans.  As I wrote above, she even stayed on the phone with me while the ticket was issued in order to make sure there were no problems.  Once it was ticketed, I was super relieved.  The next day I was heading into a 4 day weekend vacation at a Miraval resort and I really didn't want to have to worry about finding award flights during this trip.
Then, on Saturday, as I was waiting at the Miraval desk to check-in, ANA called.  Yikes…  United had cancelled a segment of my award with the message to ANA saying only "duplicate booking."  Oh no!
I knew I hadn't booked the United segment twice, so what could the problem have been?…  Aha!  A while ago, when testing out various itineraries, I had booked a placeholder award with my United miles because they're fully refundable.  Since United believed that I was supposed to be flying on that day on a completely different route and with a different carrier, they rejected the new booking.  While still on the phone with ANA, I cancelled the United placeholder award.
The ANA agent then said that she would call United to try to get my ticket reinstated.  Later the same day I got an email from ANA confirming that my flights were ticketed (once again!).  So, I believe that I'm all set.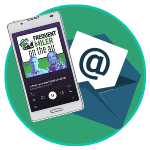 Want to learn more about miles and points?
Subscribe to email updates
 or check out 
our podcast
 on your favorite podcast platform.