In the 40K to Far Away challenge, I was assigned Chase points.  I had a budget of 40,000 Chase Ultimate Rewards points and $400 to go as far as possible.  The other guys had Citi and Amex points to work with.  And I was determined to make full use of the one most interesting transfer partner that neither of my competitors had access to: United MileagePlus.
United doesn't have a particularly competitive award chart (they no longer publish their award chart, but it's currently still there coded into the system).  But they do have a special feature of round trip awards that doesn't exist in any other mileage program to my knowledge: Excursionist Perk awards.  Excursionist Perk awards are similar to free stop-overs that are allowed in many other programs, but the way they're coded allows for truly unique awards.
My seemingly nonsensical flights
To maximize my point values, I booked two Excursionist Perk Awards for the 40K to Far Away challenge.  The end result was that I flew from DC to West Virginia then right back to DC. Later I flew across the African continent from Dakar Senegal to Johannesburg.  And then I flew across Africa again from Cape Town all the way to the Seychelles.  And, I still have flights booked but not yet flown: Chicago to Houston and Houston to Chicago.  All of that flying was booked for a grand total of 20,000 United miles.  This was a great deal since United would have charged 17,500 miles for each of the cross-Africa flights (35K miles for both) had I booked those separately.
I saved 15,000 miles by maximizing my use of Excursionist Perk awards.  And I still have a free weekend award to Houston scheduled for a later date.
To understand what the heck is going on here, let me walk you through Excursionist Perk awards…
United's explanation of Excursionist Perks
United has this to say about Excursionist Perks (Don't worry, I'll explain all this below):
The Excursionist Perk is a free one-way award within select multi-city itineraries. Members who book an itinerary with three or more one-way awards will be eligible to receive one of those one-way awards for free, if it meets all of these conditions:

The Excursionist Perk cannot be in the MileagePlus defined region where your travel originates. (For example, if your journey begins in North America, you will only receive the Excursionist Perk if travel is within a region outside of North America.)

Travel must end in the same MileagePlus defined region where travel originates.
The origin and destination of the Excursionist Perk is within a single MileagePlus defined region.
The cabin of service and award type of the free one-way award is the same or lower than the one-way award preceding it.
If two or more one-way awards qualify for this benefit, only the first occurrence will be free.
United MileagePlus regions
To understand Excursionist Perks, it's necessary first to understand United MileagePlus regions.  United maintains a list of regions along with which countries, islands, and territories belong in each region.  You can find a full list here.  Alternatively, check out this region map that I created:
Each region is shown with a different color and symbol in the center of each country or area that is defined.  For example, the North America region is shown with white on blue houses in each area that the region encompasses: Mainland US, Alaska, and Canada.  In some cases,regions are tiny.  For example, Hawaii is its own region.  Similarly, Japan is its own region.  Other regions are huge: Europe, Oceana, and "Central & Southern Africa" are each gigantic.
Excursionist Perk Award Basics
Here's a simplified explanation of Excursionist Perks:
If you book a multi-city award that begins and ends in the same region, then:
You can book a free one-way segment in the middle of your trip as long as that free segment is in a different region from where you began.
Your free segment must not cross regions.
A simple example
Suppose you want to fly from the US to Johannesburg, South Africa.  From there, you want to fly to the Seychelles.  And, finally, you want to fly home.  If you book each of these flight separately, you'll pay a total of 97,500 United miles:
DC (IAD) to Johannesburg (JNB): 40,000 United Miles
Johannesburg (JNB) to the Seychelles (SEZ): 17,500 United Miles
Seychelles (SEZ) to DC (IAD): 40,000 United Miles
However, if you build the above itinerary in United's multi-city award search, you'll get that middle flight for free.  For example, I went to United's Advanced Search screen and plugged in the following dates and destinations:
The search result had me first select a flight from DC to Johannesburg for 40K miles.  Next, though, it offered the flight from Johannesburg to the Seychelles for 0 miles.  I would only have to pay $32 in taxes:
In total, you'll pay 80,000 miles for this round trip itinerary with a stop-over in Johannesburg.  By bundling the flights together into a single award, you can save 17,500 miles by using United's Excursionist Perk the way it was meant to be used.
The above example works because the trip started and ended in one region (North America) and the free segment was wholly within another region ("Central and Southern Africa").
Throw-away ending
Suppose you intend to come back from the Seychelles some other way.  In my case, I flew to London to meet my wife who was there on business (and I traveled there in luxury via Etihad First Class Apartments).
In that case, by default you wouldn't be able to use the Excursionist Perk since it requires beginning and ending your travel in the same region.  So, without the Excursionist Perk, it would cost 40,000 + 17,500 = 57,500 miles to fly DC to Johannesburg and then later to the Seychelles.
Luckily, there's an easy work-around.  You can add a final flight to your itinerary in order to invoke the Excursionist Perk award.  The only requirement is that the final flight must happen later in time than the Excursionist flight and it must end in the region where you began.  In this example, it must end in North America.  It doesn't have to end in DC, just somewhere in North America.
Notice too that there's no rule specifying where this final flight must begin.  I don't have to return from Africa to the US to make this work.  So, I then look for the cheapest possible award flight that ends in North America.  This can include flights that begin in North America!
With some persistence, it's possible to find awards within North America that cost only 5,000 miles one-way.  See: Finding United MileagePlus 5K Awards.
Flights between Los Angeles and Las Vegas often cost only 5,000 miles.  So, let's add this LAX-LAS flight to the end of our itinerary and see how it prices out:
Thanks to adding the flight from Los Angeles to Las Vegas, the intra-Africa flight from Johannesburg to the Seychelles once again prices out at 0 miles.  So we pay 40,000 miles to get to Africa, 0 miles to fly across africa, and 5K miles for the final flight that happens to be wholly within North America.
If we hadn't added that final flight to the itinerary, we would pay a total of 57,500 miles to fly DC to Johannesburg and then Johannesburg to the Seychelles.  With the final flight added in, we pay only 45,000 miles.
It's not necessary to ever fly that final flight from Los Angeles to Las Vegas in order to get big savings like those shown above.  However, obviously if you can find and book a flight that you actually want to take, the value is that much greater.
Throw-in beginning
Suppose you don't want to use United miles to get to Africa, but you do want to use United miles to fly across Africa. Imagine, for example, that you found a great deal on a paid flight to Johannesburg.  Is there some way still to take advantage of United Excursionist Perks?  Well, yeah…
In the same way that the end flight of the Excursionist Perk award can be wholly within one region, the beginning kick-off flight can also be entirely within one region.  It so happens that flights between Washington Dulles (IAD) and Lewisburg West Virginia (LWB) are often only 5,000 miles.  So, let's fly this route in order to get a free one-way across Africa: DC to Lewisburg, then Johannesburg to the Seychelles, then Los Angeles to Las Vegas…
As you can see above, the itinerary now prices out at 10,000 miles total.  The flight to West Virginia costs 5,000 miles.  The flight from Johannesburg to the Seychelles is free (other than taxes).  And the flight from Los Angeles to Las Vegas costs 5,000 miles.
In total, this example demonstrates a way to save 7,500 miles for that flight across Africa (which would normally cost 17,500 miles).
Unlike the the throw-away ending flight, this throw-in beginning flight must be flown.  If you skip this flight, the rest of the itinerary will be cancelled.
Two nested Excursionist Perks
For the 40K to Far Away Challenge, I nested two complete Excursionist Perk awards because I wanted to fly across Africa twice.  Here were my two separate awards:
Award 1 (10K miles): DC to Lewisburg (5K), Dakar to Johannesburg (free), Chicago to Houston (5K)
Award 2 (10K miles): Lewisburg to DC (5K), Cape Town to the Seychelles (free), Houston to Chicago (5K)
I've flown all of the above flights except for the leg Chicago to Houston and the return Houston to Chicago.  Those flights are currently setup to be a weekend getaway, but I don't know if I'll really fly them.
Note that to make all of the above work, I had to actually fly to Lewisburg and then back to DC.  You can't skip those beginning legs.  Since my next flight (not shown) was from JFK to Madrid, the ideal scenario would have been for the second 5K award to end at JFK.  For example, if flights had been available from Lewisburg to JFK and were priced at only 5K points, I could have changed the first flight in Award 2 to: Lewisburg to JFK.  That way, I would have flown DC to Lewisburg to JFK and could have avoided the 5 hour Megabus ride from DC to NYC.  Unfortunately, I wasn't able to find any routing like that, so I simply returned to DC.
Acknowledgement
Thanks go to Drew at Travel is Free for clearly explaining the possibilities that Excursionist Perks offer.  The ideas I presented above originated in Drew's seminal post: Complete Guide To United Stopover Tricks.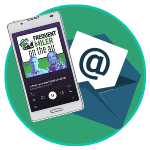 Want to learn more about miles and points?
Subscribe to email updates
 or check out 
our podcast
 on your favorite podcast platform.