Background
Late last year I had a crazy idea. Could I earn a million points and miles in one month? I published the idea in January with the post "A crazy million mile idea. Should I do it?" In that post, I laid out the rules I would follow:
Keep to a budget of $1000. Many point-earning techniques cost money. Let's keep net expenses down to $1000 or less.
Miles or points, it's all good. Even though different types of miles & points are more or less valuable, I think this game would be easier if we just agree to count all miles and points as long as they are somewhat travel related (e.g. airline miles, hotel points, flexible points, etc. all count).
No extra points through conversions. Sometimes its possible to trade one type of point for another at a better than 1 to 1 ratio. For example, Virgin Atlantic points can be transferred to twice as many Hilton points. In this example, I think it would be cheating to count the Hilton points.
Cash earnings can be used to increase the budget. If I make money through cash-back portals, for example, that cash can be used towards more mile-earning opportunities.
No points from family and friends. I could always ask my wife to sign up for a bunch of credit cards (and I frequently do), but I won't count those points towards this challenge.
Points expected, but not yet credited are OK. It often takes quite a while for points to get credited to a person's account. Whether I'm waiting for sign-up bonus points, shopping portal points, or run of the mill credit card statement points, I'll count the ones I expect to get based on March activity even if the points don't actually post until April or later.
All requirements must be met within the month. If I sign up for a credit card in order to earn the sign-up bonus, I would have to sign up in March and meet minimum spend requirements in March in order to count the points. Here's to hoping for overnight credit card delivery!
Don't cross the line. There are often times when points can be earned by violating laws, rules, or ethics. Those opportunities are not allowed. See "Drawing the line."
Support for the idea was strong (but not unanimous). I decided to go forward with the idea and I picked the month of March to do it (see "Million Mile Madness, it's on").
Was it possible?
I knew I could earn a few hundred thousand points (at least) by signing up for several credit cards. I also knew that it had been quite a while since the last "mega promotion" and so I hoped that we would see another big one (or two!) in March. In 2012, Club Carlson held a promotion in which they offered up to 50,000 points for staying one night at any of their properties. I figured that If a promo like that were to appear in March I could easily earn a few hundred thousand points by hotel hopping. Similarly, there have been various big shopping portal promotions every few months in the past. When the British Airways portal offered 36 points per dollar at Nordstrom I jumped on that deal and earned over 150,000 points by buying and selling watches and headphones. And when Sears offered 15 points per dollar through the Southwest RapidRewards portal, I bought and sold my way to 110,000 points and a Companion Pass that was valid for a year and half.
Just in case no mega promotions appeared, I conducted a number of experiments ahead of time. I tested various double and triple dip scenarios to see where it was possible to earn double or triple points by maximizing gift cards and ongoing promotions. Experiments were described in the post "Million Mile Madness: Preparing to buy & sell." Results were posted to the Frequent Miler Laboratory.
How it played out
On March 1st, with no signs of any mega promotions in the offering, I signed up for 11 credit cards in one day. After many reconsideration calls, I was approved for 10 of the cards and I earned 516,000 points from sign-up bonuses (see: "Million Mile Madness: The big churn story"). I then proceeded to earn points & miles every which way I could think of, but I had a huge task ahead of me. I needed to earn an additional 484,000 points while keeping net expenses below $1,000. Ironically, that meant that I couldn't afford to travel to earn points. If I had to travel for other reasons, I could have counted the points earned without counting the expenses, but I didn't. March, for me, was travel-free.
I tracked all expenses and points earned via this public Google Doc spreadsheet. I also attempted to track my time spent on task. Everyday I estimated hours spent on this or that. Halfway through the month, though, I gave up on tracking my time. The hours worked made it look like this was a fairly easy part time hobby. Nothing could be further from the truth. Whether or not I was actively working on my mad quest, I was thinking about it and obsessing about it nearly every minute of every day. This was just about the most stressful time in my life yet the time log made it look easy. So, I stopped tracking my time (and I was glad to have one less thing to worry about!).
As I described in the post "Million Mile Madness: What I bought and sold," my primary mechanism for earning points (after signing up for credit cards) was to buy merchandise for resale. I bought thousands of dollars worth of stuff almost every day and always with the hope and prayer that it would all resell easily. Of course, the month wasn't easy. I hit many snags such as those described in these posts:
Despite the obstacles, I got closer and closer to a million points as the month end neared. On the last day of the month, I was just a few thousand points away from one million and so I made my final batch of credit card funded loans through Kiva. I then posted my success: Million Mile Madness: Success!!!!!
The waiting was the hardest part (not really)
With March behind me, I still wasn't done. I had more packages to ship off for resale. I sent everything to Amazon.com for their Fulfillment by Amazon service and I waited for it all to sell. Most things sold quickly and without trouble. I did have a few miscellaneous things here and there returned to me as defective, but that was the exception rather than the rule. I wouldn't know if I met my goal of keeping net expenses below $1,000 until everything was sold, and some time went by to see if anything more was returned. Finally, late last week, the last of my merchandise was sold and I was able to calculate final numbers. Sure, the last few items sold are still at risk of being returned, but I think that the chance of that is slim.
And the final tally is…
My total out of pocket expenses (not counting expenses I would have made anyway) came to only $278.40. Better yet, I had $835.49 in gift cards and store credit remaining after the month was over! In other words, I did better than break even!
So, in exchange for one month's hard work, some preparatory work before that, and about 5 years lost from my life due to stress, I earned 1 million points and miles!
Specifically, I earned (approximately):
Ultimate Rewards: 401,000
Membership Rewards: 123,000
Club Carlson: 206,000
United: 62,000
Citi ThankYou: 60,000
American: 55,000
US Airways: 41,000
Delta: 30,000
Hilton: 12,000
Miscellaneous other: 10,000
You can find a full breakdown of the types of points earned in the post "Million Mile Madness: Which points?"
What to do with the points
I've already used up most of my new Ultimate Rewards points for a big extended family trip to New York City where we'll stay at the Hyatt 48 Lex. I had hoped to use Club Carlson points, but the Radisson Martinique was not available for points on the dates I wanted. Besides, I'd rather spend those points in Paris or London.
I'm thrilled to have a new batch of Membership Rewards points. Ever since I flew Singapore Suites I simply can't wait to do so again (see "Bangkok Bound: Don't Fly Singapore Suites"). Next time, though, I hope to travel with my wife. Membership Rewards points can be transferred one to one to Singapore Airlines and then award flights can be booked online from there. I don't know when the stars will align such that award seats will be available at the same time that we have the opportunity to go, but I'll definitely be watching that closely!
With my American Airlines miles (of which I now have about 200K), I hope to fly Cathay Pacific first class because I've heard so many great things about it. With the rest of the points earned, we'll see. I like having a wide array of points so that I can apply the right points to the right situation.
Giving back
Some have suggested that I should donate my miles to charity. I don't know about that. My guess is that few, if any, charities know how to use miles wisely. I'd rather give cash. To mark the success of my challenge I've already donated $1000 to charity and I plan to donate $1000 more.
I also have a number of items that were returned after I sold them. These are open box items that may or may not work correctly. I need to go through each one to see if they're any good. If they are, I may give them to local charities or give them away via this blog. #undecided.
Don't try this at home
It is true that other than experiencing extreme stress, my million mile challenge completed successfully, but… I do not recommend this approach to others.
Going into this challenge, I was in a unique situation: I had the time to pursue this, I had money saved up in the bank, I had a fairly high risk tolerance, and I had an excellent and long credit history. With this challenge I risked losing money; I risked dropping my credit score; and I risked the possibility of being targeted for financial reviews or account closures.
For most people, there is no reason to take on those risks. Who really needs a million miles in one month? Yes, collect points and miles, but do so at a pace that works for you with your financial situation, your available time, and your tolerance for risk.
What's next?
It will be a while before I undertake a stressful challenge like this again! Next time, I want a nice easy challenge such as visiting New York City for only $19 per day (see "NYC on $19 per day. Final tally"). Any ideas?
Want to know more about Million Mile Madness? All related posts can be found here (in reverse order)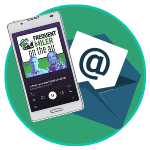 Want to learn more about miles and points?
Subscribe to email updates
 or check out 
our podcast
 on your favorite podcast platform.