772,000 points earned. 228,000 left to go.
Background: Million Mile Madness is the fun and foolish quest to earn a million points in one month. Throughout March, I'm doing everything I can to earn as many points as I can while keeping within my ethical boundaries. I don't expect that a million points will have been credited to my account by March 31st: points often take quite a while to get credited. Instead, I'll track all of the points that I expect, and I'll declare victory if the expected total is over a million. To keep things challenging, I will try to keep my net costs below $1,000.
All points earned and expenses incurred are tracked via this Google Docs spreadsheet.
See all Million Mile Madness posts (in reverse order), by clicking here.
Overview
What a crazy month this has been so far! I started the month by applying for 11 credit cards in one day. Ten cards were approved, which gave me a sign-up bonus total of 516,000 points! Since then, I've been madly doing everything I can to earn as many points as I can. The biggest hauls have been from shopping portal double dips (see "Million Mile Madness: buying, selling Kohl's" and "Million Mile Madness: Banking on Lowe's").
I've had an occasional setback (for example, see "Million Mile Madness: A setback from Sears"), but most efforts seem to be paying off. On the downside, this challenge has been much more stressful than I ever imagined! This month, I've rarely done anything but plan how I'll earn the next 5K, 10K, 20K points. I regularly make big bets on things that may or may not work. I buy products that may or may not be easy to resell. As exciting as this month is, I'd be lying if I didn't say that I'm looking forward to its end! I feel like a marathon runner at the 15th mile marker. I've made a huge amount of progress, but I also have a long way to go.
Successes
Its worth listing some of the things that were risky, but seem to be working so far:
Credit Card Sign Ups
When I signed up for 11 cards, I was sure that some would be denied. The fact that only one was denied, and that it was for a measly 25K offer (the US Airways business card) is amazing! Plus, thanks to all of the buying and selling I've been doing, I've met the minimum spend requirements on almost all 10 cards already!
Portal Shopping
I've made tremendous use of online shopping portals either to earn extra points or to get cash back to reduce my overall expenses. Its common with shopping portals that purchases don't always track appropriately. In those cases it can be very difficult to get your expected points or cash back. Amazingly, so far all of my purchases have tracked! Every single purchase through TopCashBack has shown up as pending. Through points-earning portals (mostly the Ultimate Rewards Mall), all expected points now show as pending for purchases made as late as March 10th. It often takes 4 days to a week for pending points to appear, so I'm not too worried about the more recent ones. Of course, it's possible for venders to claw back points before they are fully paid out, but in my experience that's very rare. The fact that all points and cash back are pending is an awesome sign.
For those of you who have had worse luck with portals, please read through this post I wrote a year ago: How to ensure your portal points. I still follow the advice listed there and it seems to work. Also, for those (like me) who don't like to wait for Chase to send an email about points earned, please see "Ultimate Rewards Mall: When and where do points post?"
ThankYou 5X
One of the cards I signed up for was the Citi ThankYou Preferred card. Personal Finance Digest had unearthed an offer in which the card earns 5 points per dollar at gas stations, grocery stores, and drugstores for 12 months (see this post). Since receiving the card, its been my go-to card at each of those locations. Yesterday I checked my account online and saw the ThankYou points I had earned to-date. As expected (and hoped), I've earned 5 points per dollar on all of my purchases (since all purchases were gas, grocery and drug stores)! Plus, I earned the promised 6K signup bonus.
Kohl's 30% off
I did very well with Kohl's recent sale in which Kohl's charge card holders were able to save 30% off everything, and every $50 purchase earned $10 in Kohl's cash. I still have a huge amount of Kohl's gift cards coming my way, so it was a huge relief to see that Kohl's is running the sale again March 21 to 30! Hat tip reader Vinh. More details here.
An endless month
At this point, I'm feeling confident that I will make it to a million points this month, but there is still a lot to do. I still need to earn an average of over 16000 points per day. I still need to buy and sell a lot more merchandise. And, for me, this won't end March 31. On that day, I'll have hopefully secured over a million points, but I'm sure I will not have finished selling all of the things I bought. Packages will still arrive at my door whereupon I'll prepare and send the contents to Amazon.com's Fulfillment by Amazon service. And, for weeks afterwards, I'll watch and wait as items are sold. Occasionally I'll tweak my asking price down to bump up sales or up to increase my profit. And, sometimes I'll have to deal with product returns. No, when March is over, I won't be done, but hopefully I'll be a million points richer.
Learn about Million Mile Madness: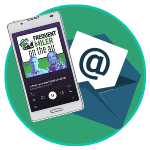 Want to learn more about miles and points?
Subscribe to email updates
 or check out 
our podcast
 on your favorite podcast platform.