746,000 points earned. 254,000 left to go.
Background: Million Mile Madness is the fun and foolish quest to earn a million points in one month. Throughout March, I'm doing everything I can to earn as many points as I can while keeping within my ethical boundaries. I don't expect that a million points will have been credited to my account by March 31st: points often take quite a while to get credited. Instead, I'll track all of the points that I expect, and I'll declare victory if the expected total is over a million. To keep things challenging, I will try to keep my net costs below $1,000.
All points earned and expenses incurred are tracked via this Google Docs spreadsheet.
See all Million Mile Madness posts (in reverse order), by clicking here.
Points from Sears
Sears used to be my favorite retailer for collecting points. They used to regularly run promotions in which they would offer 10 points per dollar through the Ultimate Rewards Mall, or 10 miles per dollar through the AAdvantage eShopping portal. And, Sears used to give points when you purchased e-gift cards. This combination was powerful. It was possible to earn 11 points per dollar for buying e-gift cards (1 point from your credit card and 10 from the shopping portal) and another 10 points per dollar when using the gift cards for a total of 21 points per dollar for any purchase.
Sears no longer offers points for e-gift cards. Worse, it has been 6 months since we've last seen 10 points per dollar from Sears. More recently they've held more or less steady at 5 points per dollar through the Ultimate Rewards Mall and even less than that through other portals. Given that, I was ready to take advantage of 5X through the following triple dip:
Buy Home Improvement gift cards at Office Depot. Pay with a Chase Ink card to earn 5 points per dollar. See "The Home Improvement gift card" for more details.
Go through Chase's Ultimate Rewards Mall to Sears. Use the Home Improvement card (as a Discover credit card) to buy Sears physical gift cards. Earn 5 points per dollar (physical gift cards still earn points).
Go through Chase's Ultimate Rewards Mall to Sears again. Buy merchandise and pay with the Sears gift cards. Earn 5 points per dollar.
Through the above techniques, it would have been possible to earn 15 points per dollar shopping at Sears. I've tested each of the above steps before and they've all worked perfectly. In fact, this is the same process I wrote about previously for earning 15X at Lowes (see "Million Mile Madness: Banking on Lowe's).
Unfortunately, early in March, Sears dropped its payout in the Ultimate Rewards Mall to only 3 points per dollar! That would have brought down the triple dip described above to only 11 points per dollar altogether.
Luckily there have been other options. From March 10 to March 12, Sears offered 6X through the AAdvantage eShopping portal. And, currently, Sears is offering 6X through Southwest's RapidRewards Shopping. For various reasons, I didn't take advantage of the AA 6X offer, but I did go for the Southwest 6X opportunity.
I clicked through from the RapidRewards Shopping portal to Sears and bought a $450 gift card. I paid with a $500 Home Improvement card, which is considered a Discover card. The reason I didn't try to buy a $500 card is that Sears places a $1 hold on the card to validate it. So, the most I could do was buy a $499 gift card. I decided on $450 because that would leave $50 on the Home Improvement card, which I could use later to buy a gas gift card at Lowes.
I went through the above process four times in order to buy a total of $1800 worth of Sears gift cards. From this exercise I expected to earn 10,800 RapidRewards points. My plan was that once I received the Sears gift cards I would go through a portal again to buy merchandise and possibly earn another 6X for a total of 17 points per dollar.
That was the idea, until Sears called…
A guy from Sears' fraud department introduced himself and asked permission to verify a few things. He told me that they get a lot of fraud with gift card purchases and so need to be careful. He asked what type of credit card I used. He asked how many cards I bought and for how much. He then asked if it was OK if he called back in 10 minutes.
Ten minutes went by, and then twenty. Then I received four emails that went like this:
Dear FM,

We are confirming that we have cancelled your order XXXXXX as you requested.
Ouch. Back to Lowes I go.
Learn about Million Mile Madness: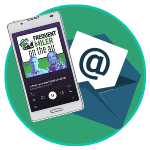 Want to learn more about miles and points?
Subscribe to email updates
 or check out 
our podcast
 on your favorite podcast platform.