Did you know that there is a second type of Vanilla Reload card? They all look something like this from the front (although the particular logos car vary):
On the back, most have a silver strip that exposes a PIN when rubbed off, but some just have a barcode and the words "Do Not Remove From Store. See Cashier to Purchase." Here are examples of what they look like:
Silver strip on back
Do Not Remove
(photo courtesy of Jason Steele)
Silver Strip Vanilla Reload Cards
Most of you are probably familiar with these "silver strip" Vanilla Reload cards. The way they work for points collectors is as follows:
Find a store that carries them and that allows you to pay by credit card.
Use the best point-earning card available to buy the reload card (or use bank gift cards that you want to liquidate)
At home, go to VanillaReload.com to move the value from the reload card to a prepaid card such as Bluebird, MyVanilla, Mio, etc.
Use the prepaid card to pay bills that can't usually be paid by credit card (Bluebird Bill Pay), or to withdraw money from ATMs, or to pay taxes at a very low debit card rate, or get a cash advance from the bank, etc. (note: the last two examples are not possible with the Bluebird card)
This process is a great way to increase spend on your point earning credit cards while paying for expenses not usually possible via a credit card.
Do Not Remove Vanilla Reload Cards
Many readers have asked me about the other kind of Vanilla Reload cards. I've seen these at Family Dollar stores and Dollar General stores (Apparently, if the name of the store includes "Dollar" then they won't let you remove the Vanilla cards…)
The way these cards work is different:
Bring the card to the register, hand it to the cashier and tell him/her how much you want to load (e.g. "$500")
Hand the cashier your prepaid card that is reloadable with Vanilla Reload cards (see "Vanilla Reloadables"). This does not work with American Express cards. Use MyVanilla, Mio, etc.
Try to pay with a credit card
It is this last point that has stopped me every time. All of the *Dollar* stores I've tried have insisted that the register demanded cash only. (Has anyone tried to load one of these with a mile earning debit card? Maybe I should try that next…). Has anyone had a different experience at one of these stores? Do some stores allow credit cards for these transactions?
Beware of taxes. Stores should never charge sales tax for purchasing gift cards or for reloading prepaid cards. However, one of the Family Dollar stores I visited added sales tax to the total. No thank you.
PayPal to the Rescue?
A reader pointed out to me that Dollar General stores have signs in them inviting you to pay with PayPal. Huh? It turns out that PayPal has an option in which you can register your mobile phone and a PIN so that you can use your PayPal account to pay at certain stores. So, I registered my PayPal account for this "use PayPal in stores" feature. Then, I setup my account to have it charge my credit card for in-store payments (so that I can earn points). Then, I went to Dollar General to try it out. First, I simply bought a small bag of M&Ms to make sure the PayPal thing worked. The cashier was surprised because she said no one had ever done it before, but it worked without a hitch. I simply typed in my cell phone number and my PIN and I was done. Then, I went and grabbed a Do Not Remove Vanilla Reload card and handed that and my Mio card to the cashier. She swiped both cards, asked how much I wanted loaded, and then sighed when the register prohibited payment by PayPal. Rats!
No points for me
Not all experiments reveal great new opportunities, but they're worth sharing to give others an idea of what works and what doesn't. At the very least, hopefully this post has explained the mysterious "Do Not Remove" Vanilla Reload cards.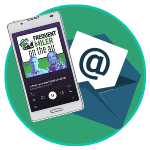 Want to learn more about miles and points?
Subscribe to email updates
 or check out 
our podcast
 on your favorite podcast platform.