The other day, as I was researching details for my post comparing the many flavors of Amex Platinum cards, I made a big mistake with the Morgan Stanley Platinum card.  Something I read that day made me think that they had dropped the benefit that gives you the first authorized user for free.  I was wrong (thanks to Eric and Adam for pointing that out!).  That feature is alive and well, so I updated yesterday's post accordingly.  I even updated the table showing the breakdown of costs based on number of cardholders.  Please check it out if you only read the initial post.
My excuse for the mistake is that I was distracted by another Morgan Stanley Amex card: The Morgan Stanley Credit Card from American Express.  I vaguely knew that such a card existed, but I had never paid much attention to it before.  But, since I recently completed an overhaul of my Best Card Category Bonuses Page, I found the Morgan Stanley Amex, very interesting.
The Morgan Stanley Amex has no annual fee and yet it earns Membership Rewards points that can be transferred to partner airline programs.  The only other card that I know of with that feature is the Amex EveryDay Card.  So, if nothing else, this card is a great option for those who want to cancel their other Membership Rewards cards since having this one open will keep your points alive and useful.
The Morgan Stanley Amex also offers 2X points for the following categories of spend: Airfare booked directly with airline; US restaurants; select US department stores; and car rentals purchased directly from select car rental companies.
For most people, I wouldn't recommend this card as your only card, but if you spend a lot within its bonus categories it's not a bad choice for a no-fee card.  Instead, I think this is a perfect tertiary card for those who have chosen Membership Rewards as their rewards currency of choice.
In my recent post about super credit card duos, I highlighted the Amex EveryDay Preferred plus Amex Business Platinum combination.  The EveryDay Preferred offers up to 4.5X for US grocery spend, up to 3X at US gas stations, and up to 1.5X everywhere else.  And the Business Platinum Card offers 5X for flights and prepaid hotels booked through Amex Travel.  And, more importantly, it offers 2 cents per point value (or possibly more) when used to pay for flights.
Two big categories of spend missing from the EveryDay Preferred + Business Platinum super duo are restaurants and car rentals.  The Morgan Stanley card offers both.  For free.  And 2X for select department stores is a great addition for regular shoppers.  Very few cards offer bonuses for department stores, so this can be a great option for that alone.  Click here to see a list of cards offering department store bonuses worth more than 2%.
If you were holding onto your Premier Rewards Gold Card with its $195 annual fee because it was the only Membership Rewards card to offer 2X at restaurants, it may be time to retire that card.  All of its category bonuses (3X for flights booked with airlines, 2X at US gas stations, US supermarkets & US restaurants), are bested by the trio described above.  Two caveats: 1) The Premier Rewards Gold card offers 3X for airfare booked with airlines whereas the Business Platinum card requires booking through Amex Travel to get 5X.  And, 2) I believe the Premier Rewards Gold 2X grocery store benefit is uncapped.  The EveryDay Preferred offers 3X to 4.5X at grocery stores for up to $6K spend per year.
Do you really need a Morgan Stanley account?
It appears so.  The card's application says that you must have one. Specifically, it says:
The Morgan Stanley Credit Card from American Express is only available to you if you have an Eligible Morgan Stanley Smith Barney LLC brokerage Account ("Eligible Account"). Eligible Account means a Morgan Stanley Smith Barney LLC ("Morgan Stanley") brokerage account held in your name or in the name of a revocable trust where you are the grantor and trustee, except for the following accounts: Charitable Remainder Annuity Trusts, Charitable Remainder Unitrusts, irrevocable trusts and employer-sponsored accounts. Eligibility is subject to change.

American Express may cancel your Card Account and participation in this program, if you do not maintain an Eligible Morgan Stanley brokerage Account.
That said, I know plenty of people who have signed up for the Ameriprise Platinum card (which has similar language) even though they do not have accounts with Ameriprise.  Still, the terms clearly say that you must have a Morgan Stanley brokerage account, so I won't recommend applying without one.
Readers, what has your experience been?  Please comment below.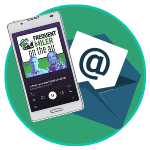 Want to learn more about miles and points?
Subscribe to email updates
 or check out 
our podcast
 on your favorite podcast platform.