Sure, here at Frequent Miler, we coined the term "Extreme Stacking," but that doesn't mean we always get it right.  Recently, I Extreme Stacked my way to a new grill and I f-ed up in 3 key ways.  The outcome wasn't terrible.  I ended up with a $400 Weber grill for $400.  That's hardly the end of the world.  The purpose of this post isn't to whine about my woes, but rather to point out how to avoid each of my mistakes when you decide to extreme stack rewards and discounts.
3 ways I f-ed up
I bought the grill with gift cards and therefore forfeited credit card extended warranty and price protection.  Potential loss: maybe $50?
When checking the price, I didn't go to the final check-out page.  Actual loss: $75.
I used the Yazing portal.  The portal in itself isn't bad, but the way I used it was.  Actual loss: $40.
Each of these errors are described in more detail below, but first here's the story…
The story
Back in the day when Sears' gift card double-dips worked, I had taken full advantage of a number of overlapping deals (16 United Miles per dollar X 2, 5X Freedom points, etc.) to buy a Kenmore grill.  That grill, along with a number of other purchases, practically paid for my family to fly Lufthansa first class the next summer (using United miles before their devaluation).
The Kenmore grill was a bit too big for our small patio, and it no longer heated evenly (if it ever did), and it was slowly falling apart.  I was ready to buy a new propane grill.
Between Consumer Reports and Amazon reviews, I decided to go with the Weber Spirit 210.  It listed for $399 on Amazon and everywhere else:
I was excited to see Sur La Table on the list.  From a recent cooking class, I had a 15% off coupon.  I doubted it would work for the grill, but it was definitely worth a try.  Also, cash back portals were offering up to 10% cash back at Sur La Table.  Even better, I knew that I had a Sur La Table Amex Offer on almost all of my Amex cards: Spend $50+, Get $10 Back.  If done right, this Amex Offer meant a nice 20% discount on top of coupon discounts and portal rewards.  Potential savings were huge.
Amazon would have happily sold the grill to me for $399 + $23.94 sales tax = $422.94.  Thanks to our Amazon Prime membership, shipping would be free.  So that was my price target to beat.  If I could buy the grill for significantly less through extreme stacking, I would do so.  Otherwise, I'd extreme stack the purchase through Amazon (see: Extreme Stacking Amazon.com: Points and Huge Discounts).  At a minimum, I could have clicked through the JetBlue site to Amazon for 3X JetBlue points and then paid with my Citi AT&T Access More card for 3X ThankYou points.  Or, I could have earned 5X Ultimate Rewards points by using my Ink Plus or Ink Cash card at Staples to buy Amazon gift cards, and I still could have earned 3X JetBlue points as well.
But, Sur La Table showed the same price as Amazon and they advertised that the code SHIPFREE would give me free shipping:
I put the grill in my cart at surlatable.com to see if shipping would really be removed and it appeared to do so.  I even entered my zip code to estimate shipping and tax.  The estimator said that the total price would be $422.94.  That was exactly the same as Amazon so I was ready to go forward with a Sur La Table extreme stack.
My 15% off coupon for Sur La Table didn't work, but I figured that was OK.  I should still get up to 20% off through Amex Offers, plus 10% off (before taxes) via a portal (more on that later in this post).  Getting 30% off without a sale going on anywhere seemed like a great deal to me.
Now that I was committed to the Sur La Table Extreme Stack, I proceeded to buy Sur La Table gift cards $50 at a time.  Each time I paid with a different Amex card in order to get $10 back from the Amex Offer.  For expediency, I bought e-gift cards even though I knew from past experiments that I wouldn't earn portal rewards when buying them.  I should have tried buying physical by-mail gift cards to see if that would have triggered portal rewards, but I was impatient.  While that was a potential loss of cash back or other rewards, I don't really consider that a mistake.  It was just a judgment call I made in order to get the order processed more quickly.
It turned out that buying e-gift cards $50 at a time took quite a while.  I didn't know how many gift cards Sur La Table would accept when purchasing the grill, so I bought one and then used that one along with a credit card to buy a $100 e-gift card, and then I used that one to buy a $150 gift card, and so on.  Each cycle sometimes took overnight to complete, so I started buying two at once to speed things up.  Eventually I had $400 in gift cards and I was ready to go.  Or, so I thought…
The first checkout screen showed the expected $422.94 price.  But, the final payment screen told a whole new story.  The $75 shipping fee was not waived after all.  The final price now was a whopping $497.94!
At this point, I was pissed at Sur La Table for not displaying the full price until the final payment screen.  But, even more, I was pissed at myself for not clicking all the way through to the final checkout screen when I first did my price comparisons.
Anyway, I was now stuck with $400 in Sur La Table gift cards that I had bought for 20% off thanks to Amex Offers.  I could have then sold those gift cards at a loss, but decided to just go forward with the purchase.  I bought two more $50 e-gift cards for $40 each thanks to Amex Offers, and then bought the grill after clicking through the best available online portal.
As always, I used Cashback Monitor to identify the best available portal (note that Travel Miles/Points options were not as good at the time as shown here, or I might have considered the BA or Amtrak portal):
Yazing had the best price.  I don't usually like to use Yazing because PayPal is their only payout option and I hate PayPal since they've repeatedly shut down my accounts and, worse, they shut down my innocent son's accounts.  But, in this case I figured that the 3% payout differential between Yazing and the next best portal was worth holding my nose and using PayPal again.  That turned out to be a big mistake.  I never received any cash back from the purchase.  See the Yazing section, below, for the reason why, and how you can easily avoid my error.
So, the portal payout didn't work, and I was charged far more for shipping than I had expected.  The Amex Offers, though, did work.  In the end, I spent $500 and got $100 back.  My final price for the grill, therefore, was $400 even.  Wow, I bought a $399 grill for $400!  As I said in the beginning of this post, that's hardly a tragedy, but I could have and should have done much better.
Mistake 1: Paying with gift cards without researching options first
Before using gift cards for extreme stacking, you should make a judgment call first of whether or not you may need either an extended warranty or price protection, or both.
In this case, Weber grills have such a good reputation that I think I'm fine losing the extended warranty that many credit cards offer.  The bigger potential issue is the loss of price protection.
All Citibank cards, the Wells Fargo Visa Signature card, and most MasterCards offer 60 days of price protection.  Even better, Discover cards and several Chase cards offer 90 days of price protection.  Best of all, Chase includes up to $50 of coverage for situations not covered by most other cards: "advertisements of cash only, close-out, liquidation and going-out-of-business sales."
I could have bought the grill with my Freedom Unlimited card, for example and have had a reasonably good chance of recovering $50 or more if or when this grill goes on sale in the late summer.
CamelCamelCamel shows that this grill has never sold for less than $399 on Amazon.  So, in this case, I probably didn't really lose anything at all.  My mistake was that I didn't do the research up front.  I should have first checked whether price drops were likely before committing to gift cards.
Mistake 2: Failing to view the final check-out page.  Actual loss: $75.
As I described above, I jumped into buying gift cards with the assumption that the final cost after shipping would be $422.94.  It was only after buying $400 in gift cards and trying to actually purchase the grill that I realized my mistake.  The $75 Additional Shipping charge that admittedly was mentioned here and there along the way, finally made it into the bottom line price only on the very last check-out screen.
If I had known that there was no way to avoid this $75 fee I certainly wouldn't have chosen to go with Sur La Table for this purchase.
Mistake 3: I used the Yazing portal recklessly.  Actual loss: $40.
Yazing had the best cash back rate of all portals at the time of this purchase.  They offered 10% back whereas most other portals offered 7% or less.
Unfortunately, Yazing works differently from any other portal that I know of.  If you click through to Yazing from a referrer before shopping, the referrer gets the cash back, not you!  I knew that.  That's the reason I've never included a Yazing referral link on this site.  In fact, for a $75 deal that I wrote about last year, I warned readers about this.  I wrote:
Yazing suggests sharing your link with friends. If you do, you will earn $75 if they sign up.  They will not.  I'd suggest sharing it with your enemies, not your friends.
But, despite the fact that somewhere in the recesses of my mind I knew that Yazing had this weird quirk, I wasn't thinking about it when it came time to buy the grill.  I clicked through from CashBack Monitor.  And they earned the $39.90 cash back, not me.  You're welcome CBM.
UPDATE: CashBack Monitor dropped the Yazing portal from its listing immediately after I posted this.  It was never their intent to steal the cash back from their customer.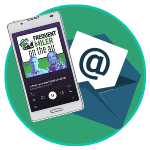 Want to learn more about miles and points?
Subscribe to email updates
 or check out 
our podcast
 on your favorite podcast platform.