A few years ago American Airlines and Hyatt launched a partnership offering reciprocal benefits and earnings. At times we've seen status matches and challenges and a new opportunity has started today which gives temporary Explorist status and the ability to extend that status for longer and even fast track to Globalist status. The catch is that you'll need higher level AAdvantage status to be eligible for the Globalist challenge.
The Deal
Match American Airlines Gold, Platinum, Platinum Pro or Executive Platinum status to Hyatt to get Explorist status instantly for 90 days. You can then extend or upgrade that status by completing the following requirements:

Stay 10 tier-qualifying nights to extend Explorist status through February 2025
Platinum Pro & Executive Platinum members only: Stay 20 tier-qualifying nights to earn Globalist status valid through February 2025.
Key Terms
To qualify for this offer, you must be an AAdvantage Gold or Platinum member who has already successfully linked your AAdvantage account to your World of Hyatt account ("Eligible Member"). To participate in this offer, Eligible Members must register between September 12 and November 30, 2023, through the dedicated offer registration page provided by Hyatt.
Upon registration, the Eligible Member will receive a trial upgrade to Explorist status for 90 days ("Explorist Trial Period"). The trial will provide the member with the benefits of Explorist status, as set forth in the World of Hyatt program terms, provided that the member will not receive any Club Lounge Access Awards (as defined in the World of Hyatt program terms). To maintain Explorist status through February 2025, the member must complete ten (10) Tier-Qualifying Nights (as defined in the World of Hyatt program terms) at any participating Hyatt hotels and resorts worldwide, participating MGM Resort destinations, Small Luxury Hotels of the World ("SLH") hotels, and Lindblad Expeditions.
Only Tier-Qualifying Nights completed by the member during the member's Trial Explorist Period will count toward this offer. Stays completed by the member prior to the start of their Trial Explorist Period will not count towards this offer (even if any night stayed otherwise qualifies as a Tier-Qualifying Night). Further, in order for Tier-Qualifying Nights completed during the member's Explorist Trial Period to count toward this offer, the member must check out of their reservation during their Explorist Trial Period. If member checks into a reservation during their Explorist Period, but does not check out until after the Explorist Trial Period has ended, no nights stayed as part of that reservation will count toward this offer. Explorist Trial Period begins at registration and may not be extended. World of Hyatt Credit Card night credits do not qualify as Tier-Qualifying Nights.
If the member earns Explorist status through February 2025 by completing the criteria above, their new status will be applied within 7 business days of checkout of the stay during which they complete the applicable requirement.
Globalist status challenge is available to AAdvantage® Platinum Pro and Executive Platinum members only.
Qualifying activity is earned when a World of Hyatt member books an eligible rate or award night through Hyatt channels.
Quick Thoughts
This is a great new opportunity to earn a higher level of status with Hyatt, especially if you currently have Platinum Pro or Executive Platinum status with American Airlines as that also opens the door to earning Globalist status through February 2025.
The initial status match is open to anyone who has Gold or higher status with American Airlines and gets you Hyatt Explorist status for 90 days. When American Airlines revamped the AAdvantage program almost two years ago, they made it much easier to earn status through non-flight activity by earning Loyalty Points through credit card spend, shopping portal earnings, etc. That's meant many people who previously wouldn't have been motivated – and/or able – to earn status with American Airlines now have at least Gold status. Doing that could now pay off with this Hyatt status match and challenge.
Something worth noting is that Explorist status isn't very rewarding. You'll be eligible for non-suite room upgrades, get 20% bonus points on paid stays and little else. If you don't currently have Explorist status, it certainly doesn't do any harm obtaining it if you have American Airlines status in the hope you get a particularly generous front desk employee when it comes to room upgrades, but don't expect too much. I certainly don't think I'd make a particular effort to earn 10 tier-qualifying nights to extend that status through February 2025 unless I was already planning on staying close to 10 nights anyway during the 90 day qualifying period.
Where this status challenge does shine is for those with Platinum Pro or Executive Platinum status. They have the same ability to extend Explorist status with 10 nights, but with the added opportunity to earn Hyatt's top-tier Globalist status when earning 20 tier-qualifying nights within 90 days. That could be much more worthwhile and makes it worth at least considering a mattress run, although you'd need to do your own analysis as to whether it makes sense for you, especially if you didn't have many Hyatt stays planned in the next few months.
There are several important things to be aware of with this status match/challenge. One is that award nights do count, so that provides the opportunity to potentially earn tier-qualifying night credits for only 3,500 points per night if you have a category 1 property near you with off-peak award availability. Anecdotally, I've noticed off-peak availability at many properties in November and December this year, so that's definitely worth a look.
Something that doesn't count are elite night credits earned through credit card spend. Both the personal and business Hyatt credit cards offer the ability to earn elite night credits through spend when earning status the regular way, but those sadly don't count as tier-qualifying nights with these status challenges.
Another aspect to consider is that if you earn Globalist status by staying 20 nights, you won't earn all the Milestone Rewards along the way that you'd normally receive when staying 60 nights. That includes a category 1-4 free night certificate, a category 1-7 free night certificate, four suite upgrade awards, a concierge and more. You'll still be eligible for suite upgrades at check-in; you just won't be able to confirm a suite ahead of time using one of those suite upgrade awards unless you book directly into a suite using a higher number of points. You'll also receive all other Globalist benefits like free breakfast, lounge access, free parking on award stays, etc.
If you don't currently have any Hyatt stays planned, consider holding off on registering for this status match right now. That's because registration is open from September 12 to November 30 and the 90 day clock starts ticking once you've registered. If you registered today (September 12), you'd have until December 11, 2023 to earn 10 or 20 tier-qualifying nights. However, if you waited to register until November 30 (assuming you didn't have any stays before then), you'd have until February 28, 2024 to earn enough tier-qualifying night credits. Just make sure you do remember to register for this promotion before any stays!
It's also worth checking the promotions tab in your American Airlines AAdvantage account. That's because select members who've linked their AAdvantage account with their World of Hyatt account might have an exclusive offer listed there. I'm not sure what kind of offer that would be, so let us know if the comments below if you see something extra there. Hopefully some Gold and Platinum members will also be targeted for the ability to upgrade to Globalist status with 20 nights, but perhaps it'll be some other kind of reciprocal earnings like additional bonus Hyatt points when flying with American or vice versa.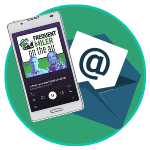 Want to learn more about miles and points?
Subscribe to email updates
 or check out 
our podcast
 on your favorite podcast platform.