Update: The new Chase Offers program that was rolled out to all personal cards in November 2018 no longer has a rolling expiry date, so you might as well load them immediately.
Chase Offers has a few new offers out for Chase Marriott Rewards Credit Card and Chase Slate card holders: new offers are out for Lowe's, Whole Foods, and Starbucks. In addition to this, I've noticed something kind of interesting with some offers: expiration dates have periodically changed (more than one time) on some of the offers I haven't activated.  This hasn't happened with all offers, but in some instances it looks like it might make sense to hold off on adding them until you intend to use them. More on that below.
The Deal
Several new and/or extended Chase Offers, including:

$10 back on $25 at Whole Foods (Expires 1/16/18)
$10 back on $50 at Lowe's (Expires 1/21/18)
10% back up to $100 statement credit at Starbucks (Expires 1/16/18)
10% back up to $25 statement credit at Olive Garden (Expires 1/21/18)
and more
Key Terms
Quick Thoughts
It's great to see the return of the Whole Foods, Lowe's, and Starbucks offers (all of which had previously expired). Greg had no trouble getting the statement credits on gift card purchases at Whole Foods. On the other hand, gift card purchases at other retailers were very spotty. I did get the credit for buying Whole Foods digital gift cards with the Staples offer (since expired), but I did not get the statement credit when I bought a Visa Gift Card at Lowe's. I did receive a statement credit for a purchase I made at Starbucks that included both a coffee and a $50 gift card during the previous offer (which expired 12/31/17). Cumulative purchases did not count for me at 1800Baskets. Of note: once the system thinks you've used an offer, it disappears whether you ultimately receive the statement credit or not (so I wasted my Lowe's offer as I received the initial congratulations email and the offer disappeared only to not be honored).
One interesting thing I've noticed is that some offers seem to extend their expiration date if they aren't activated. For instance, here's a screen shot I took on December 14th:
Note that when I took that screen shot on 12/14, the above offers for Chery's Cookies and The Popcorn Factory show expiration dates of 1/3/18. The next day (December 15th) I posted a Quick Deal and noted that the expiration dates on some deals had extended by 1 day since I had taken the screen shots the previous night. The offers above for FruitBoquets.com, Cheryl's Cookies, and The Popcorn Factory were all showing an expiration date of 1/4/18 as of 12/15. I noticed that those dates periodically moved by a day now and then. I also took this screen shot of the 1800Flowers and Etsy offers back on 12/14.
Again, on 12/15, the expiration dates of those offers showed 1/4/18 and 2/13/18, respectively. A few days later, I added the 1800Flowers offer to my Marriott card. On the date of activation, it showed an expiration date of 1/8/18 — and it still shows that same 1/8 expiration date in my account today (I haven't used it):
However, I never activated the offers for Cheryl's Cookies, The Popcorn Factory, or Etsy. Here they are in my account today:
As you can see, the expiration dates have all been pushed out a bit later. The Popcorn Factory and Cheryl's Cookies have changed from an original expiration of 1/3/18 to now showing a date of 1/21/18 since I have not activated them. The Etsy offer only moved out a few days from 2/12/18 to 2/15/18. This same phenomenon seems to have happened at a few other stores, though certainly not all stores.
That might not make a huge difference in some circumstances, but in others you may want to hold off a bit on adding an offer to see if the expiration date with change. Once you add an offer, it appears that the expiration date is locked in.
Bottom line
There are some nice refreshed Chase Offers out today to save at popular stores, and it's interesting to see that the expiration date on Chase Offers may not be as set-in-stone as we have become accustomed to with Amex Offers. It might be worth holding off on activation until you find a use for the offer — though you always run the risk of forgetting about it or the inconvenience of logging in to add it when you're trying to check out. I think this might be most useful around peak holiday/promotion times, when you know a sale is likely to come and you want to see if an offer might extend into that period if you hold off on activation. Remember that some offers do not appear to change at all. More experimentation is needed.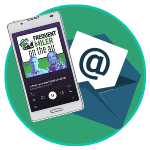 Want to learn more about miles and points?
Subscribe to email updates
 or check out 
our podcast
 on your favorite podcast platform.