This morning, Greg reported that today might be your last chance to get the $49-annual-fee version of the Chase IHG card (see: Last call for $49 IHG card. The single best rewards card to have and to hold.). Spencer Howard at Straight to the Points now shares a screen shot of the new IHG Rewards Club Premier credit card offer that's coming (see his post for the image, the details of which are outlined below). The new card will still carry a free night according to the image (Update: Angela points out in the comments that the offer states the free night is good at "eligible" hotels worldwide, indicating that this may be somehow limited)  and will have some other key benefits, albiet for a higher annual fee. At this point, we don't have any firm details on a rumored launch date, and keep in mind that details could certainly change. However, if true, the new card looks interesting. That said, I'd still prefer the $49 version, so if you don't yet have that you will probably want to pick it up ASAP. Details of the new card to follow
The new IHG Rewards Club Premier Credit Card (rumored) key card details include:
80,000 point signup bonus after $2,000 in purchases in the first 3 months
10,000 bonus points after you spend $20,000 and make one additional purchase each cardmember year
Annual free night certificate at "eligible" hotels worldwide
Earn 10X at IHG hotels
Earn 2X at gas stations, grocery stores and restaurants
Automatic Platinum Status
20% discount on purchases of IHG points
4th night free on award stays
Global Entry or TSA PreCheck credit of up to $100 every 4 years
5,000 bonus points if you add an authorized user within 3 months of opening the card
No foreign transaction fees
$89 annual fee
I've bolded what I find to be the standout details above and summarize them below.
Still a free annual night
The offer still includes an annual free night certificate good at any IHG hotel worldwide.
Update: As pointed out by Angela in the comments, the offer states that this card comes with an annual free night good at "eligible" hotels worldwide. No word yet on what constitutes an "eligible" hotel. Does IHG intend to limit the use? It looks like this new free night certificate may not be as generous as the annual certificate that comes with the current version of the card.
That's still a good deal at $89, though obviously not as exciting as $49 each year.
20% discount on IHG point purchases
On the other hand, the 20% discount on purchases of IHG points could be very interesting. It was recently possible to buy points for 0.5 cents per point (See: (EXPIRED) Buy IHG Rewards Club Points With 100% Bonus – Pay Less Than 0.5 cpp). Saving an additional 20% would drop the cost down to 0.4 cents per point, which is certainly below the Reasonable Redemption Value for IHG points. Will this also apply to points purchases made through cash-and-points bookings? It's hard to say for sure, but it might given the way IHG processes cash-and-points bookings.
No more 10% rebate on redemptions?
Unfortunately, I do not see the ability to get 10% back on point redemptions (a current benefit of the apparently soon-to-be-defunct IHG Rewards Club Select card) — so that 20% discount on point purchases may not be quite as generous as it initially sounds.
4th night free on award stays
The other key benefit that jumps out to me is the 4th night free on award stays. That amounts to a 25% discount on award stays of 4 nights, which more than makes up for the 10% rebate if you regularly book stays of 4 nights (or even a bit longer). Combined with cheap points purchases, this could make for some relatively inexpensive 4-night stays in expensive cities. For example, there are a number of properties in New York City that cost 50K points per night. If you were able to buy points for 0.4 cents per point, that would mean award nights would cost $200 per night. If you're then able to take advantage of a 4th night free booking, that brings the per-night cost down to $150 per night. Paying $150 per night all-in for a hotel stay in New York City can be a steal at many times throughout the year. In cities where hotels cost 30K per night or less, 4-night stays would come down to under $100 per night.
However, that relies on being able to buy super cheap points and making 4-night stays and being able to find award availability. I don't usually have trouble finding IHG award rooms, but neither do I always stay in 4-night increments. For me, the 10% rebate on one-night stays (even cash-and-points bookings) is more valuable.
There is still a rumored $29 card
At this point, there is still a second IHG card rumored to have a $29 annual fee, but we're not yet sure what to expect. It will amost certainly have a lower earning structure and lack of most of the other key benefits above. I wouldn't expect that card to be very interesting apart from the signup bonus if it is not subject to 5/24.
Bottom line
We haven't yet seen a working link for this offer, nor do we have a firm launch date, but we will continue to keep an eye on this as it develops. In the meantime, if you'd like the $49 card, time may be extremely limited on that offer. See the earlier post: Last call for $49 IHG card. The single best rewards card to have and to hold. We will continue to monitor the links on our Best Offers page and IHG Rewards Club Select page to maintain a working offer as long as possible — though that offer is probably living on borrowed time.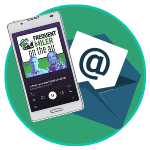 Want to learn more about miles and points?
Subscribe to email updates
 or check out 
our podcast
 on your favorite podcast platform.