A bit over a week ago I published "A credit card plan for a well informed newbie."  There I detailed a plan for this retiree to quickly rack up huge numbers of points through credit card signups.  Readers weighed in with helpful suggestions, and I modified my recommendations.  I wrote:
Thanks everyone. Based on your input, I'll recommend these changes to Ben:

1. Sign up for Ink Biz Pref and Ink Cash same day in order to combine inquiries.
2. Sign up for the Delta Biz Plat card while the historic best 70K offer is still available. Amex business cards aren't counted towards 5/24.
3. future applications: try to combine 2 Chase personal or 2 Chase business cards same day.

If he's going to be grouping apps together like this, then it makes sense for him to wait 91 days between applications so that the impact of the hard pulls will drop down. That won't matter in the first few application cycles, but it can become important once he has 5 or more recent inquiries.

A couple of readers suggested that he wait to apply for the CSR [Chase Sapphire Reserve] offer to go up above 50K. Personally, I don't think that's at all likely to happen anytime soon, but I don't have a crystal ball. One approach is to delay applying for CSR until Ben is at 4/24. When he's at 4/24 and ready to apply for another card, I'd argue that CSR should be it.

So, his apps may look like this (with multi-month gaps in-between):

1. Ink Biz Preferred + Ink Cash + Delta Plat Biz
2. Sapphire Preferred + United 70K (If available) + Any biz card w/ historic high offer that doesn't show on credit reports
3. Sapphire Reserve (in case the Ink cards did count towards 5/24) + TBD
Ben took this revised plan to heart (with one modification) and he signed up for three cards in one day.  Here's what happened…
App 1: Chase Ink Business Preferred; 80K after $5K spend in 3 months; $95 annual fee
As a reminder, Ben has rental property so he can legitimately open business cards.  His first application was for the Chase Ink Business Preferred (more info here).  He used his full name as his business name and his Social Security Number as his business Tax Identification Number.  His revenue from this business is low, but I figured that he'd have a good chance of approval since he's had the business for many years and this would be his first credit card application in a very long time.
Unfortunately, his application was not instantly approved.  He called Chase's reconsideration number (found here in the "App Tips" table) to ask for an instant decision.  The agent asked a number of questions that mostly seemed to be designed to verify his identity, and then asked questions that duplicated those on the application (e.g. business revenue, overall income, etc.).  This is why it's a good idea to note down your answers when applying for cards so that you can make sure to give the same answers on calls like this.  Apparently Ben answered the questions well because the agent approved his application.
Buoyed by the results of this application, Ben went on to apply for card #2…
App 2: Chase Ink Cash; 30K after $3K spend in 3 months; No annual fee
Ben still maintains that he can spend $5K per month on credit cards despite the fact that Plastiq recently stopped allowing Visa credit cards to be used to pay mortgages.  So he should be able to knock out the Ink Business Preferred $5K spend in month 1, and then the Ink Cash $3K spend in month 2.
Ben applied for the Ink Cash (more info here) and made sure to input the same answers as he did with the Ink Business Preferred.  Again his application went pending.  He called and was told that his application had been denied.  He asked if the decision could be reconsidered.  Yes, yes it could.  And, again, he was approved after the phone call.
App 3: Amex Gold Delta Business Card; 60K after $4K spend in 4 months + $50 statement credit after Delta purchase in 1st 4 mont
Since the improved offers for the Delta Gold and Platinum credit cards are scheduled to end on July 5th, Ben decided to go for it now.  He knew that a new business Amex card would not affect his Chase 5/24 status since Amex business card accounts are not reported on personal credit reports (to be clear: the hard inquiry will show on his report, but the account will not).  He told me that it was helpful that the Delta cards allowed 4 months to meet minimum spend in case he ran into any trouble meeting spend in months 1 and 2 with the other cards.
He also wisely went against my previous advice.  I had suggested that he get the Delta Platinum Business card (more info here).  The current offer for that card includes 10K more miles than the Gold card offer (70K vs 60K) plus $50 more statement credit ($100 vs. $50).  But, he pointed out, the Gold card waives its $95 annual fee first year, whereas the Platinum card does not waive its $195 annual fee.  He continued: even if he valued the statement credits at full face value, the Platinum card would cost him $195 – $50 =  $145 more than the Gold card.  So getting the Platinum card would be like buying 10K Delta miles for $145 (1.45 cents each).  He doesn't value Delta miles enough to do that.  Well played Ben.  Well played.
Ben applied for the Delta Gold Business card (more info here) and was instantly approved.
Tracking Applications
When signing up for many credit cards, it is critical to track your applications in detail.  Most banks have rules about how often you can sign up for different cards or even the same cards.  We keep the rules in the App Tips section of our Best Offers page (click to each bank to see that bank's rules), but you need to track your own signups in order to ensure following those rules.
On our Start Here page, we link to a Google Docs spreadsheet that you can use as a starting point (found here).  If you'd like to use it, open the spreadsheet, then make your own copy by clicking File… Make a Copy.
Ben did this and now has 3 cards on his spreadsheet (personal info has been masked):
Next Steps
I'm looking forward to hearing how Ben does with meeting each card's spend requirements and whether he encounters any hiccups in his plans.  I'm also hoping that Ben will continue to share his credit scores over time so that we can see how these applications effect his score.  Since none of the cards he signed up for so far will show on his credit reports (business cards from Amex and Chase are not reported to personal credit bureaus), I'm expecting very little change.  He may incur a tiny hit from the two hard inquiries (the two from Chase should combine into one), but his score should recover quickly from that.
For his next round of applications, Ben should still focus on Chase cards that fall under the 5/24 Rule while he can. As a reminder, each Chase card found on our Best Offers page notes whether or not the card falls under 5/24 rules.  The Sapphire Preferred is an obvious next choice, but Ben should also see if any Chase cards are running better than usual signup bonuses at that time.
He can also continue to pickup business cards from most banks without affecting his 5/24 status (see: Flying under 5/24).  One notable exception is that Capital One business cards are reported to the credit bureaus and therefore do count towards 5/24.  This is a shame since they have a number of excellent business card offers.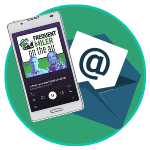 Want to learn more about miles and points?
Subscribe to email updates
 or check out 
our podcast
 on your favorite podcast platform.