Earlier this morning, I posted the announcement that I had reached my end point in the 40K to Far Away challenge: Niue. However, en route to get here, I stopped in 3 cities in New Zealand with layovers of 8 hours or more (in addition to previous stops). With two of those long New Zealand layovers being overnight layovers, the only place I had time to really check out was Nelson, New Zealand. That was a town I had never heard of before the challenge, so I was excited to check out a new place even if only for a few hours. Rather than check it out on foot or by car, I decided to add a mode of transport to my challenge: a bicycle. That was a great idea….for someone in much better shape. See the video below for highlights lowlights.
Cycle Hire in Nelson, New Zealand: super convenient
As a brief bit of intro before the video, allow me to mention that if you're ever tempted to build in an 8hr layover in Nelson, New Zealand, bicycle rental is really convenient. As you'll see at the beginning of the video below, Nelson Cycle Hire (see their website here) is literally next door to the airport. You literally walk to the end of the terminal and they are on the far side of the building next to the terminal — so you can be off the plane and on a bike within like 10 minutes.
Further, John at Nelson Cycle Hire was a super personable guy and Anita responded to my emails late Saturday and all day Sunday, long after hours for the cycle shop, to answer my questions about finding a suitable route. They were great and I highly recommend their outfit should you consider renting a bike in the area. To be clear, they had no idea I was a blogger in advance, I didn't receive any kind of discount, and I didn't tell them I'd write about my experience. I'm just offering the recommendation as I thought they were great and I don't think I've ever noticed something like bicycle rental within walking distance of an airport terminal.
My mistake: too much faith in my abilities
When I emailed Nelson Cycle Hire, I said that I'd been in shape at one or two points in my life that are not right now. While I'm certainly not at all in shape at the moment, I said that I could probably rally and do 30km on a bike if it meant seeing something cool. They came back with a suggested route of about 50km. I figured why not — it sounded cool and I'd pick up both a bicycle and a ferry (and even a bicycle on a ferry) as additional modes of transport (beyond the airplanes, buses, and trains I'd taken up to this point).
Nelson Cycle Hire arms you with maps and some suggestions as to places to stop. I apparently didn't do a great job following the directions as to where to stop on the way back because I got the pizza parlor recommendation from their directions but yet I somehow missed the place to turn off of the bike path to get there and got stuck on the section I couldn't exit (as you'll see below). So if you're going to hire a bike, I suggest you take a few more minutes to study the maps than I did (which means if you spend 2-3 minutes studying, you'll have a leg up on me). I spent a little time dallying before getting on the bike, so I was more crunched for time than I wanted to be when I left the airport — and a couple of stops for pictures on the way didn't help me. Next time, a little less overconfidence in my ability to rally and a little more studying of my maps and I may have more success.
And without further ado, I present my (mis)adventures in Nelson for your enjoyment: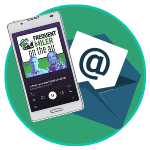 Want to learn more about miles and points?
Subscribe to email updates
 or check out 
our podcast
 on your favorite podcast platform.