It's official: I've come to the end of my 40K to Far Away road. I'll soon be posting summaries of my stops along the way (and eventually a full cost report), but for now I wanted to at least show you the end of the road as this end point dictated the rest of the trip once I found it. My last stop is Niue — an island in the South Pacific with only 2 flights per week in and out, making it pretty darn isolated and certainly a way to "get away" from it all if that's what you seek. I'll have another post summarizing Niue, including where I'm staying here and what I'm doing, and a post on why and how I got to Niue, but for now I wanted to just put up a quick post about my end point.
A step back in time….literally
Astute readers may recall that I took off from New Zealand on Tuesday morning, October 8th, wishing I could get a re-do on Monday.
Happy Tuesday from Auckland airport! Breakfast at the Strata lounge. Legs are *killing* me. Regretting my long bike ride to nowhere. Not gonna lie, wish I could get a Monday do-over. pic.twitter.com/pYiCnYsiqC

— Frequent Miler (@FrequentMiler) October 8, 2019
Sure enough, my dreams came true when I stepped back in time to land in Niue on Monday, October 7th.
How did I manage that, you ask? Thanks of course to Niue's position just across the International Date Line. Nope, not that kind of date line — we're talking about the spot on Earth where the date on the calendar flips. Right now, it's the same time in Niue as it is in New Zealand — just 1 calendar day earlier. So I took off on October eighth at 9:30am and arrived in Niue 3.5 hours later at about 1pm….on October seventh. Of course, that's less exciting than it sounds when you consider the fact that the only feasible way off of this island is flying back to Auckland, which will cost me a day when the calendar flips forward from Friday (when I take off for Auckland) to Saturday (when I land 3.5 hours later).
What's this about a club made for captains?
Those who have been following along on social media may have seen the small riddle posted about my final destination:
Nick's last stop is totally new
That's true for him and likely you, too.
Just two flights per week there do happen
And with luck, he'll join a club made for captains.
Clearly the lines about it being "new" are a play on the name Niue (pronounced new-way) and the fact that it's a place I figure most will have never heard of (in fact, I'm curious — if you're reading this and can take a second to comment, I'd love to know whether or not you had heard of Niue before now).
But what about the club made for captains?
My friends, I am the newest proud member of the Niue Yacht Club — known as "The Biggest Little Yacht Club in the World".
I joined with $20 New Zealand Dollars — the equivalent of $12.65 at today's exchange rate. Where else can you join a yacht club for less than thirteen bucks? I see your lifetime uranium-marbled-entitlist-amethyst elite status and raise you a yacht club membership.
Bottom line
So there you have it: my end point is a beautiful, isolated island in the South Pacific where I became a member of the yacht club to end my 40K to Far Away challenge. While the physical distance of a straight line from Washington, DC to here may not be the "farthest away" of our three end points, I thought this would be a unique place to end the challenge. We'll obviously lay out all the associated costs in a separate post, but for now I wanted to at least let readers know where I am. Internet access has not been as easy as I may have hoped, though I think I've now got that sorted out and as such you'll see some more posts coming from me in the coming days as I take in what Niue has to offer. I look forward to reporting back as to whether or not this is a destination that belongs on your list, but for now, I'll leave you with a couple of pics that have been first impressions from the island.
Oh, and PS: My family had been hiding out in New Zealand for a week on a social media hiatus waiting to meet up with me for my end point. To say it was great to see them again and enjoy this last stop and the ride home with family would be a huge understatement. I even got the sense that they missed me a little bit, too.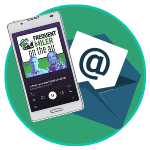 Want to learn more about miles and points?
Subscribe to email updates
 or check out 
our podcast
 on your favorite podcast platform.