A report came out this morning from Ryan at Miles to Memories about a Turkish Airlines award chart devaluation, but on the contrary I've found that there has been no devaluation — domestic economy class can still be booked for 7,500 miles each way and domestic business class can still be booked at 12,500 miles each way. Rather, the award chart changes Ryan points to are the ones we reported in November of 2019 (See: Turkish changes award chart: Act now for some sweet spots (but don't panic – there's good news, too!). The good news is that a few searches with the online tool easily verified that there has been no devaluation — flights from the mainland to Hawaii, like this one from Washington Dulles to Honolulu, still price at just 7,500 miles each way in economy class (and the other changes he points to are not new as seen below in this post).
The confusion run into by Ryan at Miles to Memories is because Turkish removed its domestic pricing more than a year and a half ago (as we reported). Even since I first reported the Turkish sweet spot, the North America-to-North America international pricing has been 10K miles each way in economy class or 15K each way in business class. We've long noted that this can be a great deal for flying to Canada or Mexico and we have included this sweet spot in our posts about the best ways to get to cities in the US and Canada using miles as well as to the Caribbean and Central America.
However, Turkish used to publish this separate chart outlining prices for domestic flights on their award chart:

That chart shows round trip pricing, so in terms of one-ways, the pricing for domestic Star Alliance flights was and still is 7.5K each way in economy (15K RT) or 12.5K each way in business (25K RT). Also noted in our very first post about Miles & Smiles when we broke the news about the domestic flight sweet spot back in July of 2019, there was always this note below the chart:
***Applicable Mile amount for direct flights with Star Alliance member airlines in the same country.
And at the time, I noted that I was unsure whether "direct" meant "nonstop", saying:
However, I was slightly unsure about what this would mean for connecting itineraries since the note below the chart mentions it is the applicable amount for direct flights.
But in that very first post, I debunked the idea that direct meant nonstop when I reported that I had successfully booked Washington to Chicago to Honolulu for 7.5K miles each way. Indeed, that domestic pricing has held up for countless readers in the nearly two years since (and that domestic pricing also applies to domestic itineraries wholly within Canada on Air Canada or India on Air India or China on Air China, etc).
When Turkish removed the "domestic" part of the award chart in November 2019, I reported that change and noted that it was possible that the 7.5K awards would go away. I've been glad that as of May 2021, no change has been made to domestic pricing.
Also noted in that November 2019 post is that there was a change to the way the award charts were named. I noted at that time that I had initially "had a heart attack" when a reader first alerted me to a "new" award chart and then I saw what I thought was the "new" Award ticket table (which is where Ryan is finding the higher prices that he thought were new). However, I noted at the time that Turkish had renamed its charts and the Award ticket table appears to be an "anytime" award table. The "Promotional award ticket table" is the saver / partner award table and it shows no changes today from what I reported in November 2019. Indeed, there have been no changes to the anytime award table either. That "anytime-like" Award ticket table shows the same (high) prices today that it did in November 2019. I know that for sure because I recorded the award chart prices in that table on November 16, 2019 (I last modified that file at 12:19pm that day according to the timestamp on my computer). The prices in that "Award ticket table" are identical today. The chart for saver Star Alliance awards remains the "Promotional award ticket table" as I reported at the time.
That's not to say that Turkish couldn't eliminate that domestic flight sweet spot. Indeed, it hasn't been on their award chart for a long time. It is possible that they will get rid of it. However, there has been no news on that front yet and I'm hopeful that there won't be soon. Neither has there been any change to the anytime ticket table.
A real problem that Ryan points to is not being able to find business class award space. Ryan reports finding no business class award space on any route anywhere domestically on United. Thankfully, I was able to verify that United business class space is indeed still bookable via Turkish for 12.5K each way in business class as shown below (the second flight is available).
In fact, I even found lie flat availability to Hawaii from San Francisco at 12.5K one way.
However, I did not see nearly as much domestic business class availability as there should be. It's frustrating that Turkish has so much trouble seeing space that should be available, though that isn't necessarily surprising as the Turkish online tool and phone agents have long struggled to find availability on nonstop routes for some inexplicable reason. I've had better luck emailing ticket offices — when they respond.
The bottom line here is that it is not yet time to panic: it looks like business as usual with Turkish. Let there be no doubt that business as usual with Turkish can be frustrating, especially when things like schedule changes and flight cancellations happen, but there has been nothing added to that frustration today. That may not quite sound like good news, but there isn't any bad news yet, either.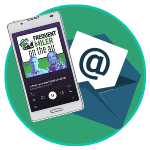 Want to learn more about miles and points?
Subscribe to email updates
 or check out 
our podcast
 on your favorite podcast platform.