Last summer Nordic Choice ran a two-pronged promotion. One was a one week pass for 595 EUR, while the other was much more intriguing – an all-you-can-stay pass valid for two months over the summer which they sold for 3,000 EUR.
Nordic Choice is back with another summer pass, but they're sadly only offering a one week pass this year. Still, it has the potential to offer some great value if you're planning a trip to Scandinavia this summer.
The Deal
Buy a 7 night Summer Pass with Nordic Choice hotels for 595 EUR.
Key Terms
Valid for stays from June 22 to August 21, 2023.
Quick Thoughts
595 EUR is about $650, so it works out at ~$93 per night. That could be a fantastic deal considering a) how expensive hotels can be during the summer in Scandinavia and b) it includes breakfast at all eligible hotels with the exception of Comfort Hotel Xpress. If you use any of your free nights at Clarion Collection Hotels, you'll also get Fika and daily evening meals which can save you a substantial amount of money considering how expensive food can be there.
Something else that's great about these Summer Passes is that there's a good amount of flexibility with them. You don't have to stay at the same hotel for all seven nights, nor do you have to use all seven nights consecutively. You could, for example, book two nights at one Nordic Choice hotel, stay somewhere for a couple of nights with a completely different hotel chain, stay three nights at another Nordic Choice hotel and then redeem the final two nights at a completely different property.
That's not the only positive thing about its flexibility. You can redeem up to three nights at the same property on the same night, so if you're traveling with family and/or friends, you could book three rooms for two nights and still have one night left over. Even if you couldn't make use of that final night, that could still be worth it seeing as you'd effectively be paying less than $110 per night for each room.
If you're traveling with more than one person, be aware that there could be additional fees for 3+ people in a room. Per their FAQs section:
Can I book a room for more than two people?

The offer is valid for two people in a Moderate or Standard room. If you need an extra bed, a pet-friendly room, or if you have another type of special request, this can usually be arranged by contacting the hotel directly. Please note that this may incur additional costs.
I'm not going to have a chance to take advantage of this promotion this summer or next, but I'm hoping Nordic Choice will continue running this promotion in future years as it's an intriguing possibility that I'm definitely interested in checking out in 2025 or beyond.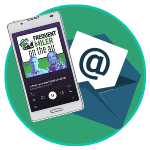 Want to learn more about miles and points?
Subscribe to email updates
 or check out 
our podcast
 on your favorite podcast platform.