Choice Privileges is a an oddball rewards program. You can't book award stays more than 100 days in advance.  And the point prices change regularly.  The point prices for the next 6 months or so is listed on each hotel's page.
Fortunately, it's sometimes possible to stumble upon outstanding value…
Most Choice member hotels are low end cheap motels.  But Choice also includes the mid-tier Cambria chain which can be quite decent.  For example, I had a very nice stay at the Cambria near LAX (which I wrote about here).
Choice also offers high end Ascend Collection hotels.  Yesterday I wrote about the Peacock Inn in Princeton, NJ.  And Nick has written about the Hotel Napa Valley.  Both are Ascend Collection hotels.
Pick a room, any room (if you can see them)
Another weirdness about Choice Privileges is that they'll often let you pick more expensive rooms, or even suites, for the same point price.  I picked a Deluxe King room in Princeton, and Nick picked a suite in Napa.
And, that brings us to another weirdness.  To see the rooms that are available with points, you have to have enough points to book it.  Luckily, if you have at least 6,000 points you can get around this limitation by searching one night at a time (as long as points plus cash rates are available).
Refilling my points
Each Spring during the Daily Getaways (which are annual travel sales with limited availability), Choice points are on sale for about half a cent each.  I usually buy some at that price, but I skipped it in 2019.  I'm now thinking that was a mistake.  I'm down to only about 15K points.
There are a couple of ways to get Choice Points by transferring from other programs.  Amex points transfer one to one to Choice, for example.  But I value Membership Rewards points far more than Choice points so I don't like that option.  Another option is to transfer Amtrak points 1 to 3 to Choice.  That sounds awesome, but to unlock this capability you need either to be an Amtrak elite or to have spent $20K in a year on the Amtrak World credit card.  I'm not and I won't.
Another option is to sign up for the Choice Privileges credit card.  At the time of this writing the signup bonus is only 32K points — that's a far cry from the 64K offer we've seen in the past.  No thanks, I'll wait for an improved offer.
If I need Choice points before the 2020 Daily Getaways, my plan is to buy them via the points plus cash trick.  The trick is to book a stay for 6,000 points plus cash, then cancel the stay.  Instead of getting back your cash, you get back the point difference between the 6,000 points and the full point price of the stay.  For example, if the full rate was 20K points per night but you paid 6K points + $105, you would get back 20K points when you cancel.  This is a way to buy Choice points for three fourths of a penny each.  That's a better deal than buying points straight up from Choice for about a penny each (found here).
3.5X to 5X everywhere
Regular readers may remember that I have the Bank of America Premium Rewards card with Platinum Honors.  With this combination, I earn a minimum of 2.62% cash back for all spend.  So, if I earmark some of this cash back to be used to purchase Choice points, I can think of my card as an amazing Choice Privileges point earning card as follows:
When buying Choice points at a half cent each (during the Daily Getaways), my 2.62% cash back card becomes a 5.2X everywhere card.  In other words, I can think of it as earning 5.2 Choice points per dollar!  2.62 / 0.5 = 5.24.
Buying points with the points plus cash trick isn't too shabby either.  When buying points at 0.75 cents each, my 2.62% cash back card becomes a 3.49X points card.  2.62 / 0.75 = 3.49.
For more about the Premium Rewards card (and other Bank of America gems), see: Bank of America cards: awesome if you've got $100K lying around.
Next steps
Choice Privileges points aren't great if they're all you have.  Ascend Collection gems are few and far between.  But, in my opinion, Choice points are great to have available for those times when everything gels.  Sometimes, the Choice option really is the best choice (ha).
In the near term, I'll make sure to keep at least 6,000 points available.  That's necessary just to be able to see which rooms are available on points.  And it makes it possible to buy more as needed via the points and cash trick.
Then, when the Daily Getaways return in May, I'll buy more points at a half cent each if possible.  More and more I've found that that's a great deal.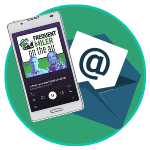 Want to learn more about miles and points?
Subscribe to email updates
 or check out 
our podcast
 on your favorite podcast platform.