This was a tough stay to review. At a high level I'd say that this is an excellent hotel, but a poor Park Hyatt.  Based on previous stays in other locations, my Park Hyatt expectations were very high, but this Park Hyatt fell short in a few ways.  My wife and I stayed at the Park Hyatt Auckland for 3 nights and checked out on January 1st 2023.  I'm reporting the exact dates because it is relevant: New Zealand, like many countries, is currently experiencing a big labor shortage in the service industry.  Staffing issues must have been even worse during our stay because most New Zealanders vacation during this time.  So, it's likely that our stay fell short of our Park Hyatt expectations due to staffing shortages alone.
Park Hyatt Auckland Bottom Line Review
Overall this is an excellent hotel.  Our stay was very nice and I'd happily stay here again.  The experience did fall short of my Park Hyatt expectations, though.  For example, no turndown service was offered at all.  That didn't particularly bother me, but it was surprising for a Park Hyatt.  That said, with their ongoing staffing shortage, dumping turndown service seems like a smart move.  Another issue was that housekeeping was imperfect.  They failed to refill our coffee pods, for example.  They also failed to turn off an early morning alarm on the bedside clock (fortunately we were already awake).  And one day they left us without a hand towel in our half-bathroom (the half-bath was physically separate from the rest of the bathroom and so a missing towel was actually an issue there).  Finally, while made-to-order breakfast was very good, the breads and pastries on the buffet were stale.  My guess (and it's just a guess!) is that they usually buy them each morning from a local baker, but that baker was probably closed for the holiday weekend.  Many restaurants and shops were closed in Auckland during our stay.
Price: This is a category 5 Hyatt and costs 20,000 Hyatt points per night standard, 17,000 points off-peak, and 23,000 points peak.  We paid 23,000 points per night.  Cash rates range from around $350 to over $800 per night USD.  I believe that cash rates were around $600 per night when we booked.
Point Value: Often very good.  With a $600 cash rate vs. 23,000 points, for example, you'll get 2.6 cents per point value.
Location: Very good.  The hotel is in Auckland's Wynyard Quarter neighborhood which Wikipedia tells me is is "a reclaimed piece of land on the Waitematā Harbour at the western edge of the Auckland waterfront."  From the Park Hyatt, you can walk west towards the reclaimed area where you'll find many new bars and restaurants and what seems to be a half-baked playground / park along the waterfront.  In the other direction, you can walk east towards what is probably the most touristy part of Auckland (with the exception of the Sky Tower).  There you'll find cruise ship ports, the ferry port, and more restaurants and shops.  Walk east and then south to find the heart of the city and the Sky Tower.  We took a great free walking tour that started at the Ferry Building and walked south from there into the city.
Room: We were upgraded from a base King Room to a "Deluxe Harbour View King".  It was great!  We were disappointed not to get one of the few rooms with a balcony, but otherwise loved our room.  It was large, beautifully appointed, and had a great view.  One disappointment is that a wire screen runs the length of the floor to ceiling windows and so taking photos of the view without including the screen is difficult (but possible).
Parking: Overnight Valet parking costs $60 NZD per night.  The fee is waived for Globalists during award stays.
Resort/Destination Fee: None
Internet: Very good
Housekeeping Service:  Daily.  Service was mostly good except for a few misses: 1) they failed to replace our coffee pods; 2) hand-towel missing from our half-bath one day; 3) Alarm clock alarm hadn't been turned off before our stay.
Turndown service: None.  That's very unusual for a Park Hyatt.  In lieu of daily turndown service, though, they do leave chocolates on the bed at the start of the stay.  That was nice.
Concierge: Very good.  Concierge Nick had great recommendations (such as viewing the sunset from nearby Mount Eden — that was awesome).
Dining:  There are several dining options, but we only ate breakfast at the hotel.  Breakfast ordered from the menu was very good.  The buffet breakfast, though, was lacking: breads and pastries were stale and fruit options were very limited.  One highlight of the buffet was the excellent smoked salmon.
Spa: A very nice hydrotherapy room is available for all hotel guests.  They also have very nice locker rooms with individual shower rooms.  The shower rooms include a number of helpful disposable items like toothbrushes, razors, etc. (but strangely, no combs).  We arrived from our 13 hour flight many hours before check-in and so we found the spa and locker rooms to be very helpful.  We changed into swimsuits and enjoyed the pool and hydrotherapy room, then we used the shower rooms (where I finally shaved for the day).  If you can't get into your hotel room early, this is a great alternative!  We didn't try any other spa services.
Pool: Their outdoor pool is advertised as having a great view but in reality foliage blocks that view from most of the pool area.
Fitness Room: I somehow forgot to take a look!
Hyatt Globalist Elite Benefits: 

Suite Upgrade: No suite upgrades were available for our stay.  However, the guys from No Mas Coach happened to be there at the same time.  They had booked far sooner than me and had confirmed a suite upgrade by applying a suite upgrade award at the time of booking.  Unfortunately they had to change suites twice because there were a/c issues with their first two suites.
Club Lounge: None.
Free Breakfast: Unlike some other Park Hyatt properties, this one did not offer room service as a free breakfast option.  With their in-restaurant free breakfast, though, we could both order off the menu and get whatever we wanted from the buffet.  Even though the offerings at the buffet were weak, the menu items were very good and the breakfast experience was great overall.
4PM Late Checkout: We only asked for 1pm late check out and it was granted without issue.
Free Parking: We didn't have a car in Auckland, but the guys from No Mas Coach had rented a car and enjoyed free valet parking during their stay.

Would I stay again?  Yes, definitely.  Despite the fact that the hotel didn't live up to my very high Park Hyatt expectations, we still had a great stay.
Pros and Cons
Pros
The hotel has a resident dog named Beau (details about Beau follow a photo at the bottom of this post)
Water views are available from many rooms
Hyatt Globalist benefits are very good
Rooms are big, beautiful, and comfortable (at least the deluxe room that we were upgraded to was)
Very nice spa and locker facilities
Fantastic place to go for New Years Eve if you get a harbor view room facing the Sky Tower
Cons
Breakfast buffet was poor (but menu items were good)
Suites apparently have a/c issues
Housekeeping was not great during our stay
No turndown service
Very few rooms have balconies
Rooms without balconies have screens that make it difficult to take good photos
Image Gallery
Park Hyatt Auckland King Bed Deluxe Harbour View
With points we booked a regular King Bed room but we were upgraded to a Deluxe Harbour View room…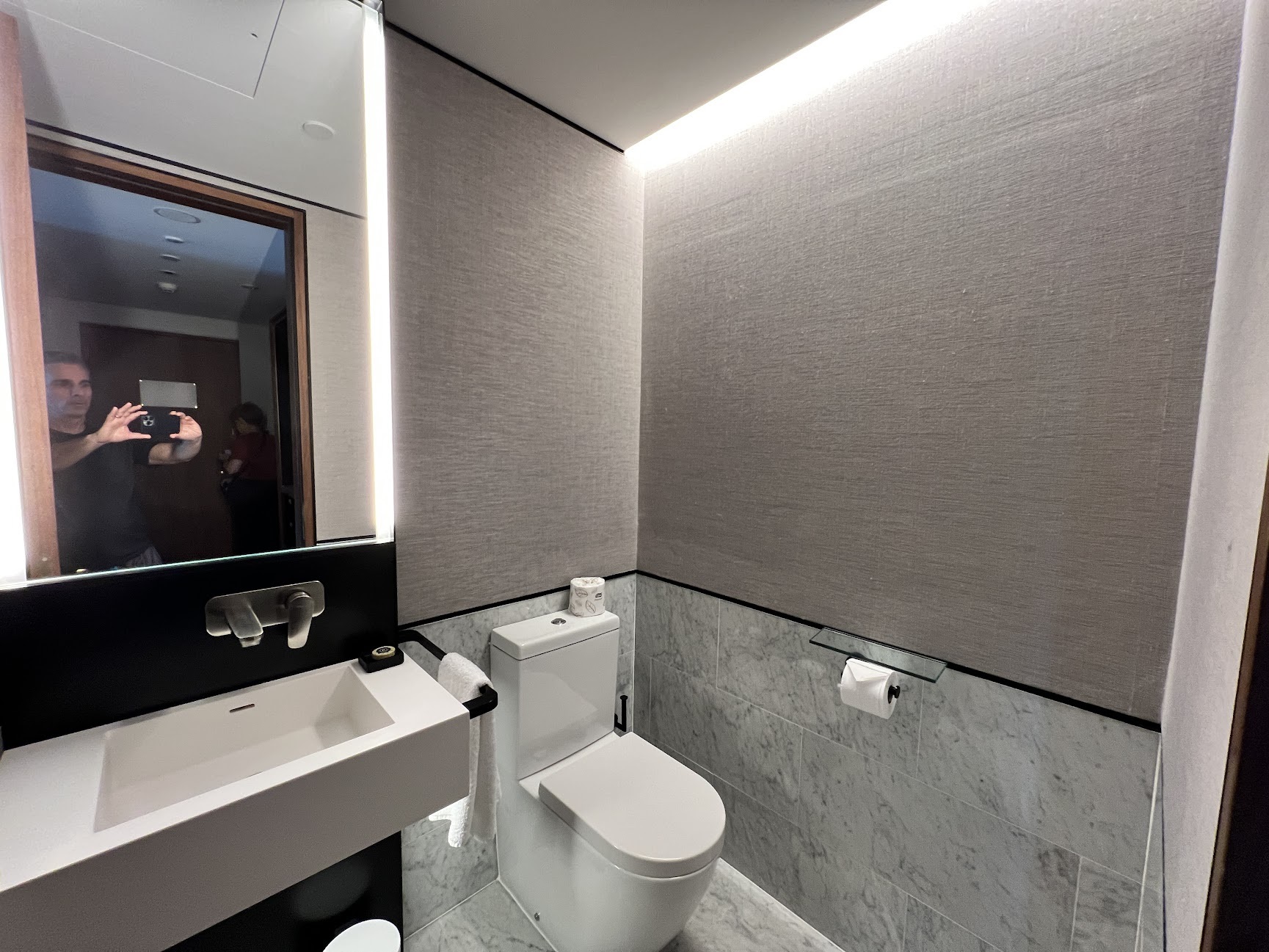 Park Hyatt Auckland Breakfast
Park Hyatt Auckland Common Areas
The sign next to Beau reads:
HI, I AM BEAU!
I am Park Hyatt Auckland's most recent Labrador recruit and an official ambassador for Blind Low Vision NZ.  I greet guests on arrival, assist with luggage, monitor guest and client movement in the lobby and do daily rounds of the admin offices to play with my colleagues. I love to have a taste of what everyone is eating but I am on a special diet, so please don't feed me!

WE NEED YOUR HELP
Blind Low Vision NZ Guide Dogs give people who are blind or have low vision, the independence and confidence to undertake daily routines.
My colleagues at the guide dog training centre need to raise NZD $6 million over the next 18 months to replace our 40 year-old kennels. Can you help us?
The QR code on the sign links to this website.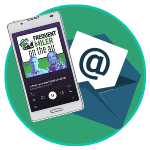 Want to learn more about miles and points?
Subscribe to email updates
 or check out 
our podcast
 on your favorite podcast platform.