For the 3 Cards, 3 Continents Challenge, Maisie (the Culinary Concierge) and I traveled around the world in business class.  Our trip themes were luxury travel, great food from around the world, and exploring waterways.  In this series of posts titled "Greg & Maisie's Great Adventure," I detail highlights from our travel, food, and water experiences.  Our route in a nutshell: San Francisco to Tokyo to Vietnam; Vietnam to Doha, Qatar; Doha to Sofia, Bulgaria; Sofia to Istanbul; Istanbul to Stockholm; Stockholm to Bergen; Bergen to Toronto (via Newark); Toronto to Detroit (home!)
What is 3 Cards, 3 Continents?
Frequent Miler loves creating fun and competitive team challenges. This year Greg, Nick, and Stephen are competing to
book the most amazing 3-continent dream-trip using 3 credit card welcome bonuses.
Vietnam (Wednesday evening to Thursday evening)
We landed earlier than expected at the Ho Chi Minh International Airport but we were still late for our date with Chef Peter Chong Franklin at Anan, which was listed as one of Asia's 50 Best Restaurants in 2021, and best overall in Vietnam.  Anan is known not just for their creative food options but also for their amazing cocktails.  But I'm getting ahead of myself… After clearing passport control at the airport, we sped off in a taxi to Le Meridien Saigon, which I had paid for with 16,000 Marriott points (note that "sped off in a taxi" is self-contradictory statement in Saigon's busy traffic, but the driver did his best).  At the hotel, my Marriott elite status was more of a curse than a privilege.  The staff insisted on the special pomp and circumstance that they inflict only upon those with Platinum status or higher.  Rather than check us in directly in the lobby, we were escorted to the top floor lounge where we sat and were offered drinks and basically did the same thing that would have happened below, but at a much slower pace.  On the other hand, I did score a sweet suite upgrade, so there was that.  Anyway, as a result of the Bonvoy treatment, the restaurant had closed by the time we finally arrived.  Fortunately, Masie waived her magic culinary wand and got us in (i.e. she told a staff member that Chef Peter was expecting us at the restaurant's bar).
To get here, to this great restaurant in Southeast Asia, we had met up the day before in San Francisco where Maisie kicked off our culinary adventure by bringing delicious goodies from her favorite pastry shop, Tartine.  We shared them in the excellent United Polaris Lounge at SFO.  Then, after enjoying the goodies, we flew United Polaris Business class to Tokyo Haneda Airport.  We were very impressed with how comfortable the lie-flat seats were.  And, on my aisle, service was terrific.  On Maisie's aisle, service was awful.  It's amazing what a difference the side of the plane makes.  The food was just OK.  At the international terminal in Japan, we enjoyed excellent sushi, fresh from the Tokyo fish market.  Next, we flew ANA business class to Saigon.  This was ANA's outdated business class configuration, but it still offered lie-flat seats, direct aisle access, etc.  In other words, it was a very comfortable but unremarkable business class flight.
Back to the Anan bar in Saigon…
Chef Peter kicked off our visit by recommending two gin based cocktails, a Phojito and a Tra Da, which we shared.  Both were terrific.  The more interesting of the two was the Phojito which was designed to evoke the flavors and smells of traditional Vietnamese Pho.  Next up was the delicious and inventive Cotton Candy Old Fashioned which featured actual Cotton Candy on top until the final ingredient dissolved the candy when poured in.
The culinary adventure kicked into overdrive when we moved to the "special menu" (which I failed to get a decent photo of, sorry).  The bartender brought out a raw Coconut worm on a stick and rolled it in cane sugar.  Then Chef Peter proceeded to caramelize it with a flame thrower.  Maisie did the worm the honor of eating it.  Since these worms literally live in coconuts, they really do have a coconut taste.  When combined with fire and sugar, and followed with a shot, it's almost a confection.  Or so I imagine.  My adventure with a Coconut worm included neither fire nor sugar nor a pre-deadified worm.
Next up, the bartender brought out a live crawling Coconut worm on a dish.  Chef Peter used tongs to hold the creature's head (because, he says, the thing will bite hard otherwise), and while the thing squirmed, I bit off its entire body and ate it up.  Have you ever drunk coconut milk directly from a coconut?  Believe or not, the worm really did taste like that.  The only slightly unpleasant part (yes, I know, besides the fact itself that I was eating a live worm!) was that the skin was a little tough, so it took a bit of chewing to get the thing down.  Enjoying a snack or meal while reading this?  You're welcome.
Chef Peter proved to be an excellent and entertaining host, but when the clock rolled past midnight, we said our goodbyes.  We had to get up early the next morning for our next Vietnam adventure: a tour of the Mekong Delta.
Our tour guide and driver picked us up at the hotel early the next morning.  It was a long drive (about 3 hours) to our first major stop: the floating market.  Along the way, we stopped to pick up fantastic Bánh mì sandwiches and Vietnamese iced coffee for breakfast.  Sometimes simple delights like these can make your day.  They did mine.
Eventually we transferred to a riverboat to explore the floating market.  Years ago, I had been to the tourist trap version of this in Bangkok, but this one is the real deal.  Don't get me wrong: tourists do come to see it (just as we did), but it also came into existence before tourists and would continue on without them.  This is how local farmers distribute their stuff.  And, according to our tour guide, selling on the river is how they avoid paying government sales tax.  Instead of signs, most boats have long bamboo poles to hold up samples of their offerings.
The floating market was just the first of several boat rides we took through parts of the Mekong Delta.  My favorite was a boat ride on a narrow canal sided by thick foliage on (if memory serves) Coconut Island.
Despite it being rainy season in south Vietnam, we lucked out with perfect weather all day.  It didn't even get overly hot until near the end of the tour!  Most stops on the tour also included food experiences (we sort-of helped make rice paper, we interacted with bees, we tasted various teas, etc.).  We ended the tour with a silly horse and buggy ride (this is how they used to get around, but now only tourists do so), followed by a huge outdoor lunch.
At the end of the day the tour guide took us directly to the airport.  Our 23 excellent hours in Vietnam were done.  We had a plane to catch.  Stay tuned for chapter 2 in which we nearly get turned away at check-in for our next country visit, Maisie is awed by a great flight, and I dance on a boat under the stars.
Prefer video?  Check these out: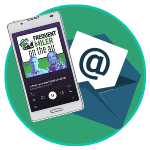 Want to learn more about miles and points?
Subscribe to email updates
 or check out 
our podcast
 on your favorite podcast platform.