Recently, I wrote about a nice little win from the American Airlines Loyalty Points games and the American Airlines/JetBlue partnership in my experience with reciprocal elite benefits when flying JetBlue. Then, a week later, I enjoyed yet another nice little win: I flew JetBlue on a nonstop route and booked it within a day of departure for four passengers for 12,500 miles per passenger (via American Airlines AAdvantage) on a day when JetBlue was charging 24,800 TrueBlue points per passenger (and even got extra legroom seats and free checked bags thanks to my AA elite status). That was a savings of nearly 50,000 points over what JetBlue would have charged for the flight. The catch was that even though the flights were showing up online, I had to book via the call center. The good news is that even though the AA website errored out on me repeatedly, the call center was able to get the job done.
Don't forget the American Airlines / JetBlue partnership
I think I'm not alone in continually forgetting that American Airlines and JetBlue have a partnership. While that's probably front of mind if you're in a market heavily served by JetBlue, it hadn't been for me — so I was lucky to have remembered to put my AAdvantage number on my JetBlue flight in the first place for the "outbound" portion of my trip (when I reported getting Even More Space extra legroom seats for my party of six at check-in thanks to my American Airlines Platinum status).
While I knew that I'd be able to get reciprocal benefits, it honestly didn't even occur to me until two days before departure on the way back home from my trip that I could potentially book a JetBlue flight with American Airlines miles. It was a happy accident really. We were booked to fly from Orlando, FL to Albany, NY on Southwest on Saturday morning at 7:15am last weekend (connecting in Baltimore). As we drew closer to Saturday, the prospect of getting the kids up early enough to get through security in time for a 7:15am flight became less and less appealing. I hadn't booked a Wanna Get Away Plus fare or I would have been able to same-day-change to a later Southwest flight. By the time I was looking for later flights, it would have cost us around 15K Southwest points per passenger to change. No thanks on that.
I ran a search on American on the Thursday before our Saturday departure and was surprised to find 3 available seats on a nonstop JetBlue flight from Orlando to Albany that would depart at about 1pm on Saturday and arrive at about 4pm.
That seemed perfect! We could sleep until a regular time, eat free breakfast at the Hyatt Regency Orlando Airport (thanks to Globalist status), and make our way over to Terminal C, where I also thought that I'd review the brand new Plaza Premium lounge (spoiler alert: that lounge is only open from 2pm-9pm most days of the week, so I only got a picture of the outside).
While three seats available on JetBlue would be great for someone who needed 2 or 3 seats, I needed four seats. So I waited. Sure enough, on Friday afternoon, I saw 4 seats available on the JetBlue flight for 12,500 AA miles per passenger. Score!
Or so I thought. On the one hand, this was a great deal since JetBlue had been charging 24,800 miles per passenger.
On the other hand, it was only theoretically a great deal. When I tried to book, I was able to select the flight and move forward to entering passenger details and then I got to the page where it said I couldn't select seats on JetBlue via AA and when I hit "next" it brought me to a page that said "This page has taken flight" — as though I reached a page that didn't exist at AA.com.
Then I went back to the beginning to re-do the search and try again, but that flight was no longer available at all.
I thought that perhaps it had been phantom space, but this was unlike my previous experiences with phantom space. Usually, when AA.com is showing phantom space (as often happens with Finnair and Royal Air Maroc), you can select the flight but it errors out before the page where you enter passenger details (name, DOB, etc) and gives a red error message saying the flight is no longer available that looks more like this:
But this "taken flight" message was different . I know that it may not seem like a material difference, but it wasn't the same error, so I had reason to think something different was afoot.
I thought that perhaps the flight showed unavailable now because it had reserved those 4 seats for a temporary period when I was adding passenger info. I waited and waited and about an hour later, those four seats showed back up. I tried booking them again and had the same problem.
Fast forward another time or two of that process and then one time, after going to the home page and searching for four passengers and erroring out again on the "taken flight" page, followed by the flight no longer showing up, I searched for one passenger. Now, the flight showed back up. So I went back to the beginning and popped in four passengers and there it was again. Rather than attempt the same thing and expect a different result, at that point I got on the phone with American Airlines.
I quickly got through to an agent and I explained what I was trying to do and what I was running into. When he looked it up, he noted with surprise that this was the first time he had ever seen a JetBlue flight available with American miles, so I assume he wasn't the most experienced agent. He collected the necessary passenger information and then tried to continue and I could hear him hit a pause. He then said "Oh, that's why" and he moved on and a moment later he said that he had to put me on hold. Unfortunately, I never got a chance to ask him about that comment.
When he eventually came back, he said that he would need to reach out to the ticketing desk because it can take some time for partner tickets to come through and since my flight was less than 24 hours away, he would need to see if someone could push it through to ticket right away.
After a couple of holds, sure enough, it ticketed successfully for the four of us. I asked the American Airlines agent for the JetBlue confirmation number so I could select seats and instead he transferred me to JetBlue to have a live agent select seats that's when I realized that I forgot to ask what his "Ah-ha!" moment was. My initial guess was that the problem was that I was booking within 24 hours of departure and so it needed to be manually ticketed, but I've since tried booking a month in advance and run into the same "this page has taken flight" error message on every JetBlue flight I've tried.
At any rate, the takeaways for me were:
You can book JetBlue flights with American Airlines miles. I'd completely forgotten about this! That can be a great value since it seems that AA prices itineraries with JetBlue at 12.5K, even close-in (when JetBlue would charge far more) and it seems that close-in availability is pretty good.
If you run into an error message during the booking process, particularly that "page has taken flight" message, you may still be able to book over the phone.
If you're within 24 hours of departure, make sure the agent pushes through the ticket right away.
This was a takeaway from the trip the week before, but don't forget that with AA status you get benefits on JetBlue. Gold gets 1 free checked bag, Platinum and above get 2. All AA elites get priority boarding (Mosaic line) and complimentary Even More Space seats at check-in — which applied to everyone on my itinerary.
Bottom line
While this won't always be the best option, I see a fair amount of JetBlue availability via AA.com and this is something I'll certainly keep in mind for future trips. Yes, it'll be a pain if I always need to call — but if that's what keeps this available for last-minute flights, I'll be happy.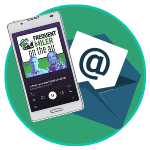 Want to learn more about miles and points?
Subscribe to email updates
 or check out 
our podcast
 on your favorite podcast platform.