This post isn't about anything new but rather my first encounter with a useful benefit to come from my American Airlines Loyalty Points game pursuit: last weekend, I was able to get complimentary extra legroom seating at check-in on JetBlue. For. Six. Passengers. I was very surprised that this elite benefit applied to everyone in my party. This worked out to be a nice little win.
 I currently have American Airlines Platinum status and Platinum members are entitled to Even More Space seats on JetBlue at check-in (pending availability of course). My wife and sons and I and two family members flew from Albany, NY to Orlando, FL last weekend on one of the few nonstop routes JetBlue operates out of Albany. I booked our six seats using 9,600 JetBlue TrueBlue points each (that I had earned entirely from JetBlue card-linked offers on Lowe's purchases, though it seems Lowe's is no longer available for those offers).
I knew that as part of the partnership between American Airlines and JetBlue I was entitled to extra legroom seating based on my American Airlines Platinum elite status, but my understanding is that most programs limit this kind of benefit to the status member and a companion or two. I didn't actually expect that at check-in I would be able to select six extra legroom seats for free.
To put the benefit in perspective, the aisle and window in the extra legroom seating area was selling for $54 each, while the middle seats were $49. In other words, it would have cost me $314 to buy those extra legroom seats. Of course I never would have done that, but it nonetheless illustrates that this was not a worthless benefit. I had booked an additional family member after making the initial reservation for the first six of us (so she wasn't on the same PNR with the rest of us) and we tried asking the check-in agent if she could also be moved to extra legroom seating with us (fully expecting a "no" but figuring there was no harm in asking) and that was a no-go (it didn't matter enough to her to pay for it).
For the record, I also got 2 free checked bags. I couldn't get those for free until check-in, but I had associated my American Airlines AAdvantage number with my JetBlue reservation and at check-in the system recognized that my two checked bags were free of charge (we had more than 2 total checked bags and we had paid for the rest before check-in to save a couple of bucks per bag).
The extra legroom seating really did provide a nice amount of legroom on JetBlue (which already has decent legroom in economy). I was really pleased (and there were no complaints from the rest of the family, either). We were also able to use the Mosaic check-in line at the airport, which helped us skip a fairly lengthy line at check-in.
Overall, this worked out very well. I don't fly JetBlue often because they just don't fit with my plans most of the time, but the ability to get extra legroom seating with them could certainly be another nice benefit of playing the AA Loyalty Points games.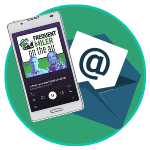 Want to learn more about miles and points?
Subscribe to email updates
 or check out 
our podcast
 on your favorite podcast platform.