Today is March 14th! In the United States, we refer to this as Pi Day because of the way we write dates. Most people in the world write the date as Day/Month/Year. That makes sense: go from most granular to least in progression. In the United States, just as we adamantly refuse to use the sensible metric system, we also refuse to write dates in a sensible order. Our dates go Month/Day/Year. And, sometimes we leave off the year and simply write Month/Day. The benefit of this approach is that one day a year the date is 3/14 which can also be written as 3.14 which also happens to be the first 3 digits in Pi. Therefore, March 14th is Pi Day.
Since Pi sounds like "pie", it makes sense to celebrate Pi Day by eating pie. This is also the one day of the year where it is imperative that rather than maximizing cost savings or point earnings, you should try to earn 3.14% cash back or 3.14 points per dollar for any pie you buy. This is not an easy task, but luckily for you, Frequent Miler is here to help…
3.14% Cash Back
TopCashBack is a cash back portal. The general idea is to start your online shopping at TopCashBack, click through to the merchant you want to shop at, and if all goes well you'll eventually get some extra cash back for whatever you buy. At my suggestion (thank you!), TopCashBack is celebrating Pi day by offering 3.14% cash back at PlasticJungle (today only).
PlasticJungle is a gift card reseller. They buy and sell discount gift cards. The trick today, is to go through TopCashBack to PlasticJungle and buy an e-gift card to a store or restaurant that sells pie. Once the gift card arrives, print it out, and go visit the local merchant to buy the pie.
3.14 Points per Dollar
If you prefer miles and points over cash back, you're in luck. There is a way to earn 3.14X while buying pie today. Here's how:
Log into the Ultimate Rewards Mall with your Chase Sapphire Preferred account (this part is very important).
Find and click through to Groupon, which is currently offering 2 bonus points per dollar through the mall.
On the Groupon site, find a local deal for a restaurant or market that sells pie. Pizza pie is a good option if you're not yet ready for dessert (see picture below).
Pay with a card that earns only 1 point per dollar. Do not pay with your Sapphire Preferred card which earns 2.14X at restaurants and 1.07X elsewhere (because of its 7% annual dividend).
Why this works: If you follow the instructions above, you will earn 2 points per dollar on your Sapphire Preferred account and 1 point per dollar on another card. At the end of the year, your Sapphire Preferred account will earn its 7% annual point dividend, so the 2 points per dollar you earned will become 2.14 points per dollar. When added to the 1 point per dollar you earned on another card, you will have earned 3.14 points per dollar!
Happy Pi Day!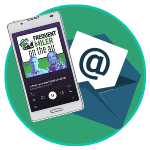 Want to learn more about miles and points?
Subscribe to email updates
 or check out 
our podcast
 on your favorite podcast platform.