Plastiq, the bill-payment service that lets you use a credit card to make payments that are ordinarily made by check, has announced some big news for those who want to use personal Visa cards for payments: personal Visa cards are no longer blocked for several popular types of payments (including residential rent, taxes, tuition, and more). You may remember that last year, Plastiq began restricting payments to certain types of payees. While the restrictions aren't totally lifted, this is great news overall.
The Deal
Effective 7/29/19, Plastiq has announced that personal Visa credit cards are no longer blocked from making payments in the following categories:

Residential Rent & HOA Fees
Commercial Rent
Taxes & Government Fees
Utilities (Electricity, Cable, Internet, Telecom)
Tuition (including daycare and camp)
Key Details
All other U.S. Visa personal card payments made through Plastiq will continue to be categorized as quasi-cash and as such will be subject to restrictions and/or possible cash advance fees.
Visa business and commercial card payments on Plastiq will continue to process as standard purchases.
Canadian payments are not subject to these classifications and will continue to process as standard purchases.
Quick Thoughts
This is an awesome change as it now makes it easy to use a much wider range of cards through Plastiq for many of the most popular types of payments. Note that mortgage payments are still restricted from Visa (in other words, you'll need to use Mastercard or Discover for mortgage payments). For more information about which card you can use for various types of payments, see our Complete Guide to Plastiq credit card payments.
I think the most exciting thing here is that it'll once again be easy to hit minimum spending requirements on various cards by paying bills like taxes or tuition that naturally require sufficient spend to trigger bonuses easily. While those payments will still incur a 2.5% processing fee from Plastiq, that may be worthwhile for easy spend when going after a particular bonus.
Referral Program
If you are new to Plastiq and you sign up through a friend-referral, you'll earn 500 Fee-Free dollars (FFDs) once you've paid $500 worth of bills with Plastiq.  FFDs are used to make payments without fees. 500 Fee-Free dollars means that you can pay $500 worth of bills for free (so 500 FFDs are worth 2.5% of $500 = $12.50).
The deal gets even better when you refer friends.  For every person who registers with Plastiq via your referral link, you'll get 1000 FFDs (worth $25) and that person will get 500 FFDs once they've paid $500 worth of bills with Plastiq.
If you're new to Plastiq, consider using my referral link with my thanks: plastiq.com/frequentmiler.
Small business owners who haven't used Plastiq before have a few more days to take advantage of the chance to earn 4,000 fee-free dollars (that's $4K in payments without a credit card processing fee) without any requirement payments up-front through this deal.
Overall, this enhancement to Plastiq is a welcome sight.
H/T: Doctor of Credit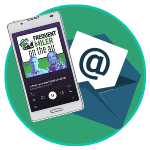 Want to learn more about miles and points?
Subscribe to email updates
 or check out 
our podcast
 on your favorite podcast platform.