This "deal" won't be applicable or attractive to everyone, but for those of us who are on T-Mobile's Magenta Max plan, there are some current easy cell phone arbitrage opportunities that I thought some readers may find of interest. You can currently buy a brand new phone for $250 that you can trade in for an $800 or $900 phone for "free" after bill credits (or $1,000 off some even more expensive phones). You may even be able to do a bit better depending on how deeply you want to dive.
T-Mobile launched their Magenta Max plan earlier this year. It isn't cheap and I imagine that if you're not already on it then it probably isn't for you. But for those of us with a need for completely unlimited data on the phone (with no throttling) and high tethering limits (40GB per line), the Magenta Max plan can make sense. I switched to Magenta Max and my bill was actually reduced from what I had been paying because of the add-ons I had needed for tethering purposes — and I was able to keep all five of the free lines I added last year during free line promos like this one and this one or one earlier this year. So all that is to say that if you currently pay $20 or $30 a month for cell service elsewhere, this deal isn't for you because Magenta Max will be more expensive (in my case, thanks to the free line promos, I am paying an average of about $25 per line, but you had to jump on those when they were offered).
T-Mobile has been offering some of its best trade-in phone deals only to those on Magenta Max. The current deal that is drawing my interest is to get up to $900 off the Google Pixel 6 Pro with trade-in. For those unfamiliar with phone trade-in deals, the way this works is that you essentially finance the new phone over 24 months (with no interest) and then trade in your existing device and get a monthly bill credit for the cost of the new phone.
As an example, the Google Pixel 6 Pro costs $899.99. Over 24 months, that's approximately $37.50 per month which gets added to your monthly cell phone bill. However, with a qualifying trade-in, you'll get a monthly $37.50 bill credit (approx) to offset the charge — paying a net cost of $0 (note that you will pay sales tax on the full $900 retail cost of the phone up front). This is essentially T-Mobile's way of locking you in to a contract for two years without calling it a contract. In my case, I don't mind that since I can't imagine getting a better opportunity elsewhere thanks to all the free line promos (I am technically paying for 3 lines and getting 4 for free). If you don't want to be stuck on T-Mobile for two years, this deal won't be for you.
This trade-in deal has been on since the Pixel 6 and 6 Pro were announced, but it came back into mind today because one of the qualifying trade-in phones is the OnePlus 8 5G. That phone is currently on sale from OnePlus for $249 brand new with promo code NovoP8 (our affiliate link, H/T to Slickdeals), so you could buy that phone and trade it in to T-Mobile for the Pixel 6 Pro if you're on Magenta Max. OnePlus is even on shopping portals, so you could trigger one of the current airline shopping portal bonuses and get a few miles per dollar while you're at it.
It is worth noting that this isn't the absolute cheapest way to play the trade-in deal. The Samsung Galaxy S9 also gets $900 off the Pixel 6 Pro. You can buy the Galaxy S9 "refurbished" from a third party seller on Walmart.com for $140 or pay about the same for a used S9 on Swappa.com. The advantage of Swappa.com is that you should get the IMEI number (which you'll need for the trade-in) as soon as you purchase so that you could start the trade-in today rather than needing to wait until you get the phone in hand to be able to order the Pixel 6 Pro. The disadvantage is if there is a problem with the used phone you buy or it is damaged in transit, I would guess it creates some headache on the trade-in. Still, I've gone that route before and would consider it again (and might even do it for this deal).
The Pixel 6 Pro isn't the only phone phone deal where a trade-in can come out advantageous. Here are some other highlights:
"Free" after trade-in with OnePlus 8 noted above (note that some phones have multiple models – "up to $X off" will get you at least one of those models for "free"):
Samsung Galaxy Z Flip3 (up to $1K off)
Samsung Galaxy S21: Up to $800 off
Pixel 6 Pro: Up to $900 off (this also works with the Galaxy S9 as noted above). The 128GB model costs $899.99.
Pixel 6: Up to $600 off (this also works with the Galaxy S9 as noted above)
iPhone 13: Up to $800 off
Other deals that may be of interest with this trade from the OnePlus:
$800 off iPhone 13 Pro and Pro Max
$800 off Samsung Galaxy S21+ or Ultra'
All of those deals are available right at T-Mobile.com. If you don't see the Magenta Max discounts (up to $800 or $1000 off) right away, try logging in to your account and you should see them if you're on Magenta Max.
There are lots of other ways to play these trade-in deals (there are often phones you can buy used cheaply just to trade them in), this is just one that caught my eye because of the sale on the OnePlus 8.
In my case, we have a couple of Pixel 4a 5G phones in the household that are owned outright (one was paid off with Amex purchase protection) that would be eligible for the same $900 off trade-in on the Pixel 6 Pro (which is the phone that interests me the most). I'm tempted to make a trade now for the Pixel 6 Pro with the thought being that two years from now this top-of-Google-line flagship phone will likely have maintained a decent trade-in value toward the next hot new phone whereas my 4a 5G is less likely to roll into another future phone two years from now. On the other hand, I am somewhat hesitant to jump on this today because the Google Store has offered some great Cyber Monday promotions in recent years and it would be even better to get a deal like this without needing to finance the phone, but I'll probably do at least one trade-in here. Maybe I'll buy a $140 S9 and hope to sell my 4a 5G (or trade it in) on a better deal.
Again, I know this deal won't work for some folks, but for those who can take advantage this looks pretty good to me. YMMV.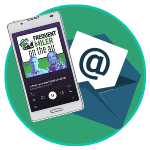 Want to learn more about miles and points?
Subscribe to email updates
 or check out 
our podcast
 on your favorite podcast platform.