Now that the Citi Prestige card has turned into a bit of a turkey through the loss of AA Admiral's Club access, less valuable points, no more free golf, etc., I thought it was worth taking a second look at the key benefit that's still somewhat intact: 4th Night Free hotel bookings.
Citi has changed this benefit in a few ways.  First, the 4th Night Free no longer includes room taxes and fees.  Second, the rebate is based on the average daily rate rather than the exact 4th night charge.  The latter change is good when the 4th night costs less than other nights, but bad when it costs more.  One area in which I'm excited about this change is when hotels offer their own 4th night free rate.  I've run into this a few times in the past, but didn't think the Prestige 4th night free rebate would work in that situation.  With the new rules it certainly will.  You won't get 2 free nights, but you should get a 25% discount off of a 25% discounted rate.  In other words, you should save 43.75% off the base rate before accounting for taxes and fees.
Citi has also added the ability to book 4th Night Free reservations online through their ThankYou Rewards portal (instructions can be found here).  Citi has reached out to us to claim that if you book a chain hotel online you'll still earn hotel points and elite nights just as you do when booking through the Citi Prestige Concierge.  I'm skeptical about that, but let's give them the benefit of the doubt.  Assuming it's true, is it a good idea to book online?
The short answer is no.  If you can find better prices via AAA membership, government or senior rates, hotel promotions, etc., then you're better off booking through the Citi Prestige Concierge since they can book those rates for you.  The online booking engine cannot.
Here's an example.  I searched for a 4 night stay at the Hyatt Regency Grand Cypress.  Via ThankYou Rewards I'm told that once the 4th Night Free benefit is factored in, the four night stay will cost $679.08, based on a $219.12 daily rate.
But when I search the same dates on Hyatt.com, I see a rate of only $186.
Let's drill down.  The $186 price shown above was the Hyatt Member Rate.  I checked the box to include AAA rates and got an even lower $170 rate:
But I haven't been comparing apples to apples.  Citi's results include taxes and fees.  Hyatt's results do not.  So, let's click through on Hyatt.com to find the real cost.  Hyatt says that the four nights will actually cost $900 after taxes, and resort fees.  That's a nightly average of $225.
Now the $679.08 Citi price is looking like a awesome!  Not so fast…
Resort fees will be charged at check-out and are in-addition to Citi's charges.  So, let's add $135 in resort fees to the Citi price.  Now the Citi total comes to $814.08.  In this example, booking a Prestige 4th Night Free reservation online saves only $85.92.  That's better than nothing, but hardly the big win one might have expected.
Bottom Line: Book via Concierge
If you book the same stay via the Citi Prestige Concierge, you can request the AAA rate from the start.  In this way, you'll truly save $170 with the above example.  With more expensive hotels you'll obviously save a lot more.
Directions for booking 4th Night Free reservations via email, phone, or online can be found here:  Complete Guide to Citi Prestige 4th Night Free.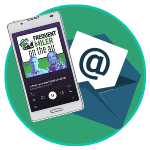 Want to learn more about miles and points?
Subscribe to email updates
 or check out 
our podcast
 on your favorite podcast platform.