There are several different ways to use credit cards in order to gain access to airport lounges but one of the most common is Priority Pass. Priority Pass has over 1,300 lounge and restaurant locations around the world, making it the single largest airport lounge network.
There are many different credit cards that offer Priority Pass memberships as a perk, some of the most popular being the Chase Sapphire Reserve, Capital One Venture X and the American Express Platinum cards.
After being approved for a credit card with Priority Pass access, it is necessary to then register for a Priority Pass membership online. Once you register for membership, Priority Pass sends you a physical card (there's also a digital card available via the app, which is what I use). In order to actually access a lounge within the network, you have to then have either a physical or digital Priority Pass membership card to scan at the lounge entrance.
This can get confusing if multiple cards start to collect from opening/closing accounts or when trying to remember which card is associated with an Amex account that doesn't have access to Priority Pass restaurants and which one is associated with a card that does have restaurant access. For those using physical cards, it's also one more card to manage.
It appears that all of this is changing, as you can now enter some Priority Pass locations using only your payment card.
How to activate your payment card for Priority Pass access
The instructions are bizarre. Supposedly, all you need to do is log in to your online account at prioritypass.com and then the payment card associated with your membership will automatically be activated for lounge entry (after 12 hours). I've logged into all of my accounts and there's no indication that my payment card is now active for lounge access, so I guess I'll have to find out the next time that I'm at the airport whether or not the activation was successful.
Not all Priority Pass locations will be able to use payment cards for entry and, frankly, I'm a bit skeptical at how immediately successful this rollout will be. I can see lounge agents and restaurant servers being completely unaware of the option or how to use it. So, for the near future, it's probably advisable to remember to have your physical or digital membership card with you while travelling.
Lastly, it's important to keep in mind that you still need to register your eligible credit card with Priority Pass before using a payment card to access a lounge, it won't automatically be activated when the card arrives.
Quick Thoughts
So, what's the big deal then? If I have to keep travelling with my actual Priority Pass cards because of uneven rollout or due to the inability of some locations to accept payment cards for entry, is it really an improvement?
In the short-term, the main plus for me is not having to remember which of my cards is eligible for restaurants…I can just use my Venture X or Sapphire Reserve (at locations that are able to use payment cards for entry).
That said, my hope is that this is the first step towards Priority Pass making payment cards the standard method of entry across the entire lounge network (like Amex does with Centurion Lounges or Capital One does with their lounges). That would be a huge improvement on the current system and make it much simpler to make sure that you have the appropriate card for lounge access…especially for those of us that might open and close cards more frequently than the average consumer 😊.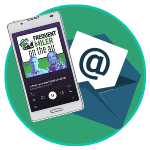 Want to learn more about miles and points?
Subscribe to email updates
 or check out 
our podcast
 on your favorite podcast platform.