In this weekend's Frequent Miler Week in Review Around the web, we take a look at how Priority Pass is changing the game, where you can get outsized value from your Hilton points overseas,, a reminder to get out there and explore with your family and more. Read on for this week's recap.
The first time I experienced an airport lounge, I was in awe. Not because of the free food or drinks (yet those things did amaze me the first time since I was in an airport and it wasn't costing me an arm and a leg to eat). What amazed me was the quiet. I was surprised at how serene it seemed to have respite from the chaos of the terminal. I won't lie that I do like that aspect of a lounge. However, I think that more often than the quiet place to sit and wait for my plane, I'd value a decent bite to eat since I probably had to get to the airport 2 or 3 hours before my flight. And that's why I totally agree with Travis from Tagging Miles, who argues a counterpoint to Gary Leff's question as to whether Priority Pass is killing airport lounges. I'd say that Priority Pass is innovating. As I'll be flying out of JFK's Terminal 8 this week, I'll be happy to enjoy that innovation.
---
Over the past few months, I've heard more and more positive stories about travel activities like tours that people have booked through the Chase portal with points (though they aren't always positive — like anything, there are positives and negatives). In this post at Milenomics, Robert covers why you might want to think twice before booking activities through Chase, lest you get stuck with a very poor value for your points. At the very least, this post reinforces the wisdom of Smokey Robinson: you better shop around.
---
This week, Greg and I explored which hotel programs are the most rewarding between Hyatt, Hilton, and Marriott. In my analysis, I looked at how many "average" priced nights you have to stay at a Hilton to earn enough points for free nights at the bottom and top-tier hotels in the portfolio (Greg's take was a bit different). This post from The Globetrotting Teacher gives you some inspiration as to where you could spend the points you earn for outsized value overseas.
---
For the most part, I've never found rental car loyalty programs terribly interesting. Don't get me wrong — I love my National Executive status for the ability to reserve a midsize car and often have my pick of vehicles, which has come in handy (and also been fun) on more than one occasion. That said, Hertz points can be quite valuable for free rentals and as such, their loyalty program might be worth a look if you're a frequent renter. This guide from Upgraded Points tells you what you need to know if you're looking for a rental car loyalty program.
---
In other of Mother's Day, this post from Miles for Family is worth a read to at the very least remind us that in between maximizing each promotion and piling up our points, we should also remember that sometimes the best way to maximize your mileage is to use it on a memorable moment with those you love. I feel fortunate to have shared most of my travels with my wife, but even as a couple we've sometimes felt the Curse of the Traveler that Lucky wrote about at One Mile at a Time years ago. And so we've really come to enjoy finding ways to share travel with our families. This post reminded me that we need to get on booking the next trip — and I wish Leana and her family a trip to remember.
---
That's it for this week around the web. Check back soon for this week's last chance deals.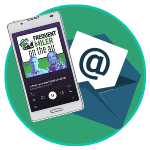 Want to learn more about miles and points?
Subscribe to email updates
 or check out 
our podcast
 on your favorite podcast platform.