Publix has a couple of digital coupons right now offering a $10 instant discount when buying $50 worth of groceries and a $50 Visa or Mastercard gift card at the same time. Unlike Publix's past gift card deals, it might be possible to take advantage of these offers in the same transaction.
The Deals
Buy $50 Visa gift card & $50+ of groceries & save $10 instantly.
Buy $50 Mastercard gift card & $50+ of groceries & save $10 instantly.
Key Terms
Quick Thoughts
In the past, Publix has usually required a paper coupon to take advantage of their gift card deals, with the exception of occasional Happy gift card offers.
The paper coupons have always had the following exclusion on them:
Publix accepts only one minimum purchase coupon for every minimum grocery purchase, meaning minimum purchase coupons cannot be combined.
There would be times when they'd run a deal on Visa gift cards at the same time as a deal on gas station gift cards. Based on the terms listed on the paper coupons, it wasn't possible to stack the two deals in the same transaction. Having said that, I don't think it was hard coded in their system, so it might've been possible to take advantage of both offers at the same time if the cashier didn't know or care about the restriction.
The digital coupons for these latest offers are therefore notable because there's no wording in the terms stating that only one minimum purchase coupon can be used per grocery purchase. That means – in theory – that you can stack them, although it might be that Publix has hard coded their system to only allow one $10 discount per transaction.
If it's not hard coded, you can buy $50 of groceries, a $50 Visa gift card and a $50 Mastercard gift card in the same transaction and get a total of $20 off instantly. I think these cards have a $4.95 purchase fee, so after accounting for the fees on the two cards you'd come out $10.10 ahead. That's not bad if you'll be spending $50 or more on groceries at Publix anyway and is an easy way to get an additional ~$100 of bonused spend on credit cards that offer more at grocery stores.
Update: As per Blake's comment below, these offers do stack. That means they should also stack with the Happy gift card deal also running at Publix this week.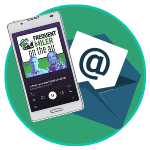 Want to learn more about miles and points?
Subscribe to email updates
 or check out 
our podcast
 on your favorite podcast platform.