This is a great week for Visa and Mastercard gift card deals. You can make a profit on them at Meijer and Safeway/Albertsons/other Just For U stores, get them fee-free at Staples and now you can also earn BonusCash on Visa gift cards at Rite Aid.
They're also offering BonusCash on several other gift card brands including Delta and Hotels.com, so it might be worth paying your local store a visit this week.
The Deal
Rite Aid is offering Wellness+ Rewards BonusCash on the following gift card pairings this week:

Earn $6 BonusCash when buying two of the following gift cards:

$20-$200 Visa gift card
$50 Visa gift card

Earn $15 BonusCash when buying $100 of the following gift cards:
Earn $8 BonusCash when buying $50 of the following gift cards:
Earn $5 BonusCash when buying $25 of the following gift cards:

The Cheesecake Factory
LongHorn Steakhouse
Key Terms
Expires November 16, 2019.
Limit 2 offers per customer per gift card pairing.
Quick Thoughts
The $6 in BonusCash you earn when buying two Visa gift cards won't fully offset the activation fees, but it certainly makes it worth considering as an option, especially if you have a credit card that earns a bonus at drugstores.
Earning $15 BonusCash for Delta and Hotels.com gift cards is also a good deal, as is $8 for Bed bath & Beyond and Macy's. Depending on how you value BonusCash and the rates available to you, these deals might be worthwhile for reselling too.
In case you're not familiar with how Rite Aid's gift card deals work, you can buy two cards from each pairing. For example, you can buy:
1 Hotels.com & 1 Delta gift card, or
2 Hotels.com gift cards, or
2 Delta gift cards
You can't, however, buy two of each or one of one and two of the other. If you buy Hotels.com and/or Delta gift cards, you can also buy two gift cards from the Visa gift card pairing, two from the Macy's/Bed Bath & Beyond pairing and two from the LongHorn Steakhouse/The Cheesecake Factory pairing.
Wellness+ Rewards BonusCash expires 30 days after it's loaded to your card, so it's only worth taking advantage of these deals if you know you can use it up within a month. It also can't be used to buy other gift cards, pay for prescriptions or for alcohol. Groceries, health & beauty, household goods, etc. are all fine though. I've found that Rite Aid is often overpriced on these items compared to grocery stores, although they do also run some pretty good discounts, so check their weekly ad to see if they're running any good deals on products you need.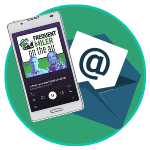 Want to learn more about miles and points?
Subscribe to email updates
 or check out 
our podcast
 on your favorite podcast platform.