I have a sort of love hate relationship with road trips since I hate renting cars, but it can sometimes be the only way to see a country's beautiful natural destinations. In Mexico for example we went on a road trip with a route that took us to so many beautiful waterfalls which are pretty much only accessible by car. Despite some rental car headaches, unlisted fees, etc, the road trip was well worth it. I'll outline our Monterrey to Mexico City itinerary below, (and briefly summarize the car rental gotchas which you'd want to avoid.)
Our Monterey to Mexico City Road Trip Destinations
Above is the route we'd planned for our Monterrey to Mexico City road trip. In terms of destinations, I can enthusiastically recommend this route. However, one-way car rentals are expensive, and you'd probably be better off doing a modified round trip version – I'll get to that later.
Secondly, in Bernal we found out we'd need to end our trip early (for a funeral) so we skipped the Grutas Tolantongo and Teotihuacan destinations. While I've been to Teotihuacan on trips since then and can recommend it as a destination, I can't personally vouch for Grutas Tolantongo. It looks awesome in pictures, and I've heard others recommend it.
Here are the destinations we visited on our Monterrey to Mexico City road trip:
Monterrey
Monterrey is a city with lovely mountain views. It's not as modern and cosmopolitan-feeling as Mexico City, but still a big city worth seeing once.
We did a lot of driving just to get out of the city and closer to our waterfall destinations, but Monterrey is convenient to fly into and big enough to offer a variety of rental car options, so it makes sense as a launch point.
Monterrey Mexico
El Meco Waterfall
This first waterfall is visible from a little overlook off the side of the road and we treated this as a fairly quick scenic stop.
Cascadas de Minas Viejas
This is the first waterfall where we stopped to swim and there were hardly any people there! It was great. There is a very small entry fee of ~$1.50 or so.
Micos Waterfalls
Micos Waterfall and Micos River is definitely more of an organized tourist stop and doesn't necessarily accommodate just stopping by for a dip. It's just a dollar or two to park and visit, but then to do anything, you need to rent a guide and life jacket. (For that reason, we actually just stopped for the view and then kept going.) You can learn more about all the zip line, canoe tour kinds of things you can do here.
Be wary that the road going from Puente De Dios north towards Cascadas de Minas Viejas and El Meco is a dirt road. It had rained the day before we drove this area and we were ok, but it was very muddy, and we wouldn't have wanted much more rain than we'd had!
Puente de Dios
Puente de Dios required life jacket rental too, but was much more of a self-guided exploration (and this was actually our favorite stop.) Entry fee is a few dollars, then it's another dollar or so to park and rent a life vest.
But once you have your life vest, you can jump into this beautiful blue pool and follow the ropes through a cavern. The sand on the bottom of this cenote like pool is so white and the water is so blue that the cavern looks almost illuminated with this crazy blue glow. Some of the most impressive parts of this spot aren't pictured here because I didn't have a waterproof camera on hand.
All in all, this spot is an amazing jungle playground with an other-worldly feel which became kind of a theme of this road trip. It's absolutely worth a stop and my picture doesn't do it justice. Make sure to search this spot on YouTube for a better idea.
Tamul Waterfall
Tamul Waterfall is another spot that requires a little more of a guided experience. For ~$40 our guides took us on a ~30 minute truck ride to the entry point for our canoes. The canoe ride was about an hour and half or so but included little stops here and there. I'm pretty sure a better guide is supposed to take you all the way to a little hike around the waterfall, but our guides turned around after the stop with the nice photo-op.
The canoe ride is really beautiful though. The water is bright blue and there are occasional little cascades that come down through the rock formations. Again, it feels somewhat otherworldly.
Las Pozas
Las Pozas, or more specifically "Jardín Escultórico de Edward James, Las Pozas", is a fascinating surrealist sculpture garden hidden in 80 acres of rainforest. The sculptures are these tall, concrete structures created by an artist in the 40's which are sort of reminiscent of an MC Escher painting, or Indiana Jones meets Dr. Seuss. While the sculptures may very well cover 80 acres, the part which you can actually explore doesn't span that much and can be seen in ~2 hours. It's a really unique experience climbing all over these structures and the nearby town of Xilitla is charming and worth a visit as well.
When we visited in ~2018, you simply had to buy the ~$6 tickets then explore on your own. Now, according to their website, it looks like you technically have to reserve a time slot in advance and reserve a "mandatory guide". The guide is only another dollar or so, but I'm not sure if I'd do it again with that sort of guided tour experience, just because I tend to prefer wandering around on my own. Though, it's possible a guided tour could be better in some ways. And of course, it's possible that you can still enter without a guide like we did.
(If anyone has been there recently and can comment with your experience, please do!)
Peña de Bernal
Bernal was one of my favorite spots (despite deviating from our jungle waterfalls theme.) The drive from Las Pozas here was a bit grueling but also scenic as it took us through beautiful mountains. The town was charming and our Airbnb had this incredible view of the peak.
Mexico City and Teotihuacan
I've already posted about all the cool things to do in Mexico City (and why I love it). And while we had to skip Teotihuacan on our Monterrey to Mexico City road trip, I thought I'd include it here since it was in our original itinerary, and it's the kind of thing you need coordinate transportation to see. May as well drive there yourself if you already have a rental car. Like all the other spots on this list, the entry fee is just a few bucks so the main cost is transportation.
What you see in this picture is pretty much what's there to see, but it covers a lot of ground and is worth seeing at least once. I could see this being more interesting with a tour guide, though.
What to watch out for with your Car Rental…
As I said at the start, I hate renting cars. In this case, we found a cheap rate for a one way rental with some small, unknown brand and went for it. Unfortunately this gave us two headaches:
1) It took us easily an entire hour to find where we were supposed to return this car, driving around the same several blocks in Mexico City with nothing in sight that resembled the right place. In the end, we finally found the tiny, unmarked unit. It was extremely stressful because…what's the plan B in that situation if we hadn't finally found it?
2) After we returned it, the rental company charged us a one-way fee which they had not disclosed at the beginning and which we did not approve. They just added it on. We disputed it with Chase thinking it would be an easy dispute since the rate charged differed from the rate/terms we'd signed at the beginning. No such luck. Apparently all the rental company needed to decline our dispute was proof that we'd indeed rented a car with them.
The road trip was amazing, but there are so many beautiful spots in Mexico, I'm sure we could have come up with an equally cool roundtrip version of this trip. In fact, here's an alternate route Drew planned out at the time. We can't personally vouch for it since it's not the route we used, but it hits some of the same spots:
One last thing to note: everyone recommends not driving at night in Mexico and the reason they say this is because you can't predict where free-roaming livestock will pop up and it's too risky driving when you won't be able to easily see them in the road.
Monterrey to Mexico City Road Trip Conclusion
Mexico is such a big and beautiful country, and so many of its treasures are hidden out in the jungles or the mountains. I have a hunch that most treasures wouldn't be treasures without the journeys required to reach them. And that's exactly why I begrudgingly rent cars from time to time.
And while renting a car is a headache half the time, I'd love doing another Mexico road trip to see even more waterfalls, cenotes, and little mountain towns. Next time, I'd just make sure to rent from a big, reputable brand, and I'd plan a roundtrip route. Even with our car rental headaches though, we still remember this trip fondly.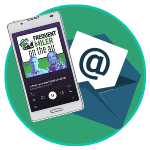 Want to learn more about miles and points?
Subscribe to email updates
 or check out 
our podcast
 on your favorite podcast platform.