If you haven't decided what to get for your partner this Valentine's Day, is some kind of massage or treatment at The Red Door Salon & Spa something they'd appreciate? If so, it's possible to stack a couple of promotions to save 40% or more on their gift cards – here's how.
Deal 1 – The Red Door Salon & Spa Amex Offer
There's an Amex Offer for The Red Door Salon & Spa which has two versions. Both require $175 of spend, but one gives a $55 statement credit while the other offers 5,500 Membership Rewards. If you have both versions of the offer on different cards, you'll be able to load each version.
$55 off $175 equates to a 31.4% discount which is good, but thanks to a separate offer you can save even more.
Deal 2 – The Red Door Salon & Spa Gift Card Promotion
The Red Door Salon & Spa is currently running a gift card promotion that's going on until February 17, 2019. You'll earn a bonus card depending on the value of the gift cards you buy:
Spend $150 and get a $25 bonus card
Spend $250 and get a $50 bonus card
Spend $350 and get a $100 bonus card
If you buy a $175 gift card for The Red Door Salon & Spa (due to the Amex Offer spend requirement), you'll get a $25 bonus card. That's $200 of value for a net cost of $120 once you take into account the statement credit. The net cost will – effectively – be even lower if you use the Membership Rewards version of the Amex Offer and you value MR at greater than 1 cent per point.
Something important to note is that the bonus card isn't a regular gift card as it expires on March 31, 2019. You'll therefore need to ensure the bonus card is used by the end of next month, although the $175 gift card value will never expire.
It looks like The Red Door Salon & Spa processes payments for both physical and digital gift cards themselves, so buying either type should trigger the Amex Offer.
This deal isn't quite as good as the one Nick covered a couple of years ago as that got you $215 in value for $120 of spend.
Saving 47%+ (Possibly)
If this promotion is being offered not only online but also when visiting The Red Door Salon & Spa, you should be able to get even more value. That's because you can't split payments online but you presumably can in-store. If so, load the Amex Offer to two different cards and buy a $350 gift card.
Splitting the cost into two payments of $175 on the different cards will trigger two statement credits of $55 each. You'll then earn a $100 bonus card as well, giving you $450 worth of cards for a net cost of $240. That's a discount of 47% which would be even higher if you use two cards that both have the Membership Rewards version of the offer loaded (that could be done if both you and your partner have the offer).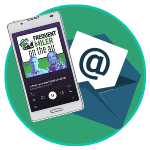 Want to learn more about miles and points?
Subscribe to email updates
 or check out 
our podcast
 on your favorite podcast platform.